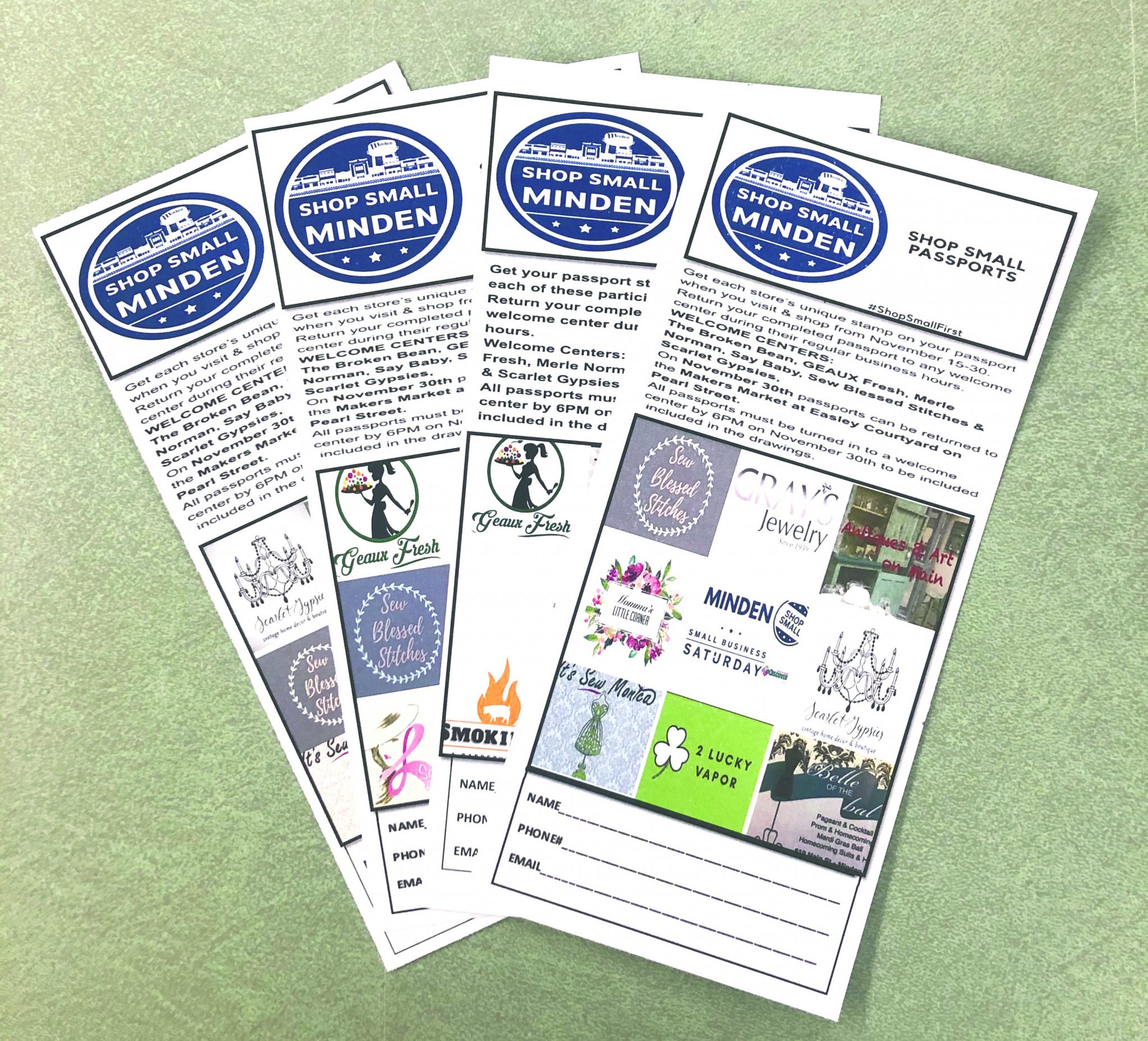 As part of the 10th Annual Small Business Saturday that will take place later this month on Nov. 30, the Shop Small Scavenger Passport Hunt will begin today, Nov. 15, and last until the day of the event.
Citizens can participate by going to one of five Welcome Centers, which will each have their own unique passport with their own set of businesses that need to be visited.
The Welcome Centers are as follows: The Broken Bean at Minden, Geaux Fresh, Merle Norman Minden, Say Baby, Sew Blessed Stitches, and Scarlet Gypsies.
To complete a passport, one would have to go to the shops that correspond with the pictures on the passport and get a stamp from that business.
The reason that this event is half of a month-long instead of taking place exclusively on Small Business Saturday is to give people more time to check out the shops they will be visiting.
"On shop small Saturday, people were trying to get every single shop stamped, so that's the reason that we started earlier. To give people more time to go in and shop instead of just running in and getting a stamp," said Tammy Eaton, Manager of Bobbies Hobbies and the woman who has been in charge of running the event for the past 10 years.
There will also be two unique passports available only on Small Business Saturday. Individuals taking part are able to turn in one of each individual passport, so with those two passports, plus the five that are available starting today, each person could potentially have seven chances at the drawings.
After being completed, the passports can be returned to any of the Welcome Centers.
After all the passports have been turned in, there will be a drawing. The winner of the drawing will get one of the many prizes that were donated by the shops participating in the event. There's a prize per store and three Grand Prizes.
Participating stores are Ace Hardware Minden, Antiques and Art on Main, Belle Ofthe Bal, Bobbies Hobbies-Neighborhood Champion, Bon Temps II / Smokin' J's BBQ, The Broken Bean at Minden-Welcome Center, City Art Works, Easley's Fine Arts Studios & Custom Framing, Easley Studios Courtyard-Welcome Center, Fanette's Childrens/Bridal, The Frilly Magnolia Boutique- Minden, Fishy Stitches & Gifts, Geaux Fresh-Kick Off Brunch, GorillaTech, Grace Estate B&B/Restaurant/Event Center, Gray's Jewelry, Habacu's Mexican Restaurant, Harris Corner, Heavenly Treasures, Hers Bridal and Special Occasions, Holders LLC, It's Sew Monica, 2 Lucky Vapor Store, Mandino's Flower House and Gifts LLC, Merle Norman Minden-Welcome Center, Mighty Oaks – A Shop For Boys & Men, Minden Athletic Supply, Momma's Little Corner, Pink Pratique Mastectomy Boutique, Possibilities Antiques and Collectibles, Red Blooms, Say Baby-Welcome Center, Scarlet Gypsies-Welcome Center, Steve's Clockworks & Jewel Shop, Sew Blessed Stitches on Main-Welcome Center, Shake Those Pounds – Minden, Terry's Rings & Things, TG Garden & Gifts, Xpressions Hair Design, LLC.
"I would like to thank the people and the businesses that take part every year. Without them, we wouldn't be able to have this event in the first place," said Eaton.