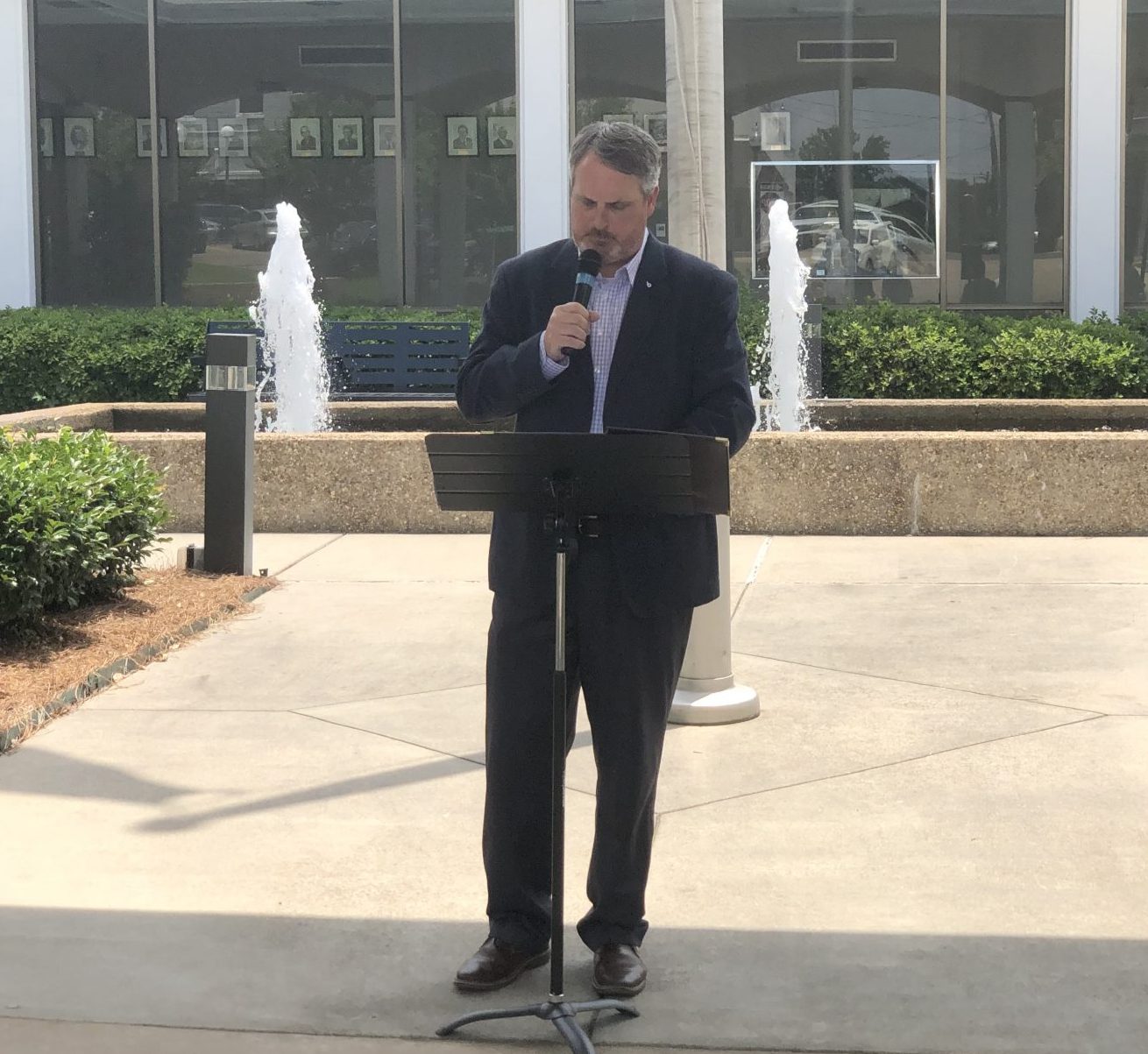 On the day that would have been John Agan's birthday, many gathered outside of the Minden Civic Center in order to celebrate the life of the beloved Webster Parish Historian.
Master of Ceremonies for the event was b1 Bank's Tracey Campbell with 2020's Miss Minden Joy Davis singing Amazing Grace. Countless others also took to the podium in order to share their memories of John and the impact he's had on their lives, the City of Minden, and Webster Parish as a whole.
"Thank you for spending a few minutes with us to honor the man who spent the greater part of his life ensuring that the history of Minden and Webster parish is documented for future generations," said Tracey Campbell.
"Through his writings, and later his eleven books, John taught us a lot about our local history. He helped us understand Minden's rich german heritage. He provided a glimpse into the lives of Minden's founders.
He shared with us stories that weren't always pretty. Stories of economic hardship, of street duels, social injustice, slavery, and segregation, John believed that we must understand our history, because history often tends to repeat itself," said Campbell.
Campbell also shared with the crowd the words of David Specht, Owner of Specht Newspapers. "John's love of history, and the accuracy of remembering it all was a gift to us all. It's something we have truly lost. No one will ever know the full story of how much work John put into chronicling the history of our community. But one thing is for sure, there is a void left by his departure," said David Specht.
Agan's brother-in-law Bob Jameson was present and affirmed to everyone there Agan's love of his city.
"Anybody who's read anything that John wrote, whether it's a book, an article, a facebook post, whatever it might be, you don't have to read very long to discover that he had a lifelong love for his hometown. He thought Minden, Louisiana was the only place in the world to be from. He couldn't imagine being from anywhere else," Bob Jameson, Brother-In-Law.
Schelly Francis, Director of the Dorcheat Museum, stated that she doesn't think the Dorcheat Museum would've been as successful as it is today without John's knowledge, and expressed how much Minden has lost with a man who knew as much as Agan.
"They say when you lose someone older, it's like losing a library of knowledge. John isn't what I considered the older generation, he was only a year older than myself. Losing John is like losing not just a library of knowledge, but like losing a search engine of information," said Francis.
Lastly, Gene Reynolds, former State Representative for Dist. 10, shared with those in attendance the influence that Agan has had in politics.
"He taught me about political perspectives. He taught me about political history. Trends over the past fifteen to twenty years, and how to run a campaign. And not only how to run a campaign, but how to run a class campaign. Where you treated everybody with respect, and their ideas with respect," said Reynolds.