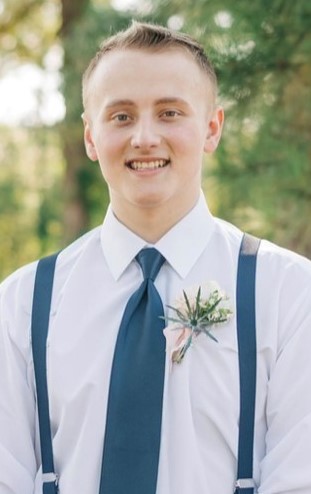 Funeral services celebrating the life of Jorge Connar Zaldivar will be held Saturday February 5, 2022, at 10:00 a.m. at First Baptist Church in Minden, Louisiana with Bro. Steve Gilley and Bro. Scotty Wise officiating. Interment will follow at Salem Cemetery in Athens, Louisiana under the direction of Rose-Neath Funeral Home in Minden, Louisiana. The family will receive friends from 5:00 until 7:00 p.m. Friday, February 4, 2022, at Rose-Neath Funeral Home in Minden, Louisiana.
Connar was born August 28, 2000, in Bossier City, Louisiana and went to be with his heavenly Father February 3, 2022, in Minden, Louisiana at the age of 21 after courageously facing off with cancer. For months, Connar was surrounded by dozens of loved ones, who will carry on the fun-loving memories they experienced throughout his lifetime.
Connar was recently celebrated with his hometown of Minden, Louisiana, with a Mayoral Proclamation declaring January 21, 2022, as "Connar's Day," according to his friends, which recognizes his impact on the community through his valiant battle. He will no doubt be remembered for his aggressive football performance under the Friday night lights in the pit at his alma mater Minden High School.
Following his high school graduation in 2018, Connar continued his educational pursuits at Northwestern State University in Natchitoches, Louisiana, where he joined the Demon cheer squad. It was during this time, he and his wife, Karlee Osbon Zaldivar, fell in love and subsequently celebrated their wedding on August 23, 2020. Together, they traveled and experienced life to the fullest during their marriage.
Connar was a beautiful example of a faithful Christian. He was known by his family and friends for his strong faith and unquenchable bravery. He fought a courageous battle with cancer for over 2 years surrounded by loved ones who will strive to honor his memory by living their lives to the fullest. He touched numerous lives with his positive attitude and strong faith, facing every adversity with courage and faithfulness always having a sweet smile on his face. Even on his last days, his gratitude for anything and everything that someone was helping him with would just melt your heart. Connar was so easy to love, a very humble person and definitely very grateful with what God had blessed him with.
Our Father in heaven will most definitely say, "Well done, my good and faithful servant." Matthew 25:23.
Revelation 21:4-He will wipe away every tear from their eyes, and death shall be no more, neither shall there be mourning, nor crying, nor pain anymore, for the former things have passed away.
Connar is survived and will forever be cherished by his wife, Karlee Osbon Zaldivar; mother and stepfather, Lori and Donnie Cawthon; brothers, Spencer Heard, Colby Zaldivar, Andrew Miller, Joe Miller and Mitch Aguilar; father-in-law and mother-in-law, Darryl and Kayla Osbon; father, Jorge Antonio Zaldivar; sister-in-law and brother-in-law, Kelsey and Will Holomon, and numerous loving cousins, aunts, uncles, and grandparents.
Pallbearers will be Spencer Heard, Colby Zaldivar, Evan Murphy, "Dale" Tristian Swayze, Ethan Culp, and Christian "Alex" Briggs.
Honoarary pallbearers will be Jonathon Rhodes, Dylan Reeve, Payton Hightower, Chandler Stevenson, Dee Mitchell, and Hunter Reeve.
Rose-Neath Funeral Home
211 Murrell Streeet
Minden, Louisiana 71055
(318) 377-3412