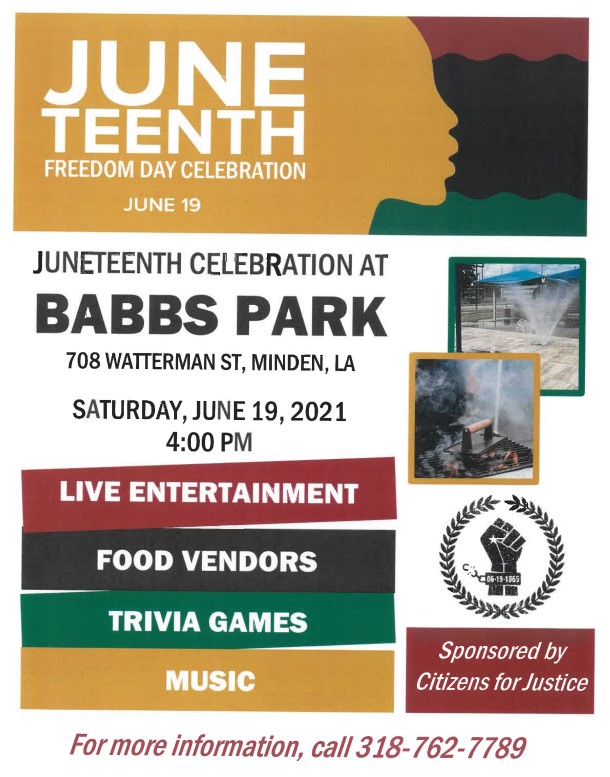 This Saturday, the Citizens for Justice will be holding Minden's first ever Juneteenth Freedom Day Celebration at Babbs Park starting at 4 p.m. Rico Bell of the Citizens for Justice Committee and one of the organizers for the event explained the origins of Juneteenth, as well as the committee's inspiration for holding an event to celebrate it in Minden.
"Our event is going to focus on the community, not just African-Americans, but the community as a whole. We want everybody to join in the celebration and also to understand what it represents. That is not just a barbecue or a cookout. It's actually a commemoration of the fact that we were freed on June 19th," said Bell.
"Juneteenth is the oldest nationally celebrated commemoration on ending slavery in the United States. It originated from Galveston, Texas, and it was originally in 1865 when General Granger rode into Galveston and announced to the slaves that they were freed two and a half years prior when President Abraham Lincoln enacted the Emancipation Proclamation," said Bell.
"Two and a half years later, over 220,000 slaves were still being enslaved in the state of Texas. One, because the Emancipation Proclamation didn't exactly free slaves instantly. There were still several states that still practiced it and did not abolish slavery. Another reason is that the state of Texas did not inform the slaves that they were free, because they wanted their crops still brought in for years, and at that time they did not have anybody else to work the fields."
Juneteenth has also gone by other names such as Emancipation day or Jubilee Day. The origin of the name Juneteenth is a combination of the date and the month that General Ranger actually rode into Texas, which is June 19th.
"Texas was the first state to make Juneteenth a holiday in nineteen seventy-nine. There's only three states that are in all of the 50 states that do not recognize Juneteenth. Those days, I believe, in North Dakota, South Dakota and Hawaii. But all of the states do have some type of commemoration, whether it's official and unofficial, that actually recognizes Juneteenth," said Bell.
"He went on to state that the Citizens for Justice Committee noticed the lack of a big Juneteenth Celebration in Minden, and saw an opportunity to create an annual event that can bring the community together.
"Minden and Webster Parish haven't really put a lot on for the celebration of Juneteenth, so the Citizens for Justice Committee decided that this year would be a great opportunity. With some of the advancements that have been made, and also with all of the tragedies that have happened recently, we thought it may help to bridge the racial divide while also bringing together unity not only just in our community, but we see Juneteenth also now bringing unity nationwide," said Bell.
The event will feature live entertainment including music, poetry, and trivia. There will also be a reading of moments in black history that aren't as commonly taught such as Juneteenth itself, the 1921 Tulsa Race Massacre, Rosewood massacre.
"I attended a school here in Minden and also I know people that attended school here. Historic events like these were just not something that was taught in our curriculum. We're hoping that this gets our younger generation motivated to find out what their ancestors endured and what their grandparents and great grandparents endured to get to this point and why it's important. Just as it is important to celebrate Independence Day on July the 4th," said Bell.
"We are also honoring some of our senior members in the community aged 70 and older. We're going to give them some tokens of appreciation because they have withstood the test of time. We have some citizens in our city and in our community that are 70, 80, and some that are even in their 90s. It's mainly just to show them how much we appreciate them for the years that they fought for things such as civil rights and voting rights and different things that they had to endure for us to reach the point that we're now in year twenty twenty one."
This will be the first Juneteenth Celebration held in Minden, and Bell is optimistic that it can be an event that grows with each year.
"We're definitely hoping it is not the last thing that we're able to do. In the future, we want to let it grow into a big celebration where we get the surrounding communities to join in and come celebrate with us as a whole," said Bell.