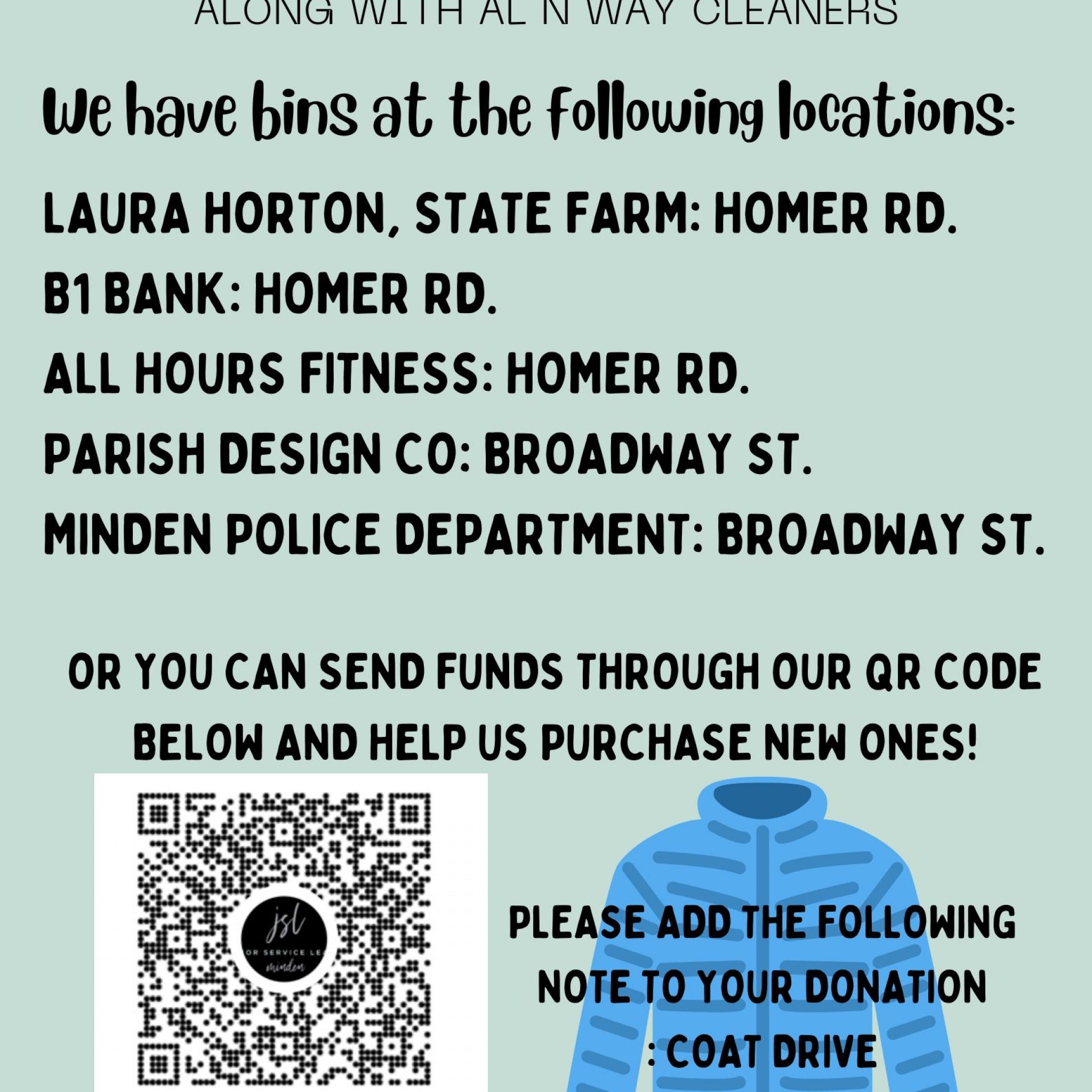 The Junior Service League (JSL) is conducting their 4th annual coat drive through the remainder of October. The donated coats will be cleaned, courtesy of Al N Way Cleaners, and distributed before students are let out for Thanksgiving break.
The JSL is working with Ursula Hullaby, the school liaison for Webster Parish schools, to collect the sizes of coats needed from school counselors. The coats will be distributed throughout Webster Parish, including all the schools in Minden as well Doyline, Browning, Central and North Webster. They are also accepting donations so that, if the correct sizes are not donated, new coats can be purchased to fill that need.
With the donations of 11 bins of coats and $1,100, the JSL was able to provide over 190 coats to Webster Parish students last year. "This year, we are hoping to donate AT LEAST 250! With big goals of filling a U-Haul one day!" said Elizabeth Campbell, reporter for the Junior Service League.
"Once all the coats have been cleaned, we hang them up by size and then by school, we add a label that, hopefully, brings them some cheer, and we send them off to be distributed throughout the schools," said Campbell.
They have five bins out this year where you can drop off: Laura Horton-State Farm, B1 Bank, All Hours Fitness, Parish Design Co., and the Minden Police Department.
"If they can't make it to a drop spot, they can reach out to Minden JSL through our Facebook page [facebook.com/mindenjsl] or any of our members, and we will do our best to get someone to pick them up," said Campbell.
The JSL is also accepting donations via PayPay (mindenjsl) or Venmo (Minden-JSL) this year.
And what happens if they get too many coats?
"Any coats that the schools are not able to use, we donate to Teen Challenge," said Campbell.
This upcoming winter is expected to be colder than normal, so take this opportunity to clean out your closets and pass along the coats you are not using to kids that need them.