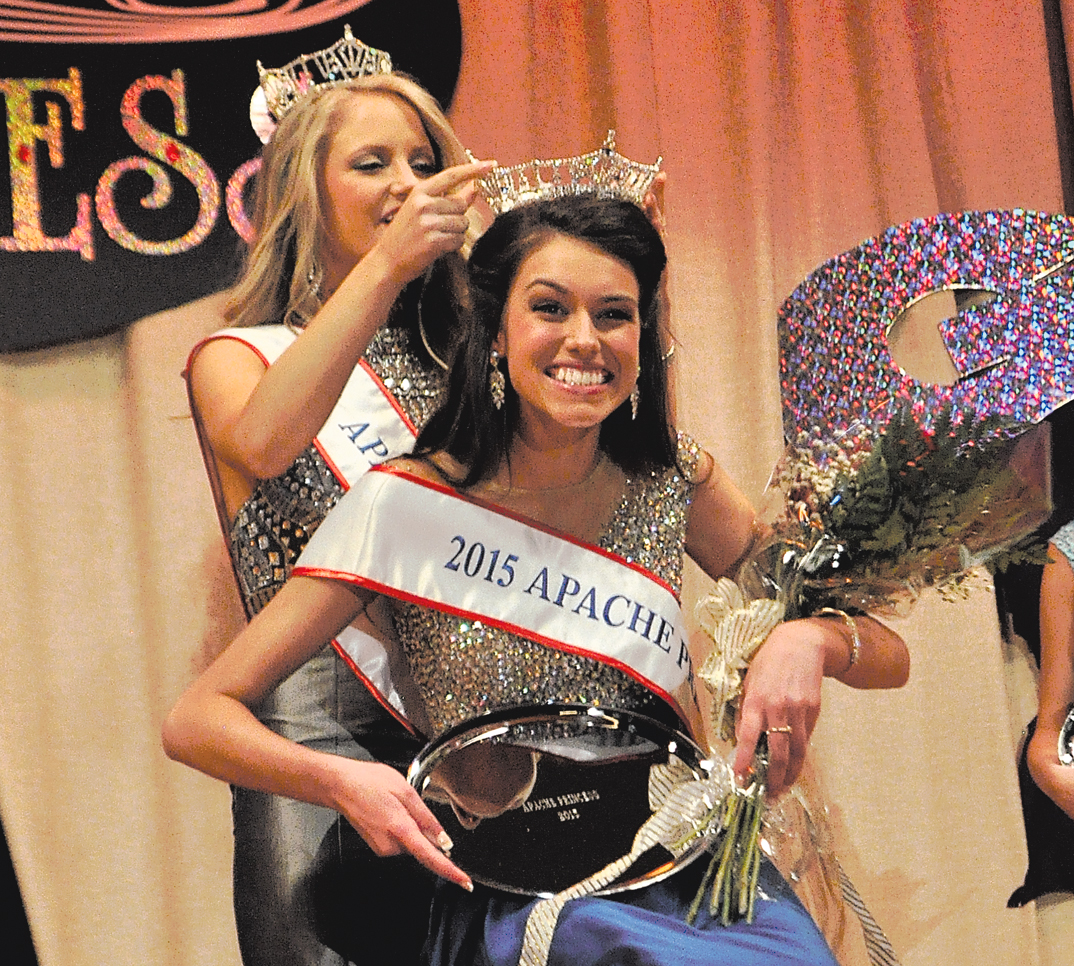 Excited, overwhelmed and blessed – those were the feelings expressed by Kathryn Elizabeth Moore, who was crowned 2015 Apache Princess for Glenbrook School Saturday night at the Minden Civic Center.
"I was speechless," she said after she was crowned. "I didn't expect to win at all. I thought someone who'd been in this with more experience would have won. I feel like I can make a difference, and I'm excited to represent my school."
Moore, 16, is the daughter of Willard and Jamie Moore. She plans to attend college in Louisiana with a major in education and a minor in theater.
"I would love to teach an English class one day," she writes in the contestants' questionnaire.
She has won several honors, touting the highest grade point average her freshman and sophomore year, student of the year in 2012, student of the month in April 2014, First English Literary Rally in 2013 and 2014, and most photogenic Miss Teen Minden this year.
She loves swimming, Disney, music, art, Netflix, volunteering, theater, video games and antique shopping.
"I feel like I could be a positive role model to all Apaches, young and old," she writes. "As Apache Princess, I would strive to make a difference within my school and my community. I understand the responsibility and the honor of being crowned 2015 Apache Princess."
Moore was crowned by outgoing 2014 Apache Princess Madison Lemoine.
Catherine Trawick Willis, 16, was named first runner up. She is the daughter of Sarah and Jason Willis.
Kara Virginia Bryce, 14, was named Miss Congeniality. She is the daughter of Kary and Sharon Bryce. Other contestants were Gracie Claire Simonton, 15, daughter of John and Amy Simonton and Emily Elizabeth Rhame, 17, daughter of Penny Rhame and Greg Rhame.
Escorts for the five girls were Caden Copeland, Benjamin Downs, Tristan Dye, Graham Lemoine and Sam Marvin.