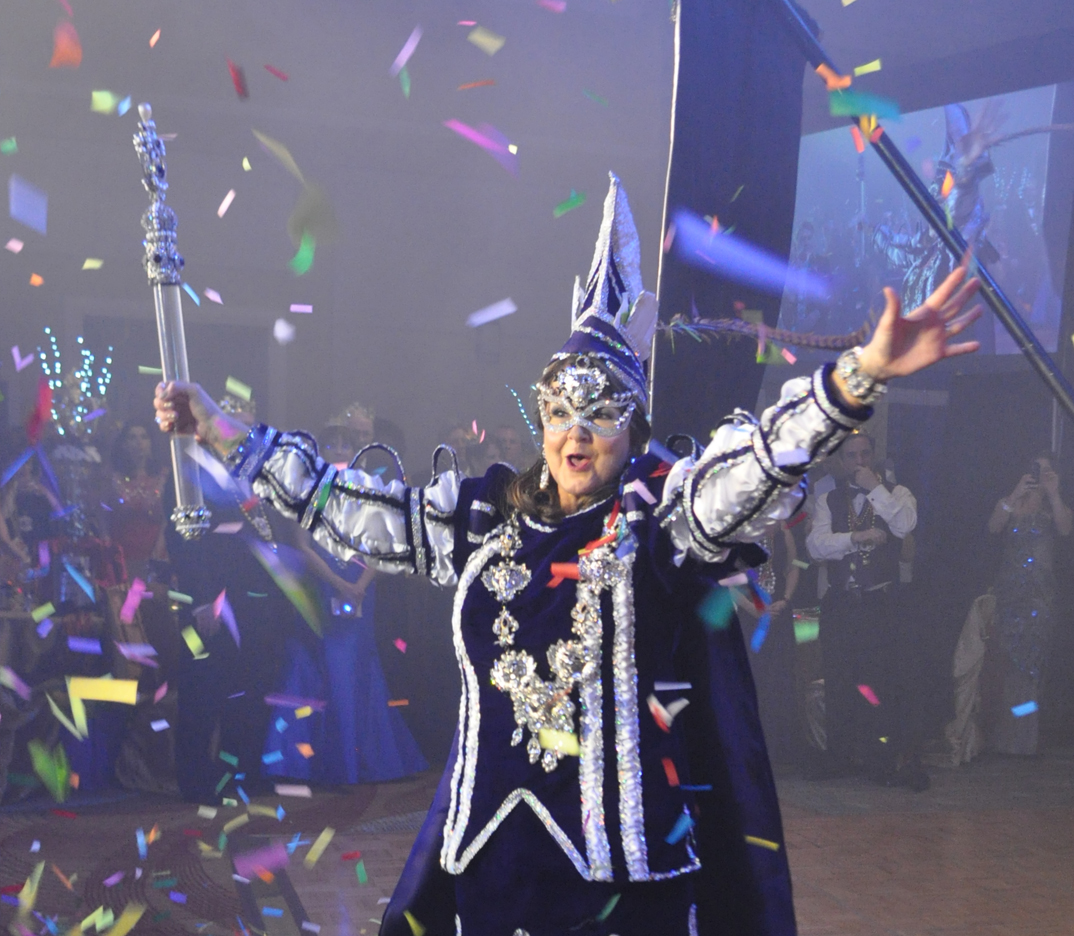 SHREVEPORT — The Krewe of Ambassadeurs paid homage to Minden's German roots during its Fasching/Mardi Gras Bal' in Shreveport Friday.
With a German flare, the 2016 royalty was presented along with a little history of each represented. With good music, good food and a night of revelry, the krewe celebrated to close out the Fasching season.
Bal' Co-chair Terry Gardner says they celebrated their 15th year as a krewe, and this year's Bal' was the best one yet.
"A year of planning truly paid off," he said. "I surrounded myself with a hard-working committee and could not have done it without my co-chairs, Schelly Williams and Teresa Mouser. I told our captain when asked to chair the Bal' that a man had never chaired the Bal' before, and she told me she wanted a sell-out crowd and the grandest bal' yet. Minden enjoys a good party. There were party-goers of all ages and they had a large time."
Each member of royalty represented a piece of German history or folklore as they made their way through the crowds throwing beads and trinkets to those in attendance.
2016 Captain Sarah Haynes was dressed in authentic German captain attire and kicked off the party in true Mardi Gras fashion, throwing beads and trinkets for all.
Past Captains also honored were Gardner, Mahala Hutto, Dr. Mervin Ardoin, Vickie Cullen, Ralph Greer, Beverly Brown, Janis Hudson and Kenneth Buford.
Prince Aidan Mealey and Princess Hannah Poston were the Big Bad Wolf and Little Red Riding Hood, representing a famous story by the Brothers Grimm, some of the most famous collectors of folklore and storytelling, George E. French III, master of ceremonies, said.
Duke and Duchess of Prosperity Jason and Anessa McKenzie were the nutcrackers. According to German folklore, nutcrackers were given as keepsakes for luck and protection.
"The legend says that a nutcracker represents power, strength and serves as a trusty watchdog guarding your family from evil spirits and danger," French told the crowd, calling the McKenzies "good luck charms."
Duke and Duchess of Hospitality Jason Parker and Robin Fish represented "Landsknechte," noted to be colorful mercenary soldiers with a formidable reputation and an important military force throughout Europe in the late 15th and 16th centuries.
Also introduced were the Krewe de Ambassadeurs Queen XV Laurie Bradford and King XV Paul F. Lopez.
Other krewes in attendance were the Krewe of Akewa, Krewe of Artemis, Krewe of Atlas, Krewe of Barkus and Meoux, Krewe of Centaur, Krewe of Dionysos, Krewe of Elders, Krewe of Gemini, Krewe of Harambee, Krewe of Highland, Krewe of Justianian, Krewe de Les Femmes Mystic and Krewe of Sobek.