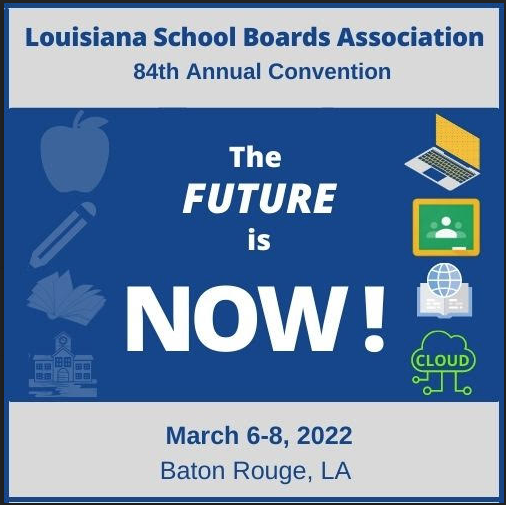 Baton Rouge, LA – The Louisiana School Boards Association will host its 84th annual convention March 6th-8th at the Crowne Plaza Hotel in Baton Rouge. The Association's annual meeting is the most relevant gathering of elected school board members and public education stakeholders in the state. Attendees will have the opportunity to collaborate with industry partners and stakeholders and learn strategies and best practices to become even more effective leaders and communicate the true value of public schools to our communities.
This convention will not only reinforce strategies related to effective leadership and advocacy, but it will also introduce ideas, conversations, and solutions that are essential to the future of education in Louisiana. It is an opportunity to build on the new information available and lessons learned throughout the last year. "It's important that we, as educational leaders, stay abreast of the latest innovative educational resources that are available to us and maximize these opportunities to keep public education moving forward in Louisiana," said LSBA Executive Director Dr. Janet Pope.
Louisiana's First Lady Donna Edwards is the keynote speaker for this year's convention and will address attendees Monday morning regarding the importance of supporting educators, funding public education at every level in Louisiana, and highlight her new book, "A Bandit in the Mansion". A former public school music teacher, Mrs. Edwards spent a lot of time in the classroom which gave her a firsthand look at the needs of today's students. She now uses her platform to make a difference for kids, families and educators, raise awareness about important issues and connect communities with needed resources and support.
Additional convention highlights include a College and Career Readiness Day and a presentation by Louisiana Board of Regents Commissioner of Higher Education Dr. Kim Hunter Reed that focuses on the expansion of dual enrollment and the efforts of the Teacher Retention, Recruitment, and Recovery Taskforce. Convention breakout sessions include educational hot topics such as technology learning, the bond election process, and regional universities who will discuss the teacher retention and recruitment pipeline.
For more information about the convention, please visit www.lsba.com.