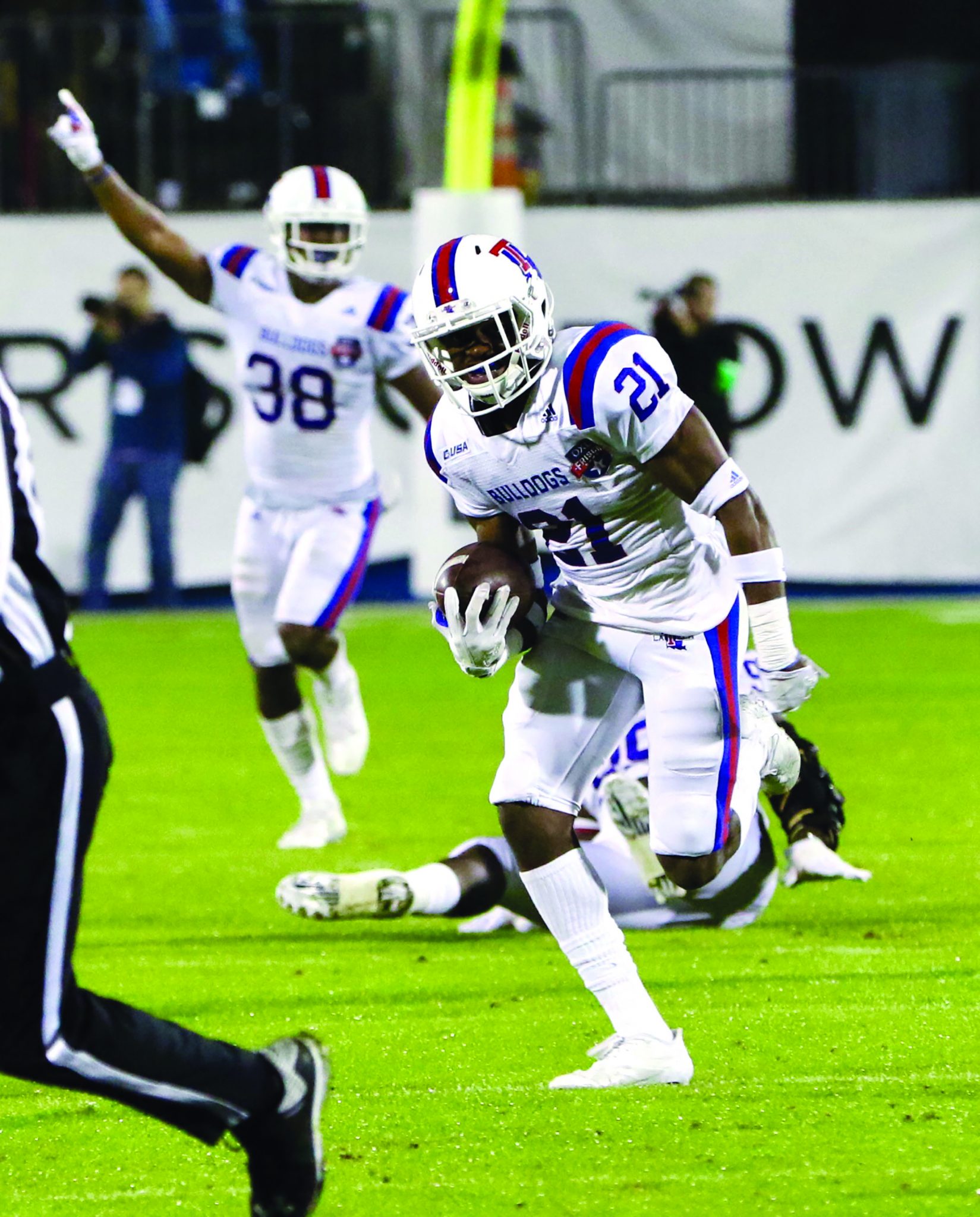 BOCA RATON, Florida – Just call them Road Warriors.
Louisiana Tech won its fifth straight road Conference USA game Friday night, defeating Florida Atlantic 21-13 and snapping the Owls 10-game home winning streak at FAU Stadium.
Tech (6-2, 4-1 C-USA) won its fourth road game of the season and snapped a second opponent's lengthy home win streak. The Bulldogs broke North Texas' nine-game home winning streak in late September in Denton.
J'Mar Smith passed for 217 yards and hit Teddy Veal on a huge fourth quarter touchdown and Jaqwis Dancy rushed for 116 yards and a score while the Bulldog defense made play after play in the win.
FAU (3-5, 1-3 C-USA) scored a TD on its opening possession, marching 75 yards on six plays in less than two minutes as Owls running back Devin Singletary scored on a five-yard run. It would be the last time FAU's high-powered offense would reach the end zone all night.
The Bulldog defense totaled 12 tackles for loss in the game, including the 38th career sack by Jaylon Ferguson who tied the LA Tech career record (Walter Johnson) and broke the Conference USA record. Ferguson finished with six tackles (3 TFL) while James Jackson (9 tackles, 1 TFL), Amik Robertson (7 tackles, 2.5 TFL), Jordan Baldwin (7 tackles, ½ sack) and Darryl Lewis (7 tackles, 1 interception) all contributed to the defensive performance.
Tech trailed 10-0 midway through the second quarter when the Bulldog offense finally found a rhythm. Dancy capped a 10-play, 70-yard drive with a 20-yard run off left tackle, cutting the deficit to 10-7. Smith connected with Veal for an 18-yard gain on a third down and 10 play early in the possession to keep the Bulldogs offense on the field.
On FAU's ensuing possession, Ferguson was credited with a sack and a fumble recovery when Owls quarterback Rafe Peavy lost control of the ball around midfield.
The Bulldog offense capitalized on the turnover. Smith found George Scott on a 45-yard pass on a third down and 11, moving the ball down to the Owls 5 yard line. Two plays later, Kam McKnight gave Tech the lead with a 5-yard TD up the middle. Bailey Hale's extra point gave Tech a 14-10 halftime lead.
FAU scored on its opening possession of the third quarter, marching 54 yards on 11 plays as Vladmir Rivas connected on a 28-yard field goal attempt. Tech's lead was 14-13.
Neither offense generated many scoring opportunities until midway through the fourth quarter. Tech gave itself some breathing room as Smith found Veal on a 15-yard pass in the far corner of the end zone and a 21-13 lead. Adrian Hardy made an acrobatic 28-yard juggling catch along the Tech sideline to convert a third down play and move the ball to the FAU 26. Smith found Veal four plays later for the TD.
Singletary rushed for 171 yards on 19 carries while Kerrith Whyte added 64 yards on 11 carries.
Veal led the Tech receivers with 81 yards on nine catches while Hardy added four catches for 65 yards.
The Bulldogs will travel to Starkville, Mississippi, next weekend to face Mississippi State.