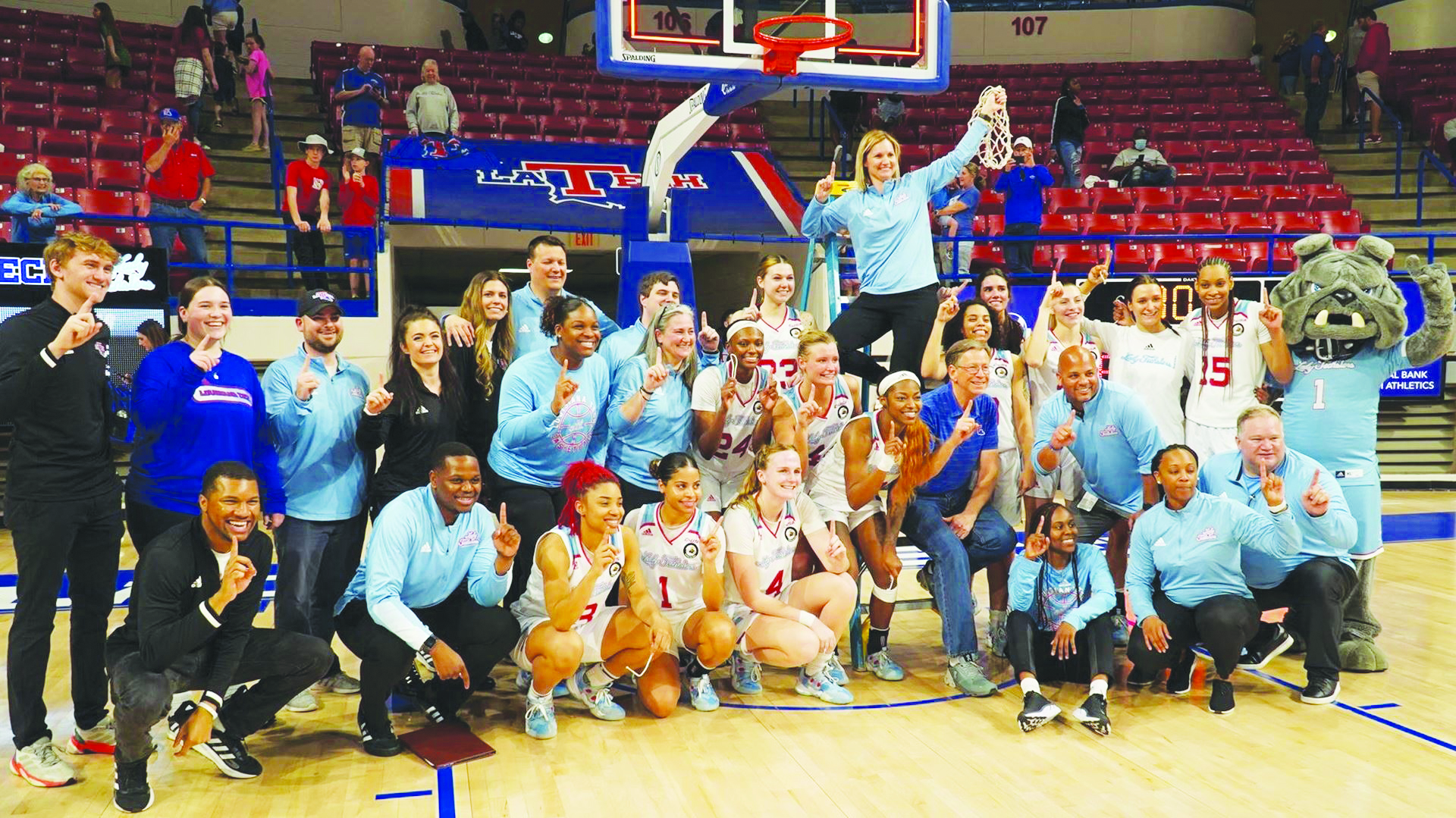 RUSTON — This is how the west was won.
From an 0-4 start to conference USA's West Divisional Champions, Louisiana Tech's Lady Techsters basketball team claimed its first conference title since 2011 with a win over Alabama-Birmingham inside the Thomas Assembly Center Saturday afternoon (82-56).
The title also marks the first for the Techsters since joining Conference USA.
"I'm just really proud of this group," said Tech coach Brook Stoehr. "From the players, to the assistants, to our trainers and managers. I'm just really proud. They have always believed, they kept their heads down — they just worked.
"Great teams have great teammates and that is exactly what we have in the locker room. They just want to win. As a former player in this program I am just so excited to watch them experience this. It's one thing to do that as a player but it is completely different getting to watch it as their coach. I'm just really proud."
Louisiana Tech (19-10, 11-7 C-USA) got off to another strong start, taking a 20-12 lead after the first quarter. Five Techsters scored in the stanza including two 3-pointers from Salma Bates to spark the Techsters' offense. Bates finished with nine points and six assists.
Tech continued to pour it on UAB (15-14, 8-10 C-USA) in the second quarter with runs of 12-0 and 10-0 to build a 24-point lead at halftime (44-20).
The Techsters and Blazers traded baskets for most of the third quarter as Tech was led by Lotte Sant who hit two of her four three-pointers in the quarter. Sant finished with a season-high 12 points.
UAB shaved five points off the lead, sending Tech 10 minutes away from the title up by 19 (56-37).
The Lady Blazers continued to fight in the fourth as the lead was trimmed to 15 (60-45) with 7:32 to play, but the combination of Keiunna Walker, Anna Larr Roberson, and Robyn Lee helped close the final minutes outpacing UAB 22-11 down the stretch for the 82-56 win.
Walker (20 points), Roberson (19), and Lee (11) all joined Sant in finishing the night in double scoring figures.
Walker's game-high 20 points was her 11th game this season with 20+ points as she also finished in double figures in 28 of her 29 games this season. Walker also flirted with another triple-double adding eight rebounds and six assists while nabbing four steals and drawing three more charges. She now has 40 on the year.
Roberson finished the regular season finishing in double figures 25 of her 28 games. Lee topped double figures for the sixth time.
Amaya Brannon also chipped in seven points and led the Techsters with seven rebounds.
Tech shot 50 percent on the night (33-66) and 58.8 percent from 3-point range (10-17) while UAB hit 21-49 shots for 42.9 percent and was 4-11 in 3-point shooting (.364).
The Louisiana Tech will take on the winner of the Western Kentucky/UAB game, a matchup that will take place at 1:30 p.m. CT inside the Ford Center Wednesday inside The Star.
Tech's first game in the tournament will take place on Thursday, Mar. 10 at 1:30 p.m. on Court A inside the Ford Center at The Star in Frisco, Texas.