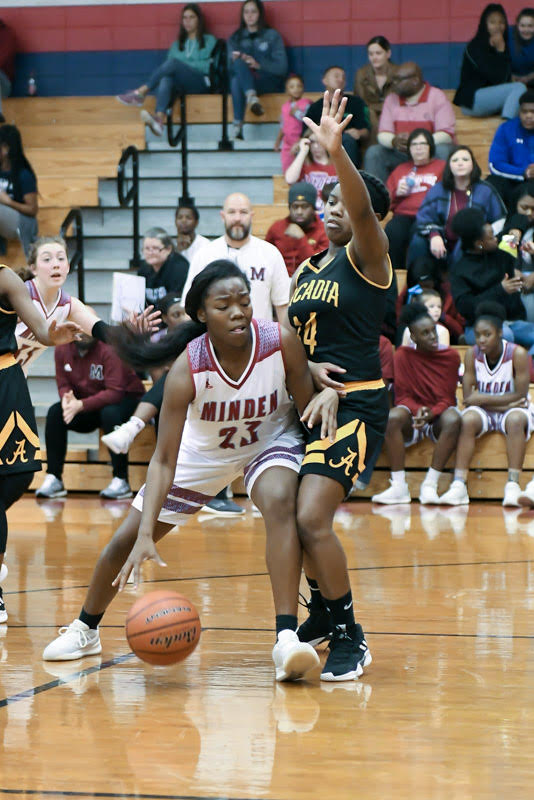 Minden's Lady Tiders responded to last week's opening-night loss at Ruston with an undefeated run in the Lakeside tournament that culminated in a 44-39 win over Haughton on Saturday night in the championship game.
"Overall I was really pleased with our defensive effort," Minden head coach Jacob Brown said. "I really like what we did in this game. We rebounded well, competed hard. I expect us to continue to improve throughout the season."
Minden improves to 4-1 overall this season.
Earlier in the day, the Lady Tiders beat Haynesville 54-38 to advance to the finals against Haughton.
The Lady Tiders started the championship game hot, going on an 8-0 run to establish an early lead.
"We had a good rhythm, and our defense was playing really well," Brown said.
Haughton scored a few easy baskets to get back into the game and cut the lead to four after the first quarter.
In the second quarter, the offense opened up for Minden. They stretched the lead to ten at halftime.
"Our defense was playing so well that it started to create some offense for us," Brown said. "We defended their sets well."
Minden didn't finish every possession well. Brown attributed that to some early foul trouble for the Tiders.
"Haughton started to get to the free-throw line," Brown said. "They shot a good percentage from there and gave them some confidence even though we were defending well."
Minden has had trouble already this season with coming out of halftime lethargic. Brown made sure to guard against that in the Haughton game.
The Tiders led 38-24 after three quarters.
In the opening minutes of the fourth, Minden went on an 8-2 run to take a 43-26 lead.
With four minutes left in the game, Haughton switched into a full-court press to try to cause some mistakes from Minden.
"At the end of the game, our shot selection wasn't good," Brown said. "Our ball security wasn't good and we didn't value our possessions."
Haughton's pressure led to a 15-6 run for Haughton that closed the gap.
"It's not that we're trying to stall out with four minutes left in the game, but we have to take care of the ball," Brown said.
Derrica Gilbert led the Lady Tiders with 19 points. Destini Powell added eight points for Minden.
"What I like is that we're grinding out games and finding ways to win," Brown said. "We're not totally healthy but we're competing really hard."
Minden travels to Haughton tonight for their last game before Thanksgiving break. The girls play at 6 p.m. followed by the boys game.