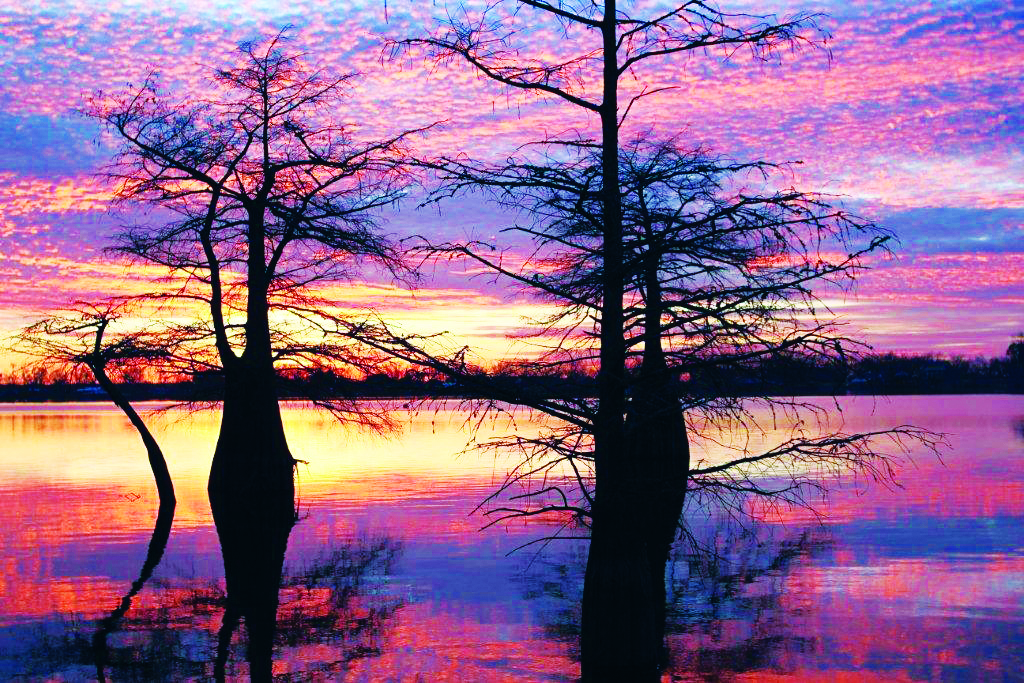 Louisiana is called the Sportsman's Paradise with good reason. There are lots of ways this state and its fantastic hunting and fishing has earned that moniker.
In our part of the world, north-central Louisiana, we can hold our own when it comes to the super fishing holes that are located here. However, we don't have a corner on the market for super lakes; they're located from Arkansas to the Gulf; Mississippi to Texas.
One of the best kept secrets people in our area may not be familiar with is Lake Bruin, a 3,000 acre lake located in Tensas Parish. Bruin is an oxbow lake that is cut off from the nearby Mississippi River. Located near the town of St. Joseph, Lake Bruin is a popular destination especially for anglers this time of year.
Seth Waller is one of the owners of Lake Bruin Lodge and Country Store and Fish Tale Grill on the lake. Located on the south end of the lake near the state park, the establishment is in close proximity to the public boat launch at the state park. His establishment is offering a special for fishermen this month.
"We're calling it the 'Spawn Special' whereby we're offering a 10% discount for anglers who check in at our 10 bedroom lodge during the month of March and who mention the 'Spawn Special'. We're doing this in March because this month offers the best opportunity to take advantage of the spring spawning period, especially for bass and crappie," said Waller.
Lake Bruin's acreage consists of unusually clear water and is quite deep with some parts of the lake being 65 feet deep. Part of the lake is owned by the state which operates Lake Bruin State Park. Among the features of the lake are the numerous piers that have been constructed off private sites that offer more great fishing opportunities.
Lake Bruin is a fairly young oxbow lake, roughly 11 miles long and one-half mile wide. Not only is the lake quite deep, it is also one of the cleanest lakes in the state.
As the spring season approaches, anglers from around the state converge on Bruin for some of the best fishing to be found anywhere.
"As the crappie begin to move in to spawn, some of the better catches are made fishing jigs around shallow trees in about four feet of water," said Waller. "Yo-yo fishing using shiners is also popular on the lake and one of my personal favorite methods is to fish a jig under a popping cork fishing 12 to 18 inches deep in four foot water.
"As far as fishing for bass during the spring spawn, such lures as Shaky Heads, spinner baits and Chatter baits fished around the cypress trees are popular methods as well as fishing the front of the piers with crank baits and Rat-L-Traps."
One of the more popular methods of fishing on Bruin is to wait for nighttime as there are several green halogen-type lights submerged just beneath the surface around the lake. This lake hosts a thriving population of hybrid striped bass and fishing 200-series crank baits or Rat-L-Traps around the lights often results in bone-jarring strikes from these striped fighters.
"We regularly have anglers going out at night and fishing the green lights and catching hybrid stripers one after another. It's quite popular on our lake," said Waller.
Other species that are sought because of their numbers include bluegill and red- ear (chinquapin) bream along with channel catfish.
For more information on beautiful cypress-studded Lake Bruin and what Lake Bruin Lodge has to offer, visit lakebruinlouisiana.com. To contact the lodge directly, call 318-766-0075.