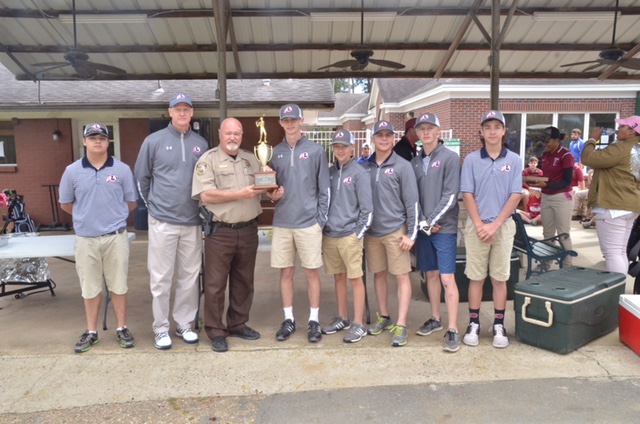 The Lakeside Boys Golf Team led by senior Jalen Gould won the MHS 2017 Golf Invitational Wednesday over 6 other schools and captured the rotating Parish Championship sponsored by the Pine Hills Country Club. Gould shot a 47, and team members Haidyn Holley 50, Michael Smith 50, Brody Crumpler 50, Hayden Finley, 54, and Mathew Anders a 56. Haughton's Hunter Nesbit turned in the best round of the day scoring a 43 taking championship honors. North Webster's A. J. Stephens blasted the longest drive of the day and Lakeside's Mathew Anders had the best shot at the Par 3 to win " Closest to the Pin" .
Kennedy Dent continued to impress by winning the Championship Title in the Ladies division shooting a 54. Haughton's Kamryn King placed second with a 55. Haughton's Ladies won the MHS Invitational Trophy by one shot over the Tide. The MHS Tide Girls team did hold on to the Parish Rotating Trophy for the 2nd year in a row with Dent, Elsie Huffman, Mary Holland Floyd, and Piper Mealey combining to keep the Title. Hannah Crowder had the best shot on the Par 3 and Kamryn Kind recorded the longest drive.
Minden, Lakeside, and North Webster represented the parish while Red River, Haughton, Many, and Ringgold each combined for 57 high school players entering the event. A special thanks goes out to Mr. Bruce Stephens for cooking a delicious jambalaya, the Minden Coca-Cola Bottling Co. for drinks, and the Pine Hills Country Club for a beautiful course.