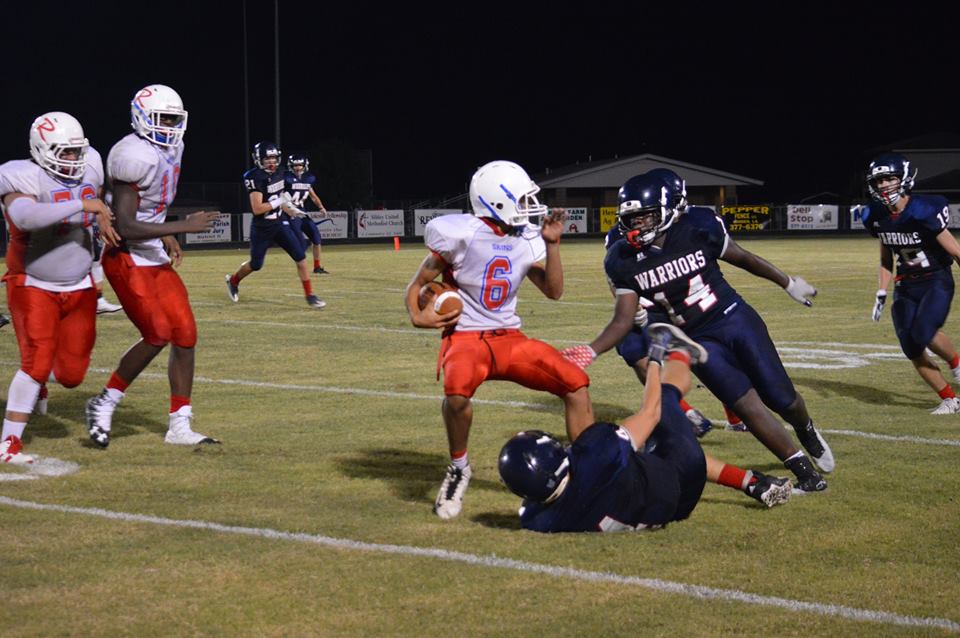 The Lakeside Warriors fought til' the finish Friday night in front of their home fans.
The Warriors put up 26 points and gave the Ringgold Redskins a run for their money, but couldn't complete a late comeback effort, falling 34-26.
While the team and coaches will ultimately be disappointed with a loss, there were several bright spots that give Lakeside fans cause for hope as the season and team progress.
"At times I thought we ran the ball well and our tackling was better," head coach Jason Martin said. "We still have a lot of mental mistakes to correct. We shot ourselves in the foot with dropped passes, too. We're one step away if we keep working and getting after it."
Ringgold jumped ahead early in the contest 8-0, before Lakeside answered back with a touchdown to make it 8-6. A Lakeside safety would set the Warriors back, bringing the score to 10-6 as the second quarter got underway.
Lakeside and Ringgold would each add another touchdown and the two teams went into the break at 16-13 in favor of the 'Skins.
Lakeside came out of the half roaring and drove the field for a touchdown drive that gave the Warriors their first lead at 18-16, but it was short-lived as Ringgold fired back to regain the lead at 22-18.
In a tight ballgame in the fourth quarter, Ringgold put their stamp on the game with another touchdown to take a 28-18 lead, and then an interception return for a touchdown on a Lakeside pass to make the score 34-18.
The Warriors punched in another score late in the contest to bring the final to 34-26.
Lakeside will travel to Plain Dealing Friday for a matchup with the Bulldogs and Texas A&M wide receiver commit Keldrick Carper