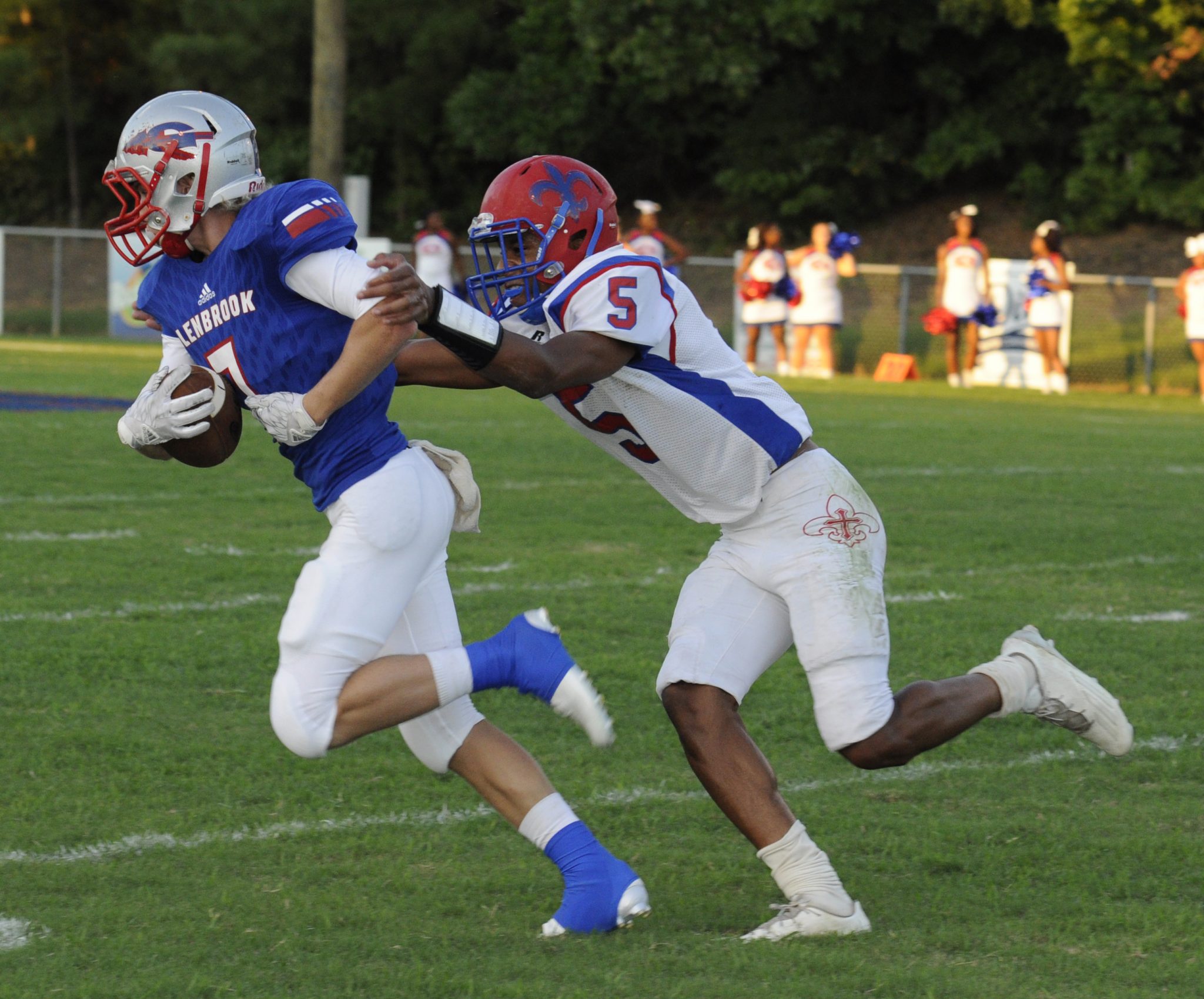 Fans were visibly annoyed by the pesky gnats that invaded Apache Stadium Friday night, but those bugs were nothing compared to the bite of the injury bug that seems to be following the Apaches so far this season.
Glenbrook (1-2) fought tooth-and-nail against a talented Greenville Christian team as the two sides traded leads throughout a thrilling four-quarter affair Friday night.
Unfortunately, Glenbrook lost the game 26-20 in overtime, and lost yet another starter to injury in the process as linebacker Joseph Kidd suffered a gruesome leg injury that visibly disturbed players and coaches on the Apache sideline.
"It's a broken leg," Glenbrook head coach Caleb Carmikle said. "I've never seen anything like that before. They showed us a picture of the X-ray and it was bad; never seen anything like that in my short career, it's tough."
Kidd joins offensive lineman Peyton Page as the second Apache starter to suffer a broken bone this season.
"We prayed for Kidd and had to re-focus," Carmikle said.
The Apaches got on the board first with a pass from Seth Tyler to Marshall Meek in the redzone.
Greenville would answer to make the score 7-6 and take the lead at 12-7 on a pick six of Tyler before the half.
Glenbrook answered on the opening drive of the second half with a methodical drive down the throat of the Saints' defense. Meek punched it in for his second touchdown of the game, this time on the ground.
Greenville would make the adjustment and stifle the running game of Glenbrook the rest of the way.
"They were exactly what we thought they were," Carmikle said. "They made plays strictly off their athleticism. Offensively, we had them on their heels until they started stacking the box, and then we could never get it out on the edge."
In overtime, Greenville scored with ease, despite what looked like a fumble out of the endzone being marked out at the 1-yard line by a crew that had their share of struggles on the night.
Glenbrook's final play on their OT possession was batted down in the endzone, sending the Apaches to 1-2 on the season.
Absent from this game was the passing threat Glenbrook will need to be successful as they begin district play Friday against Prairie View Academy.
"We had open receivers all night," Carmikle said. "Seth is trying to aim the football. We have to get his confidence up and get him back to playing throw and catch. We have the playmakers, we just have to execute."