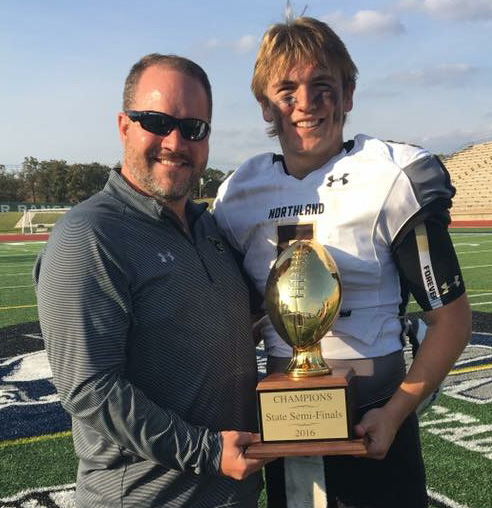 SIBLEY – A new head football coach has been named at Lakeside.
Just weeks after the resignation of Jason Martin, who has accepted an assistant coaching position at North Caddo, the Warriors have tabbed Jason McClendon to lead their program.
"I'm excited to be at Lakeside," McClendon said. "My wife and myself were looking to get closer to home and roots. We have a 4-month-old son and we want to raise him in a smaller community… a place that loves football where we can create tradition."
McClendon, who grew up in Shreveport and said his love for the game was fostered at Evangel Christian Academy, comes to Lakeside on the heels of a Texas Association of Private and Parochial Schools D-III state championship at Northland Christian in northwest Houston. His coaching career also includes stops at Alexandria Senior High, Christian Life, Dangerfield (TX) and Houston Second Baptist where he coached under Texas football icon Mike Sneed.
Serving as offensive coordinator, his unit averaged 57 points per game during Northland's 14-0 perfect season, the highest mark in the nation.
McClendon's uncle is LSU all-time football wins leader Charlie McClendon; his father played quarterback at Northwestern State and went toe-to-toe with Terry Bradshaw; his brother was an all-state player at Logansport.
"I grew up in a football family," McClendon said. "I never had a choice, if you know what I mean. I knew when I was a teenager I was going to be a football coach. It's the only thing I ever wanted to do."
McClendon specializes in offense, something the Warriors have lacked for the better part of three years.
"I've been an offensive coordinator now for about 10-11 years," McClendon said. "This is a unique opportunity.
It gives me a chance to do some things at Lakeside that have never been done."
McClendon said his offense employs the "old-school air raid" by name, but added he's not going to ignore the strengths of his personnel.
"I'm not married to just throwing the ball 80 times a game," McClendon said. "The tenets of what I believe in are playing fast, not thinking and turning first downs into touchdowns. The multiplicity of the offense comes down to what we have. We'll use two tight ends, two running backs, a tight end and fullback; whatever we have, we're going to use it. The smart coaches who have used this system over the years have known how to change it and modify it."
McClendon said the system is based on physicality, not finesse.
"We believe in being physical," McClendon said. "I challenge my guys to be the most physical unit on the field every game. We want to hit people in the mouth and run the football, because that will open up play action."
McClendon has coached alongside Lakeside assistant coach Jonathan Causey, another factor that helped lead him to Sibley.
The Warriors currently lack a defensive coordinator, prompting McClendon to call that vacancy his top priority for the offseason.
"We don't know how many positions we'll be able to add or if we'll be able to hire anyone at all. It will come down to teacher positions, but we're excited to get things going."
Lakeside begins the 2017 season on the road against Ringgold on Sept. 1.