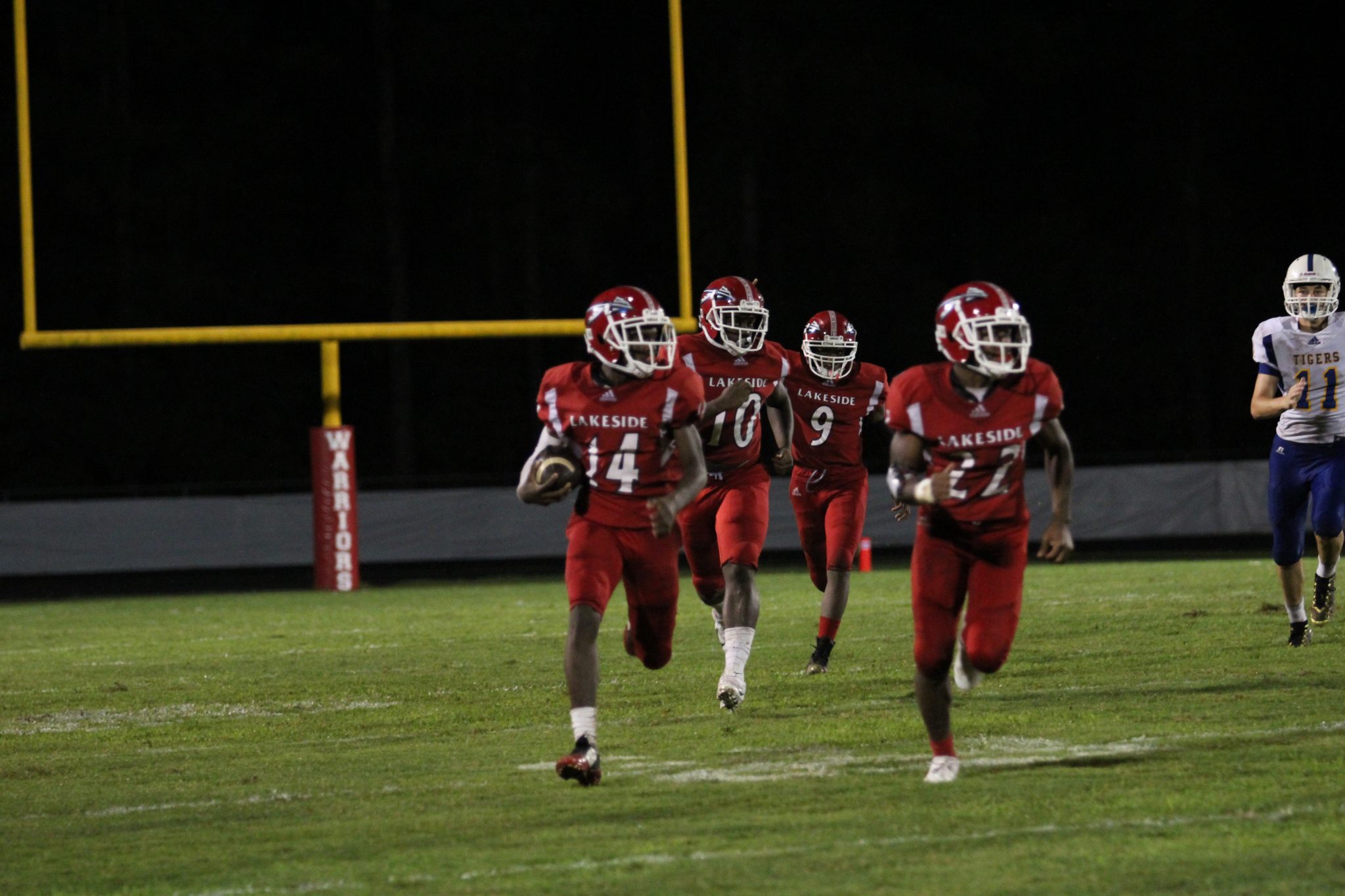 Lakeside was not concerned with the rainy conditions that tore through North Louisiana on Friday night as they stomped out Beekman Charter School 34-6.
Wide receiver Trey Sanders put on another athletic show, catching one touchdown pass and having a kickoff return for a touchdown called back on a fluke call.
"Trey is just a big-play guy," Lakeside coach Jason McClendon said. "He can score the ball whenever he touches it. He's so explosive and dynamic with the football."
After opening the game with a ten-yard pass from Jordan Preuett, Sanders caught a second pass to complete the two-point conversion and put the Warriors (3-0) up 8-0.
"Jordan had his best game of the year on Friday," McClendon said. "He only had one bad throw. He ran the ball well. His decision making was great. I thought it was his best game, truly."
Zachaeus Sumlin scored a 25-yard touchdown late in the second quarter to give Lakeside a 14-0 lead.
"We're averaging 9.9 yards per carry this season, it's really incredible," McClendon said. "Everyone thinks we're this air-raid team, spread offense. But our running game is what has set us up all season to do those things.
Beekman used a big play to get back in the game right before halftime on a 60-yard touchdown pass that cut the lead to eight at halftime.
On the opening kickoff of the second half, Sanders cut through the entire Beekman kickoff team on an incredible 80-yard run for an apparent touchdown. After the score, the referees gathered as onlookers began to notice flags near the five and twenty yard lines. Two personal fouls were called, one on each team, and the result was a rare re-kick.
Later in the drive, Sanders caught a screen pass on the left side of the field. He reversed his run and dashed across the length of the field before turning the corner to get down to the ten-yard line.
"We;re going to find ways to get Trey the ball more," McClendon said. "He makes the most of his touches every time."
Standout running back Jaquez Lott scored on the next play with a 10-yard run to put Lakeside up 20-6.
Lott only had 13 carries on Friday, but continued his excellent season running the ball with 89 yards on the ground and another touchdown.
"Jacquez had a good game again," McClendon said. "We only had the ball for 36 plays all night, so 13 carries isn't what he's used to, but it was what the game called for."
Beekman fumbled the next possession on their own 30-yard line, setting up Preuett to find Nathan Willis for a 30-yard touchdown that put Lakeside up 26-6.
Tyrese Myles scored on the next Beekman possession on a pick-6 bringing the final score to 34-6.
Next Friday, Lakeside travels to Rosepine to take on Rosepine High School at 7 p.m.