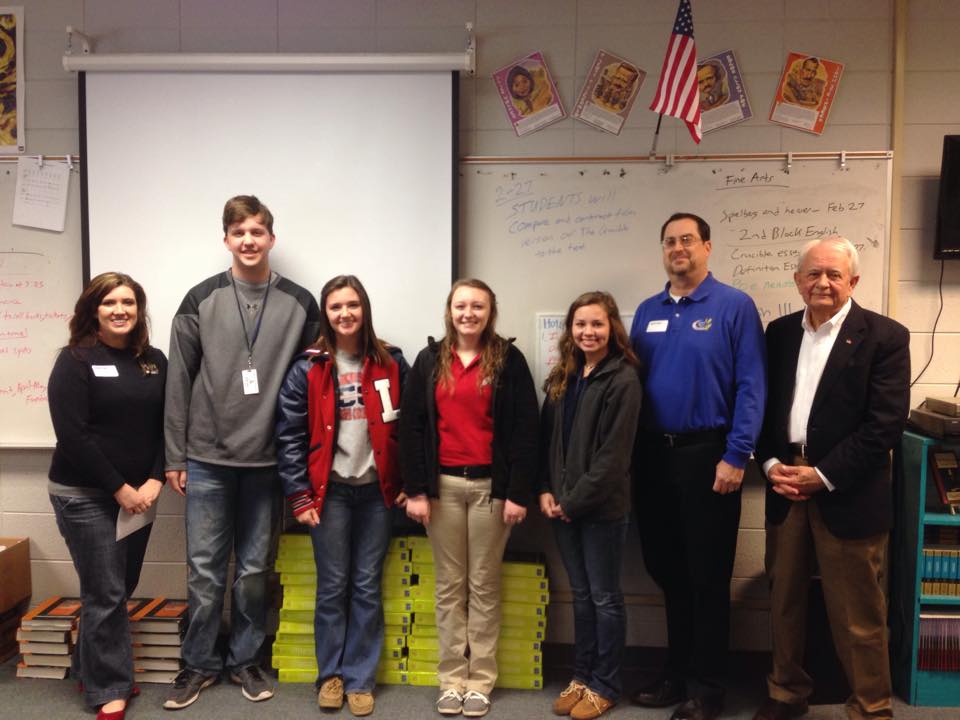 Twenty-three high schools from a six-parish region compete annually in an essay contest sponsored by Claiborne Electric that sends students on an all-expense paid trip to Washington D.C. This year, for the first time in contest history, one school secured all four spots in the judging.
Lakeside High juniors Abigail Reynolds and Lane Hammons were the overall winners of the essay contest while their classmates, Megan Osborne and Allie Mannes, were selected as alternates.
"The faculty and administrators could not be more proud of the efforts that our students displayed in the annual Claiborne Electric essay contest," Lakeside Principal Johnny Rowland said. "It is a tremendous honor that all four of the top spots in the contest went to Lakeside students."
Rowland said this is the second year Lakeside has excelled in the contest. Last year, three of the top four spots were awarded to Lakeside students.
"Our students have always performed well in the contest, but it is a tremendous accomplishment to win all four spots," Rowland said. "It is an even greater accomplishment when you realize all four students came out of the same class."
Rowland offered his congratulations to not only the four students but also their parents as well as their English teacher, Josh Beavers.
Reynolds and Hammons will join a delegation of other high school students from Louisiana in traveling to the nation's capital June 12-19 for the Rural Electric Youth Tour. As alternates, Osborne and Mannes will go on the trip in the event something prevents the overall winners from attending.
During the week, students will learn how the nation's rural electric cooperatives work. They will be treated to a comprehensive tour of many of Washington's most famous sites. Students will experience fun events such as dances and a yacht cruise with students from across the nation, and visits on Capitol Hill with the Louisiana congressional delegation.
The winners will also attend a Youth Leadership Summit in Baton Rouge March 23-25, where they will meet their fellow Louisiana
delegates and learn more about their trip to Washington.
Reynolds is the daughter of Dustin and Jennifer Reynolds. She has a 4.0 grade point average and is junior class president, student council president, editor of the yearbook and the current Miss Lakeside. She is also a member of National Honor Society among other honors.
Hammons is the son of Barry and Ellen Hammons. He has a 3.95 grade point average and is a member of National Honor Society. He has been a member of the student council and 4-H for five years. He also serves on the yearbook staff, the Lakeside Ambassadors and is a former cheerleader.
Osborne is the daughter of Ronnie and Tabitha Osborne. She has a 3.9 grade point average and is a member of the yearbook staff, Lakeside Ambassadors, 4-H, FBLA and National Honor Society. She has earned numerous academic and athletic awards and is a member of the track team.
Maness is the daughter of Jason and Amy Maness. She has a 3.85 grade point average and is a member of National Honor Society, 4-H, principal's list, A-Honor roll, Fellowship of Christian Athletes, student council and the homecoming court. She is active in 4-H, earning grand champion marks on the parish and state level.
The contest was open to any high school junior who lives with a parent or guardian in a home served by Claiborne Electric. Each contestant wrote an essay of approximately 300 to 400 words in the form of a letter to any elected official, discussing a topic important to the student. A panel of judges reviewed the essays, which were coded for anonymity.