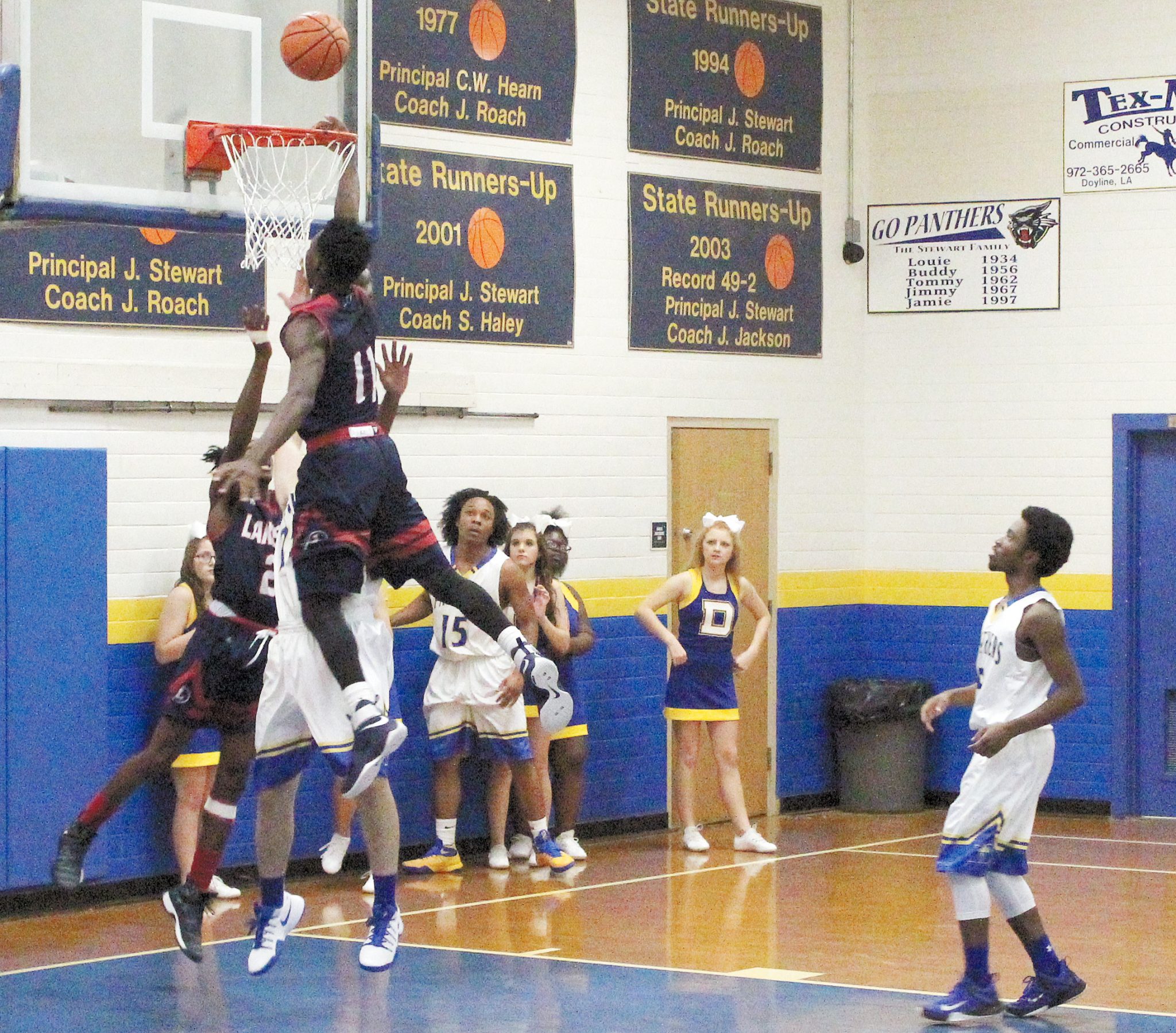 DOYLINE – The Lakeside Warriors will hold onto the Paddle for the second consecutive year.
On Tuesday night in front of a standing-room only crowd, Lakeside was able to outlast a hungry Doyline Panthers team and win the Battle for the Paddle by double digits, 75-64.
"They came out in a box-and-1 against Jalen (Gould)," Lakeside head coach Jason Gould said. "Our other guys stepped up their game and our defense really came through for us. Doyline played very well and was right there in it the whole time. We really had to work to win it."
The Warriors came out sluggish offensively in the game's opening quarter but still saw themselves in front 11-10 heading into the second quarter of play.
Doyline fell behind 21-17 with 3:53 left in the first half. The Panthers turned up the pressure, picking the Warriors up full-court and creating points off Lakeside turnovers. By the time the game reached halftime, Doyline had turned their deficit into 29-27 lead.
Lakeside came out roaring in the second half, going on a 9-4 run to take a 36-33 lead.
The Warriors, perhaps smelling a little blood in the water, turned up their own defensive pressure with a halfcourt trap that resulted in a slew of Panther turnovers.
Lakeside's Damian Coleman put an exclamation mark on the run with a steal leading to a breakaway dunk that electrified the Warrior fans in the crowd and even some Doyline supporters.
At the end of three quarters of play, Lakeside held a 50-39 advantage.
"I thought we played hard and with emotion," Doyline head coach Michael Normand said. "We lost our focus in the third quarter and they made a big run that really decided the game. We played some teams that were smaller than us and I think got into some bad habits of not blocking out. When you go up against good teams who are bigger or equal in size to you, you have to be better than we were tonight. We play a lot of young guys, and I told them they will learn a lot more from a loss than a win."
Lakeside's largest second half lead was 13 points, and the Warriors kept it their most of the second half, as they appeared to be the deeper, more athletic and more disciplined team early in the season.
Doyline did manage to cut the lead to 8 points with 44 seconds left in the game, but Lakeside never flinched, pushing the final margin back to double digits at 75-64.
Chase Mitchell led Lakeside with 18 points, followed by Jalen Gould with 14 points and Damian Coleman with 12 points. Tyler Sterling added 10 points for the Warriors, as did Michael Bradford, and Tyreke Loftin added 7 points.
Doyline was led by Jatavion Jackson with a game-high 21 points as he tried to will his team to victory with 10 points in the fourth quarter.
The Warriors took a brief moment to celebrate with their well-earned paddle, but it's a quick turnaround for tomorrow's game with Mansfield at 8:15 in the 23rd annual Don Stahl Memorial Tournament.
Doyline will have Wednesday off to regroup and rest before taking on Haughton, Thursday at 8 p.m. in Sibley, also as part of the Don Stahl Memorial Tournament.
Lakeside Lady Warriors vs. Doyline Lady Panthers.
The Lakeside Lady Warriors dominated the Doyline Lady Panthers in their debut under new head coach Lyndzee McConathy, 45-21. Jhasmine Lewis led Lakeside with 11 points, followed by Chelsea Mays with 10.
Katie Ferguson led Doyline with 6 points and Taiteuna Rabb added 5 points.