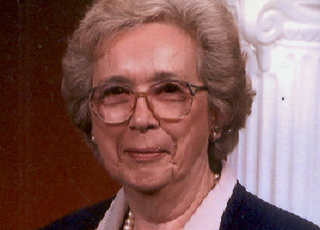 Funeral services for LaVerne Westbrook Strong will be held Friday, Aug. 12 at 10 a.m. at First Baptist Church West Chapel with the Rev. Bill Crider officiating. Interment will follow at Doyline Cemetery in Doyline under the direction of Rose-Neath Funeral Home in Minden. The family will receive friends from 5 until 7 p.m. Thursday, Aug. 11, 2106 at Rose-Neath Funeral Home in Minden.
LaVerne was born Oct. 15, 1926 in McIntyre and entered into rest Aug. 8, 2016 in Minden. LaVerne was a member of First Baptist Church Minden and retired from the Webster Parish Clerk of Court and The Winford Company.
She was preceded in death by her parents Willie and Effie Westbrook and brother Everett "Buddy" Westbrook.
She is survived by her husband of 70 years, Otis L. Strong Jr. of Minden, daughters: Nan Jones and Jo Strong of Minden, grandchildren: Jennifer Lewis, Karen Lewis Lee (Stephen) David Lewis, Jodi Bell Tuttle (Shane) all of Minden and John D. (Jay) Bell Jr. (Lindsay) of Italy, great-grandchildren: Jessica Lee Winiarski (Jake), Sawyer Lee, Britten Culverhouse, Elizabeth, Jaydee Brooke, and Logan Tuttle, Lainie Jo and Gracelyn Bell, brother: James "Boots" Westbrook (B.R.) and numerous nieces and nephews.
Pallbearers will be Matt Wilson, Justin Stewart, Sawyer Lee, Britten Culverhouse, Bryan Hildebrand, Scott Mizell and Steve Causey.
The family extends special thanks to Minden Medical Center, Meadowview Rehab, AIME Hospice, Savannah Court and caregiver Ruby Orr.