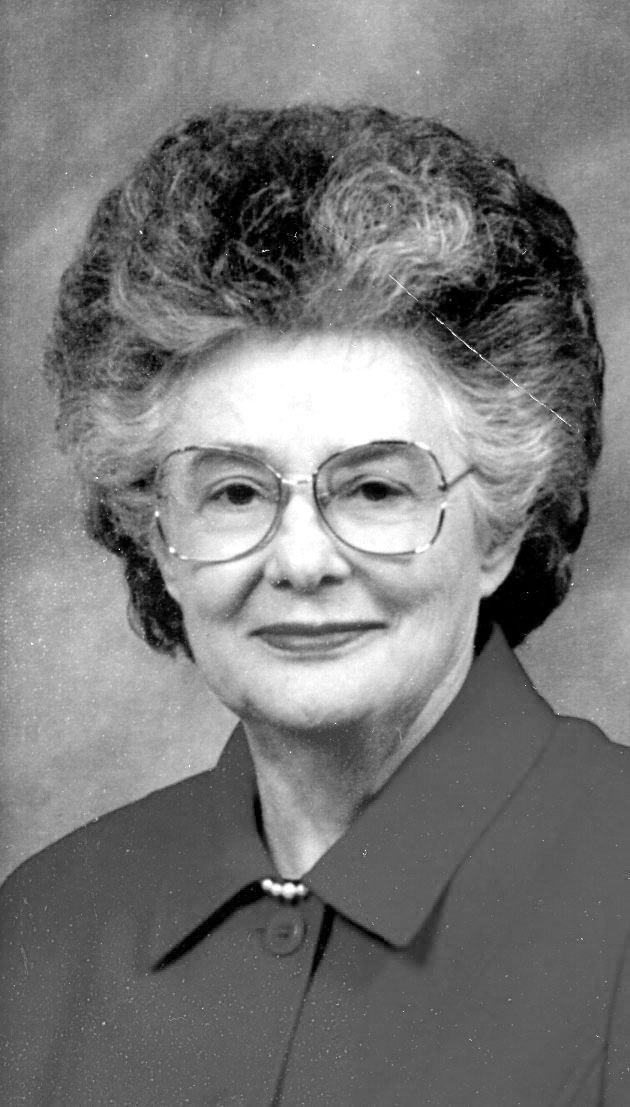 Lavinia Morris O'Bier Walker died peacefully on Monday, December 9th, 2019 after a long battle with Alzheimers.
Visitation for family will be at 9:30 a.m. at Rose-Neath Funeral Home in Minden on Thursday December 12, 2019 with services following at 11:00 a.m.
Lavinia Walker was born in Shongaloo, Louisiana on November 17, 1923 to Jim Fred & Katie O'Bier. She was the youngest of 4 sisters and spent her childhood in Shongaloo. She married the brother of her best friend (Maxine) and was married to Truman Walker for 69 years. Lavinia & Truman were married on 10/25/1941. They raised their family of three sons in Cotton Valley, Louisiana before retiring and moving to Minden. Lavinia worked for several years at People's Bank & Trust in Cotton Valley.
Lavinia Walker was a woman of great faith and was a missionary at heart. She served her church in multiple ways by teaching Sunday School, serving in Vacation Bible School, serving as President of WMU, singing in the choir, faithfully attending the prayer room every Monday morning and attending SonRisers. She also loved to work with the youth by volunteering at the Family Life Center at her church. Lavinia helped start and lead the Dorcas Group at First Baptist Church of Minden and took it upon herself to supply all of the nursing homes and hospitals with small pillows and bibs. She made hundreds a month and stayed very busy at her sewing machine. She also faithfully served her family by visiting regularly in nursing homes and hospitals. She could be counted on to sneak in their favorite snack and to make sure her sisters hair was done just the right way.
Lavinia was a wonderful Mother and beloved Grandmother absolutely adored by her grandchildren. She had the best sense of humor and loved to entertain her grandchildren with silly stories and songs. It brought her great joy to take her granddaughters and daughter in laws shopping.
Lavinia is survived by her three sons: Edward Walker and wife Jean of Louisania, Howard Walker and wife Kitty of Arkansas, George Walker and wife Cheryl of Louisania. She is also survived by many grandchildren: Eddie Walker, Gregg Walker and wife Renee, Seth Walker, Jennifer Collier and husband Alex, Sara Walker, Jacob Walker. Great Grandchildren: Andrew Walker, Matthew Walker, Sabyl Walker, Jonathon Couzzort, Truman Walker, Katiemae Collier, Sarajane Collier, Hank Collier, Rubyanne Collier and one Great Great Granddaughter: Rose Walker. She is also survived by many nieces and nephews.
She was preceded in death by her husband Truman Walker in 2011, her parents Jim Fred & Katie O'bier, her sisters Irene Swann, Mildred Burns, Linda Thigpen, and her best friend and sister-in-law Maxine Moore.
The family would like to recognize their own Renee Walker for spending time comforting Lavinia specifically in these last few months. We would also like to thank Connie Culpepper and Betty Kennedy of StoneyBrook. Med Nurses Kate Wiley and Teresa. ELARA Caring nurses Crystal Bresett and Melissa Pepper and Chaplin Jamie Hawthorn.
In lieu of flowers donation may be made to Louisiana Baptist Children's Home at https://www.lbch.org/
Rose-Neath Funeral Home
211 Murrell Street
Minden, Louisiana 71055
(318) 377-3412