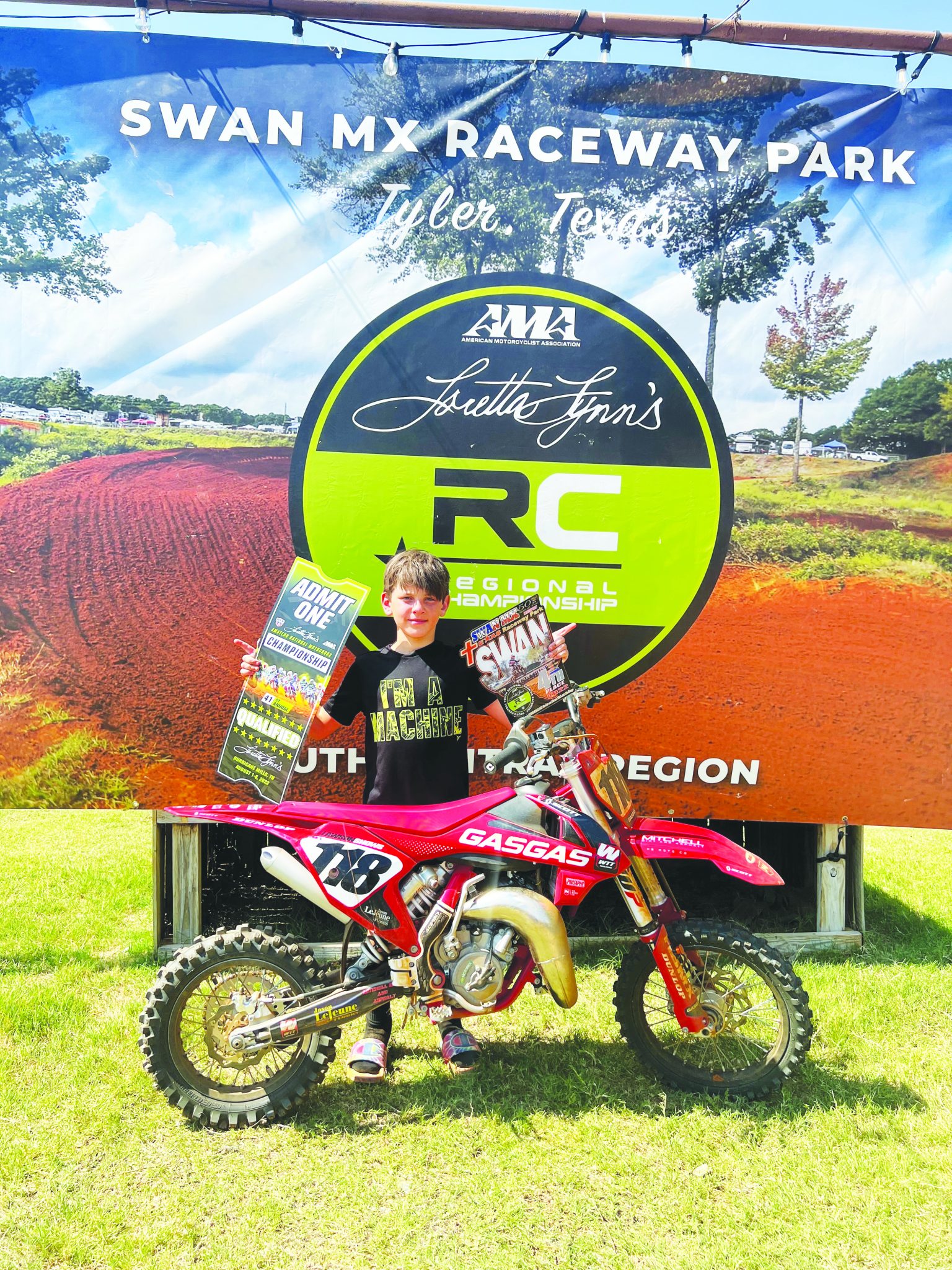 Webster Parish will be represented when the 41st running of the Monster Energy AMA Amateur National Motocross Championships are held at Loretta Lynn Ranch in Hurricane Mills, Tennessee, running Sunday through Aug. 6.
Minden's Lawson Shows, who will turn 11 next month and is headed into sixth grade at Lakeside, and his family will leave Wednesday for the event.
Four weeks ago Lawson finished fourth out of 52 bikes in a race at Swan Raceway in Tyler, Texas, punching his ticket to the championships.
There Lawson will compete in the 65cc 10-11 class.
Dirt bike riding is a family event for Lawson's mother Ashley Faulk and his 17-year-old half brother, Jay Jones.
"Both of my boys started out at 3 year old," Faulk said. "Lawson's dad (James Shows) raced, and you just can't get in a racecar at 3, so we got him his first Honda 50 with training wheels at 3, and within 3 weeks the training wheels were off and he was riding it. He rode a dirt bike before he rode a bicycle."
By the time he was 6, Lawson was already competing in motocross.
Faulk's first husband, Waylon Jones, also races and has become the driving force behind keeping Lawson and his older brother on track when it comes to motocross competition.
"My older son nearly made it to the Loretta Lynn race," Faulk said. "He was in a race and during a jump another racer crossed over in front of him and Jay (Jones) hit him when he landed. I was worried Jay had broken his neck."
Faulk said that sharing a love of motocross with his 17-year-old half brother has fueled Lawson's love of the sport.
"That's a big part of his love," Faulk said. "Lawson does everything Jayson does, down to the matching gear. My first husband, Jay's dad, does everything with Lawson. He takes him to the races and practices with him. That's something Waylon, Jay and Lawson do together.
"So Waylon teaches Lawson. He takes him to races. He gets him sponsors — all of that kind of stuff."
Competing in the Loretta Lynn Race is an expensive venture for Faulk's family.
"It'll cost us about $6,500 just to get him there," Faulk said. "Just for me to get into the pits for the week with them will cost $525. It's pretty pricey. For him to register is $1,400.
"Lawson is the only boy from north Louisiana to make the Loretta Lynn race. The other two Louisiana boys are from down south."
While she loves watching her sons compete, Faulk admits it's tougher watching them do so at younger ages.
"At first I was terrified, I'll admit it," Faulk said. "But now, when I hear the bikes start, my heart starts racing. I love the smell. That's what we do — every weekend. Waylon has a dirt bike track in his backyard. That's where they practice. He's sponsored by WTT Engines out of Bradley, Arkansas. Brian Hendrix does our motors. It's very exciting for all of us. We all cried when we realized Lawson made it (to the Loretta Lynn MX)."
Lawson said he didn't realize how well he'd done until being told.
"It felt awesome just making it to Loretta's," Lawson said. "It's a dream come true. I didn't know how good I was doing (at the Swan race where he earned the berth in the nationals at Loretta Lynn MX)," Lawson said. "I wait until the end to find out."
When he grabs on a jump during a race, Lawson said he's focused on only two things.
"I'm thinking about timing the jump and spotting my landing," Lawson said.
When it comes to summer fun for Lawson, who said his favorite school subject is math, there are only two things on his mind.
"I like baseball — that's pretty much it, I love baseball and dirt bikes," said Lawson, who pitches (he's a righty), plays first, second and third base along with left field when he's on a diamond. I like pitching best."
And just like motocross, Lawson has seen success on the baseball field, too.
"He makes All Stars nearly every year," Faulk said of Lawson's baseball abilities. "We just chose to focus on Loretta's this summer."
Faulk said she's even given motocross racing a try after watching her sons do so well in the sport.
"I have," Faulk said when asked if she's ever raced. "They do a parent-child swap. It's fun. I ride with my boys. We all race dirt bikes.
"It's a family thing. It's a fun thing."