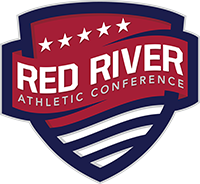 Louisiana Christian University has been recognized for the second year in a row with the highest honor given by the Red River Athletic Conference.
The 2023 RRAC Sportsmanship Award honors the university that shows the best sportsmanship during athletic competitions by its athletes and coaches. And LCU has shown it lives up to its mission for two years straight.
"Being recognized with this award speaks volumes to the type of coaches and athletes we have at our institution," said Vice President of Intercollegiate Athletics Reni Mason. "Honoring others is a staple in the Kingdom of God. It is truly an honor to be amongst such a fine group of people."
LCU President Dr. Rick Brewer said this is a real testament to LCU's Mission & Vision being amplified by the character and leadership of our coaches and student-athletes. This award also aligns with the core values of the NAIA.
"Louisiana Christian has been a welcome addition to the RRAC and a great representative of our conference," said RRAC Commissioner Tony Stigliano. "We appreciate the work done by Dr. Rick Brewer, Reni Mason and the entire athletic department as they operate their program the right way and carry the banner for the NAIA Champions of Character program."
Brewer said he could not be more pleased with this recognition for the second year in a row.
"Receiving this honor in consecutive years is emblematic of the commitment our coaches and student-athletes have to the mission and vision of Louisiana Christian University," Brewer said. "LCU's student-athletes excel on and off the courts and fields of competition. And, the upside for each of LCU's student-athletes is filled with opportunities to lead, serve, and flourish in their God-directed careers."
The composite student-athlete GPA was 3.04 for the past academic year.