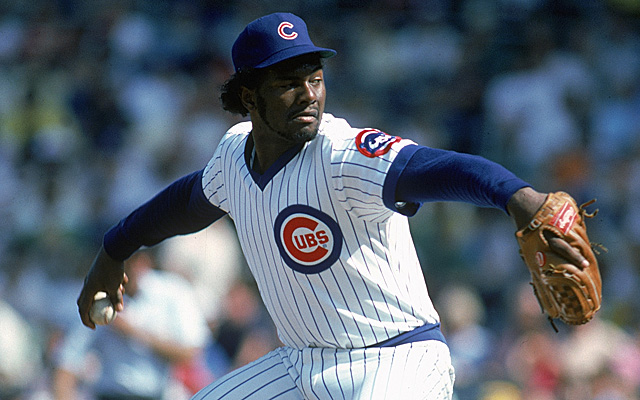 By Teddy Allen and John James Marshall
This story originally appeared in the Shreveport Journal on July 17, 1987 (and later in the Chicago Tribune).
Editor's note: With Lee Arthur Smith's selection to the Hall of Fame this week, I was reminded of this story my father and Teddy Allen wrote about Smith. The feature was a national winner for Sports Features in the Associated Press Sports Editors writing contest.
It can now be found at: www.DesignatedWriters.com
CASTOR — He is riding down a gravel road in a pickup, holding his valuable right arm out the passenger-side window. To anybody else, the gravel road leads nowhere. To Lee Arthur Smith, it leads everywhere.
The gravel road is everything that young Lee Arthur ever wanted or needed out of life. There were those steamy summer days filled with fishing and swimming in the pond, just off the side of the road. There were those Sundays filled with singing and playing the guitar at Ebenezer Baptist Church, which is just across the road.
And most of all, there was home. This was where Lee Arthur Smith was born, more than 29 years ago. Only it`s not the same anymore.
Oh, the pond is still there. So is the church. But something is missing. It is not lost upon Lee Arthur.
The truck tires make a steamy, hot hum. He is talking about how he met his wife, almost 15 years ago when the two were at Castor High. It is obvious he enjoys telling the story. His conversation is rapid and upbeat; his Southern dialect begins to slice through the covering of a Midwestern accent he has since acquired.
But something he sees takes him back more than 20 years. The truck moves along slowly. His eyes remain fixed on a particular spot. "Right there," he says. "That`s where it was."
There is nothing there now, nothing to indicate that there was once anything special about this piece of land. It is unmarked–except in Lee Arthur's mind. To anyone else, it is simply another part of the brush that makes up the woods of Bienville Parish.
He continues looking at the spot. The house where Lee Arthur Smith took his first step and said his first word and prayed to God every night before he went to sleep is no more. Under his breath, as he looks back over his shoulder while the truck moves ahead, he says only one word: "Gone."
Traffic in downtown Castor is slow on this midweek afternoon. The boy, about 8 years old, stands by his tiny wagon on the side of the road. A clean towel and about 15 cantaloupes cover the bottom of his wagon, and in his hand is a cardboard sign he holds at his waist that has written on it in black ink: "Cantelopes, 75 cents, 50 cents."
A couple of guys in a pickup truck stop and ask, "How's business?"
"Oh, pretty good," he says, smiling.
"Sold many?"
"Well," he says, with enthusiasm that mocks the heat and the little-traveled road, "I haven`t sold any yet. But I`m expecting a customer in a little while."
About a mile down the road in the yard of the last house on the right going out of town, a couple of men in their mid-20s are working on a car in the shade. Across the yard by the house, an older woman is dumping some charcoal in a rusty grill. She smiles, despite the heat. She knows the work will be worth it. "Gonna cook some chicken," she says. "Gonna cook some ribs."
Inside the house are three teenage girls, a 3-month-old baby and her mother. And still it`s quiet. Lee Arthur, in knee-length shorts, a mesh half- jersey, socks–one knee-high, one at his ankle–and black high-top Reeboks, relaxes in it. It`s one of the reasons he came home.
About 17 hours before he had been a couple of thousand miles away where business was really hopping. The 58th annual All-Star Game in Oakland. A national television audience. Oakland Coliseum, 49,671 fans. Beers were going for $3 and $4, pennants for $8, T-shirts for $10. And by the 13th inning, the National League, with Lee Smith pitching, was going for the victory. But after it was over, after the interviews had ended and the TV lights had been turned off, after he became the first person from Castor ever to be the winning pitcher in an All-Star Game, he caught a 12:55 a.m. flight back to Shreveport, and by 8 a.m. Wednesday was back home, where small cantaloupes were going for 50 cents and large ones for 75.
It may seem like a long way from California to Castor. And a long way back to San Francisco a day later. But if you`re Lee Arthur, it`s no trouble. "I come home whenever I can," he says.
Besides, he has some important things to take care of. Such as checking on his father, Willie, who has had a bad hip. Or making some remodeling plans for his house — again. In the den are two long rows of glass shelves, and on them are pictures and baseballs that tell the story of how Lee Arthur makes his living. But something else in the den tells his visitors that Lee Arthur would be well off even without baseball.
He grabs her tiny hand. "I wanted a setup man," he says, looking into the eyes of 3-month-old Nikita, "and I got a baby girl."
Nikita is the result of a relationship that began with all the love of the Yankees meeting the Dodgers. A 13-year-old Lee Arthur was shooting basketball in his yard one day when Diane walked up. He asked her, impolitely, if she would mind getting off the court. "She didn`t speak to me for three years," he says.
One day he noticed that, as girls do, she had changed. He decided never to ask her to leave again. They began dating, and now, he says, she's not only his wife and the mother of this child, she's a woman with an eye for the game. "It's like living with (Cubs pitching coach) Herm Starrette," he says.
"This brings back a whole lot of memories," Lee Arthur says.
The community of Jamestown is located seven miles north of Castor. It is here, along a dirt road in a small house with no running water, that Lee Arthur Smith was born, Dec. 4, 1957, to Willie and Bessie Smith.
"Man, all this has grown up a helluva lot," he says.
Lee Arthur points to a white wood-frame house that breaks the woods, about a half-mile from the spot where he was born. "That`s Mr. Claude`s house, Mr. Claude Parker," he says. "Still lives there. We used to get the running water from his house and tote it back to ours. That`s a long way for a boy to tote water."
He is talking, but looking. Watching.
"One of my favorite reasons for wanting to come up here is this right here," he says, looking across the truck to his left. Maybe 20 yards off the road is a pond about the size of a baseball field surrounded by thick woods except on the road`s edge. "I used to do some big-time fishing right here," he says, looking. "Or I`d come up here and go swimming."
Just across the road and 50 yards farther is the Ebenezer Baptist Church. It is tiny, square, white and wooden. The paint is peeling; some of the windows are broken. There is absolutely nothing else except the trees and the heat.
This is where a younger Lee Arthur spent all his Sundays. "I guess my mom and them are gonna be screaming at me some more to get together the gospel group," he says. "I play the guitar for my dad`s gospel group. In fact, we played here four or five times last winter. I still try to get up here whenever I come back."
This is still his church. Once he calls it "my place." Just like the woods around it, this has been his since he was born in its heart.
Behind his eyes are memories of those hot Louisiana summers filled with fishing and swimming in the pond, of singing and playing the guitar in a cozy church while friends fanned away the fever of the Louisiana heat, of hunting in his back yard. In his world.
His world is different now. This is only a part of it. He comes back here when he can in the summer and to live in the winter. But if he`s here for more than a couple of weeks, he says he gets "itchy." He`s been to the city, his other world, the one where he`s a major-league All-Star, and it`s nice.
But something always brings him back. Maybe it`s a pond that is here, or a house where he was born that isn`t.
He might not have had the option of coming and going had it not been for one thing. His junior year in high school, he was walking across the outfield of a softball field during practice. A ball rolled to his feet, beyond the outfielders. He picked it up and threw it on a line to home plate.
One of the school`s coaches was watching.
It didn`t take long for folks to find out about the big kid from Castor High. Soon after he had been spotted throwing that softball, he was on the baseball team.
He began picking up the intricacies of pitching and of baseball, but not the love of them. Baseball just wasn`t that important to him. Hauling pulpwood for his father was tops on his list because that`s how the family made a living. Fishing and hunting ranked up there, too. If you asked him his favorite sport, he would have said basketball in a second.
Baseball? No way.
On June 4, 1975, the day he was picked by the Cubs in the second round of the draft, Lee Arthur was hauling pulpwood. He stopped at the general store for a minute. Someone told him he had been drafted.
"I`m too young to go into the Army," he said.
No, he was told, the Chicago Cubs want you to play baseball–for a living.
"Yeah, right," he said, and got back in his truck and hauled some more pulpwood.
But it was true. The kid who didn't know how to throw anything but plum peaches against a mailbox two years before was in a position to make a lot of money.
The Cubs sent veteran scout Buck O`Neil to sign him, but before O`Neil made that trip to Castor, Smith had a talk with Joe Adcock, a former star for the Milwaukee Braves who lives in nearby Coushatta.
Smith already had signed a scholarship to play basketball at Northwestern Louisiana in Natchitoches.
"Are you going to Northwestern to play basketball or get an education?" Adcock asked Smith.
"An education."
"Good. Then I advise you to go (to Northwestern) unless they offer you $50,000."
"Yeah, sure," Smith said, startled by the number.
So when O`Neil showed up, he asked Smith what he wanted. Trying to hold back the laughter,
Smith told him $50,000. "And $8,000 for my education."
O`Neil said fine, sign on the dotted line.
"Man," Smith says now, "I've been doing this for free after school and these guys are going to give me $50,000? I shoulda asked for $80,000."
At the time, Smith figured he could play for two years (to get his full bonus a player must stay in the organization for that long) and then get out and go back to hauling pulpwood. For one reason: money. "Those first few years, I made more money in pulpwood than in baseball," he said. "That signing bonus was what kept me in it. I was going to play two years and then come back to the thickets."
The thickets seemed like a distinct possibility during those first few minor-league years. He led his league in walks two of his first four seasons, including 1978 at Midland, when he walked 128. That`s when the Cubs decided to try him as a relief pitcher.
"I thought that was a demotion," Smith said. "All I wanted to do was pack my bags and get out."
That`s when former Cubs great Billy Williams, now a coach for the club, had a talk with Lee Arthur. "He told me I had to put up some numbers," Smith says. "I realized I hadn`t done anything."
Better late to the big leagues — as a reliever, he began thinking — than never. So he stayed. He worked. He fell in love with the idea of being a "stopper." And he was called up to the big club in 1980.
— — —
Everybody who follows baseball in Chicago knows Lee Smith. Very few know Lee Arthur Smith.
Lee Smith carries a certain scowl–and a 6-foot-6-inch, 248-pound body — to the mound in the late innings and throws the ball 98 miles an hour past the best hitters in the National League. He walks as if he`s a hungry lion on the prowl.
Lee Arthur Smith is as different from Lee Smith as Castor is from Chicago. Lee Arthur is the kind of guy who leaves the gate unlocked and a ball in the driveway at his home in Bienville Parish so that neighborhood kids can come by and shoot some baskets. "They don`t have anyplace else to play," he says.
Lee Arthur donates $10,000 worth of tickets for Cub games to needy children in Chicago. There are hospital visits and appearances at other charitable organizations that "nobody knows about," he says.
And it is Lee Arthur who props up one foot on the back of a pickup in a shady spot in front of Ebenezer Baptist and just talks. About nothing. About everything. To him, it`s just a day off in the country.
Home.
"Being a country boy has a lot to do with giving people the benefit of the doubt," he says. "I like being by myself a lot. I`ve gotten to where I can tune everything out when I`m on the field except maybe my wife (in the stands)."
It`s one thing for Lee Arthur Smith to not be recognized for what he does. He doesn`t visit hospitals or donate tickets for the publicity. He does it because he feels it is the right thing to do.
But when Lee Smith, relief pitcher, doesn`t get recognized for his accomplishments . . . well, that can get to a man as proud as this.
"I`ve never really gotten as much respect from our broadcasters in Chicago," he says, "as I have anywhere else in baseball. I mean, I get praised when we go to New York or Philadelphia. I go to Chicago and I`m like, `Oh, here comes Lee Smith to get another save.` "
He offers an example. "We were down in the bullpen one day and they asked a trivia question: Who is the only person to have at least 30 saves for three straight years?" Smith says. "And they (the Cubs) were saying: `Who is it? Gossage? Or . . .` I said, `Meeee, you dumb fools.`
"Man, my own teammates didn`t even know," he continues and lets out a big laugh. "I don`t know. I guess I`m not too much for publicity."
Even his status as an All-Star does not get him recognized properly. But it does get him recognized. "First, I was (called) Ferguson Jenkins," Smith says. "Then it was Bull (Leon Durham). Now it`s Andre Dawson."
In the hours that he was in Castor, no one mistook him for Andre Dawson. Or Leon Durham.
And no one mistook Lee Arthur Smith for Lee Smith, either.
The truck takes a left off Highway 4 and crosses the railroad tracks just inside Castor.
Back at home, the food is cooking. A car stops outside the driveway and boys climb out, running toward Lee Arthur and a basketball goal.
"Hey, Lee, I saw you strike out that guy on television last night," one of them says, picking up the basketball.
"Yeah, man," Lee Arthur says, "I had to do it, had to have it."
He spends a few minutes shooting baskets, guarding whoever has the ball, talking and getting talked back to. Basketball talk.
The kids keep playing, and he steps into the shade of his house. They don`t notice him now. Did the kids come to see him, or did he come home to see them?
Lee Arthur turns, pulls open a screen door and goes inside to hold his baby. It`s hot in Castor, as it is on most July days here, and pretty soon the country boy will have to leave to go back to his other world.
There are some things he can`t come back to in the backwoods of Bienville Parish, such as the house where he was born. But if he wants to fish in the pond or sing in the church on Sunday or shoot baskets with some kids, there`s only one place to go.
And there`s only one place in his world where he`ll find a crewcut kid selling cantaloupes out of a wagon in front of a house. Business can be slow in Castor. Lee Arthur Smith wouldn`t have it any other way.