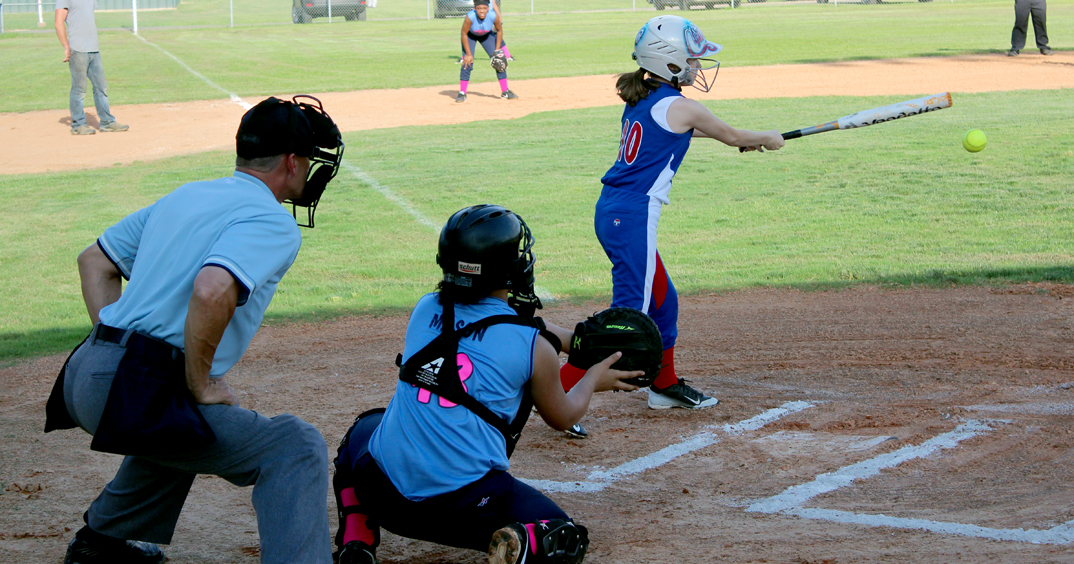 AA
The Exterminators 1
Lil Soldiers 0
Cade Vining led the Exterminators with a pair of hits, followed by Connor Williams, Ross Hammett, Gavyn Davis and Gavin Harris with
base hits.
For the Lil Soldiers, Brandon Davis and Jonathan Bryant led the way with base hits.
Alpha Energy 4
Roughneck Rentals 1
Hunter Sutton led Alpha with a double and single. Cadence Tims also had a double for Alpha, followed by Hayden Maddox with two hits
and Drake Lewis with a base hit.
Zander Rowell had two hits for Roughneck Rentals, followed by Chris Frazier, Gavin Davis, Rion Coker and Braxton Glover with base
hits.
Wonder Boys 16
Elm St. Dental 2
Landyn Huddleston had three hits, one of them a home run, to lead the Wonder Boys. Bryson Ranger and Jaxon Smith both had big nights with a double and single, while Reagan Coyle, Easton Sanders and Brody Bower all had three base hits. Kevin Berry, Gaige Machen and Luke Butcher added base hits.
Copeland Cupples led Elm St. Dental with two hits, followed by Kennedy Burns, Ethan Turner, Dawson Day and Seth Mangrum with base
hits.
Bandits 6
Timberland 2
Wyatt Whorton doubled and homered in a huge effort for the Bandits, followed by Devery Moore, Brian Williams III, Everonte
Williams, Lucas Whitten, Tanner Johnson and Spencer Brantley with base hits.
Jaylan Hawkins led Timberland with two hits, while Abram Jordan smashed a base hit. Jaiden Franklin and Nolan Still added base hits
as well.
AAA
Lions Club 17
Regulators 4
Brandon Winston, Dayton Sims, Bryce Powell, Ethan Latour, Chase Sentell and Caleb Condit all had base hits for Lions Club. Brandon
Winston struck out six batters on the mound for Lions Club and Dayton Sims tossed two solid innings.
Nolan Garms had the only hit for the Regulators, while Chase Hammonds struck out four batters.
Apaches 18
Alpha Energy 6
Landry Powell had three base hits to lead the Apaches, followed by Jakobe Jackson with a double and Maddox Mandino, Garrett Brownd
and Cason Clemons with base hits.
Bradley Dick had the only hit for Alpha on the night.
Dixie Youth
MPC Bulldogs 14
Rangers 2
Jonathan Parkerson tripled and Carson Parker doubled to lead the Bulldogs. Nick Mercer and Jackson Mayfield each had two hits,
followed by Grady Brasher, Noel Howell and Adam Culpepper with hits. Parker also struck out eight batters.
Landon Hopkins had two hits for the Rangers, followed by Mason Harper with a double. Parker Cupples and Andrew Fegley each added a
base hit.
Minden Athletic 13
Braves 2
Hayden Engel blasted a home run to lead Minden Athletic. De'Mareya Howard doubled and singled, while Cameron Combs and Blaine
Sparks added hits to round out the offense.
Hayden Engel also struck out 10 batters on his way to a no-hitter for Minden Athletic.
Connor Dunfey and Grayson Lamar each struck out four batters for the Braves.
Dixie Boys
Glenbrook 13
Minden Elite 2
Nick Mourad led the way with a pair of doubles for Glenbrook, followed by Beau Branch with three singles. Trevor McLean and Cade
Clemons both bashed doubles and Haynes Mandino added a single for Glenbrook.
Treyton Butler and Kenneth Gipson had the only hits for Minden Elite. Hunter Wilkes struck out nine batters for the Elite.
Lakeside 3
Farm Bureau 6
Wesley Dennis and Brittain Ranger had two hits each for Farm Bureau, while Joseph Kidd added a single. Stone Rasbury had a double
to round out Farm Bureau's attack.
Zannon Taylor and Krystopher Stewart had the only base hits for Lakeside.
Darlings
Blaze 5
Dirt Divas 6
Lainey Mercer, Colby Hollis and Vivian Still all doubled and singled to lead the Dirt Divas. Rebecca Mosley, Sara Beth Culpepper,
Hadley Haynes, Mattie Fowler and Gracie Shuab added hits.
Addie Monk led Blaze with a triple and single, followed by Audrie Teutsch with two hits and Hallie Harmon, Paiton Levesque and
Brooklyn Womack added base hits.
Angels
Cooksey's Tax 4
Mark Dunn Tigers 5
Piper Stephens led the way for the Tigers by blasting a double, followed by Gracelyn Pepper and Ashlee Banks with base hits. Pepper
struck out six batters on the mound.
Lillian Jolly and Hilary Bates had the only base hits for Cooksey's.
Ponytails
Gotshall Girls 3
Sky Rangers 14
Noint Scott had a double and Kenya Harris singled to lead the Rangers.
Crystakynn McDaniel and Bridget Morgan had the only hits for Gotshall.
CWW Fire 20
Subway 5
Hannah Mosley had a double and single, followed by Francis Robinson, Laney Taylor, Hollie Payne, Kaylee Davis and Sierra Franklin
with base hits. Mosley also struck out eight batters.
Reagan Lee had the only hit for Subway, a double.
Belles
First United Methodist 13
Pink Pratique 12
Sela Cooper doubled and singled to lead First Methodist and Erin Lee added a single. Audrey Plants struck out six batters in the
circle.
Shamorrow Whiting doubled and singled for Pink Pratique, Ty'Asia Shehee and Zimya Manning doubled and Nancy Silva and Quesha
Jackson had base hits.
Glenbrook 9
Haughton Heat 3
Kara Bryce doubled and singled, Aubrie Dickson had two singles and Kelly Murph, Amber Lovitt and Emma Earnhardt added singles.
Aubrie Dickson struck out seven batters for Glenbrook.
Myers and Ward had base hits for Haughton.