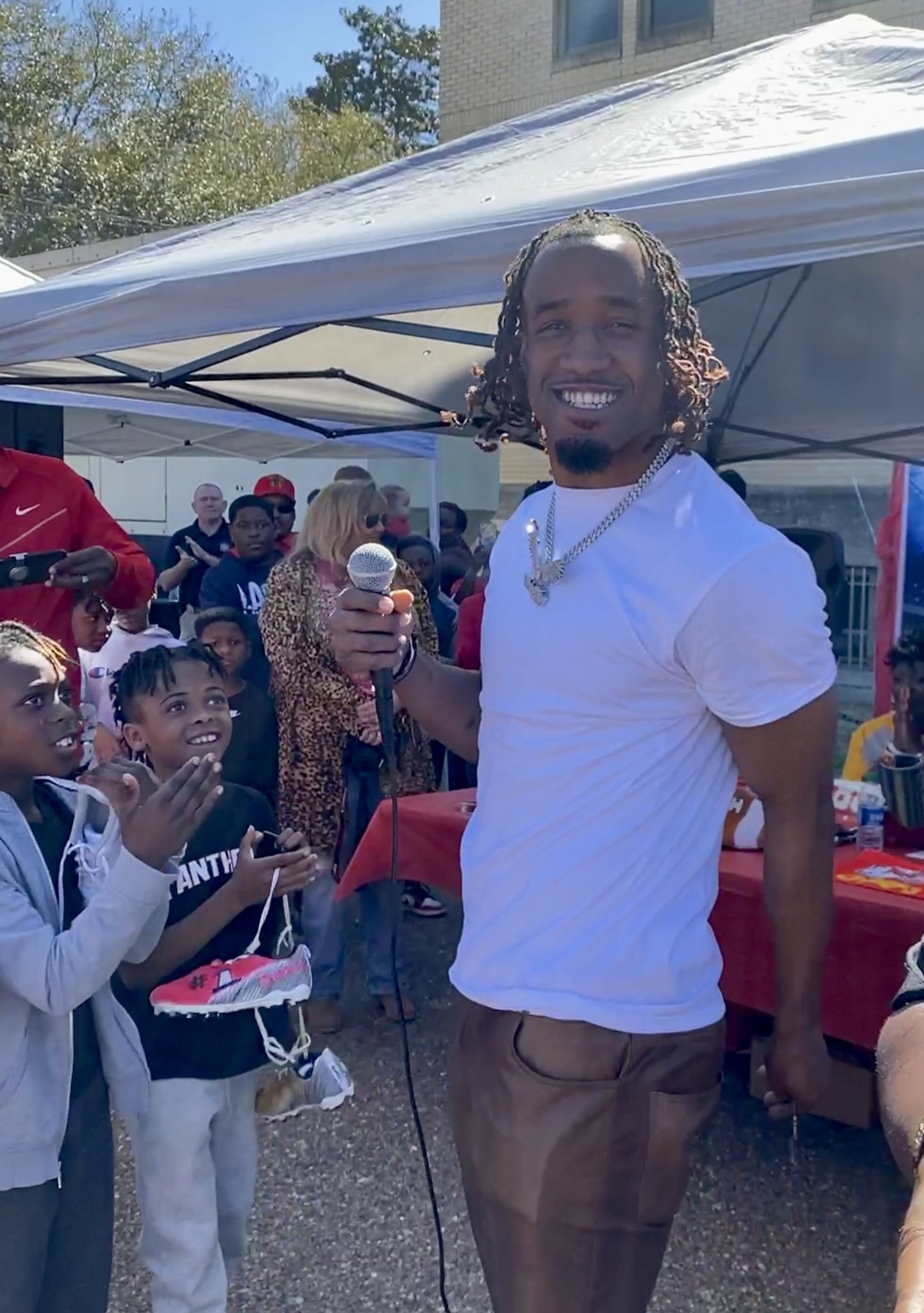 March 4, 2023 was declared L'Jarius Sneed Day in Minden by Mayor Nick Cox. Sneed, a native of Minden and Super Bowl LVII champion, was celebrated with a parade through downtown and then presented with honors including the key to the city. A large crowd came out to show their love and enthusiasm for Sneed, and free food, drinks, and music were provided.
Several people came out to speak about Sneed including State Representative Patrick Jefferson, Superintendent Johnny Rowland, Minden High School Coach Spencer Heard, Louisiana Tech Associate Athletic Director Ed Jackson, Minden Mayor Nick Cox, and Sneed's parents, Jane & Non Sneed.
"Today we are here to salute one of our very own," said State Representative Jefferson, presenting Sneed with an acclamation from Governor John Bel Edwards. "You are an inspiration to throngs of young people who aspire to reach and conquer the grandest of stages," said Jefferson. "Further, you are a welcoming burst of energy, synergy, and excitement for many, as you are Minden High, Louisiana Tech, and now a valued member of the Kansas City Chiefs. Brother Sneed, you will be called many things in your life, and we pray that they all will be good. But after Sunday, February 12, 2023, they must call you Super Bowl Champion!"
After relating stories of watching Sneed play in high school, Superintendent Rowland said, "This guy right here has proven to me that he has got intestinal fortitude, commitment, and a great desire to achieve. Not everybody has it, but that's why he's a Super Bowl champion, and that's why he went to the Chiefs and made his way. And I say congratulations. We're so proud of you."
Coach Heard related a story of a time when Sneed was still in high school, but things weren't going well for him. "Something was going on that day," said Heard. "I just remember looking at him and saying, 'Man, I'll tell you this. Someone might give up on you, but I'm not giving up on you.' Do you remember me telling you that? I didn't give up on you. I'll say this to everyone out here: Don't give up on your kids. Keep believing in your kids. No matter what happens, keep believing. Keep pushing, and keep believing in them. Great things can happen. JJ, you're an example of that."
Coach Heard then announced that Sneed was the recipient of the NFL Way To Play for his tackle on Philadelphia Eagles running back Miles Sanders during the Super Bowl. Receiving this allowed Sneed to pick which high school he wanted to donate the $5,000 to, and Sneed chose the Minden Crimson Tide.
Next Coach Jackson stepped up to the mic, saying, "It takes a village to raise a kid. We are held responsible whether we want to be or not. We don't choose to be a role model for all these youngsters that are here today, as athletes. We are put into that position because of what we are doing. It's so important that we realize that in our role. Sneed had a lot of people in his life that made an impact and made a difference. I just wanted to come down today and let him know that those guys over there support him, this university supports him, the city of Ruston supports him, and we'll always be there for him."
Jane Sneed began by praising God, before thanking the citizens of Minden for their support.
"First, give honor to God, who is the head of our lives. Where we are is only because of who God is. I want to thank the supporters of Minden. I thank the community who came out to support my son. Y'all have touched our hearts tremendously. We thank God for the gift. There's no limit to what you can do. Stay focused. Push your children. Pray for your children. There's nothing too hard for God."
Mayor Cox was the next speaker, saying, "One million ninety-three thousand high school kids play football. But we have one who is a Super Bowl champion from Minden, Louisiana! We call him JJ around here. And to us, he's one in a million. So today I have a proclamation honoring L'Jarius Sneed."
After reading the proclamation, Mayor Cox declared, "I do hereby proclaim that Saturday, March 4, 2023, as a day in which to honor and recognize L'Jarius Sneed and reflect on his many accomplishments which have made a positive impact on this community."
Sneed was then presented with a key to the city.
Sneed addressed the crowd, first thanking the Lord, and then thanking the mayor, the police, and everyone else who made this day possible. He finished by saying, "Thank y'all for coming out here. I love y'all. Thanks for supporting me. I love y'all and this town."
While there were a huge number of people hoping to get autographs, and previously it had been announced that there would be a limited time for that, Sneed told the crowd that he was going to try to see everyone and sign autographs for everyone.
This whole event was put together by Micheal Walker and Randy Tims. Walker and Tims want to express their thankfulness to everyone who contributed to this celebration.
"First of all, I want to thank my Lord above for the beautiful day it was," said Walker. "I would also like to thank Mayor Nick Cox for being onboard with us. A lot of phone calls and meetings went into planning this. Thanks to Denise Edwards, Smokin' J's, the Minden Coke plant, GBT Bank, and Logan McConathy. Also thanks to Charles A. Douglas, Clarence Bryant, and Whitney Elkins for grilling thousands of hotdogs, and thanks to Jonathan Bryant (Glenbrook), Trevor Williams (Ringgold High), and Jordan Glover (Homer High) for handing out water and sodas.
"Thank you to the Minden Police Department, Webster Parish Sheriff's Office, and Louisiana State Police for keeping us safe all day long. And thank you to Samantha Ellington for getting the parade order rolling smoothly.
"Last, but not least, a special shout out to my wife, Chequella Walker, for always working behind the scenes and to Randy Tims for working with me from start to finish, and to all the people who came out to make this a great success. If I missed anyone, it's my head, not my heart."