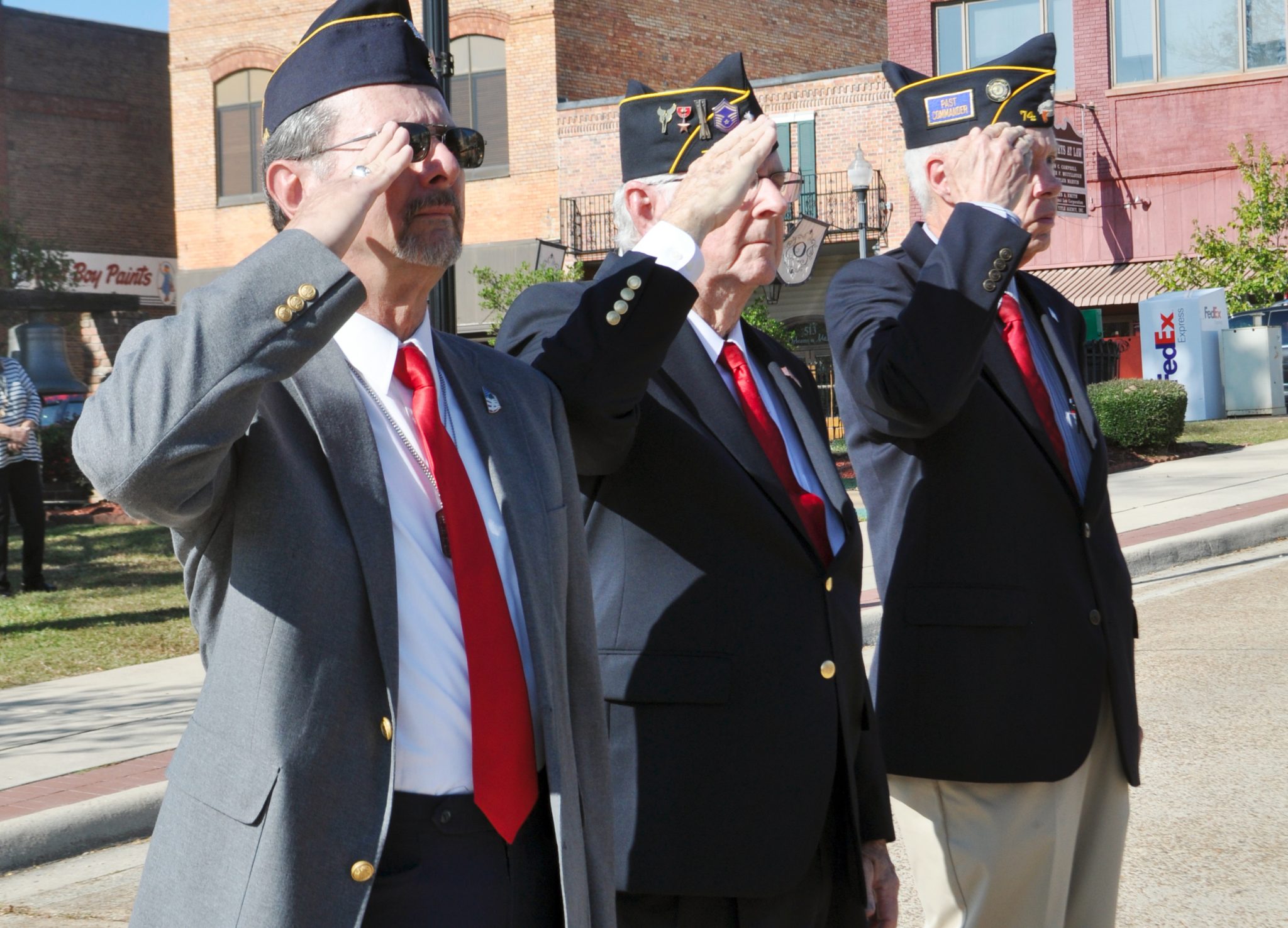 Area veterans were honored throughout the day Friday with schools and the community saying "Thank you for your service."
Culminating the day at Eagle Park at Turner's Pond, veterans gathered for a ceremony to honor veterans. It was dedicated to the late PFC Thomas O. Moore Jr., U.S. Army, who was awarded a Silver Star for his bravery in 1950 near Anju, North Korea.
During an attack by his company, Moore was responsible for inflicting heavy enemy casualties before he was fatally wounded. His brother, Fred Moore, said he was proud his brother was honored this way.
"He was my oldest brother, and I'm very proud," he said. "Everybody in town knew him. He used to drive a paper truck, and he worked for about three years throwing the Shreveport Times and the Journal. He knew just about everybody in town, and everybody liked Tommy."
A letter, written by Lt. L.S. Hay Jr., Moore's commander, was written to Moore's mother. He explained what happened to her son and commended him for his bravery. It was after he was shot that Hay tells her that he did not suffer.
"We evacuated him immediately but the bullet had punctured both lungs and he died 30 minutes after he arrived at the Aid Station," he wrote. "Just as he left he regained consciousness and asked for you. He suffered not at all because I don't even believe he knew he was hit…Again, I'd like to extend to you my sincerest sympathies. You can well be very proud of your son. He certainly upheld the tradition of one of the bravest and best armies the United States ever had."
Moore's name was added to the Wall of Honor Friday, and his family attended the ceremony.
The American flag was lowered to half-staff to honor all those who died serving and those currently serving in the U.S. Armed Forces.
The Minden Community Chorus performed at several places throughout the day, singing patriotic songs in honor of Veterans Day. They started at Glenbrook School, where a special program was held to honor veterans. The program also included the Airline High School Junior Air Force ROTC.
The ROTC taught students what each fold of the American flag means, and an Airline ROTC member performed a solo rifle display.
The Glee Club, comprised of Glenbrook students, performed for the veterans as well.
In downtown Minden, the Minden High School Junior ROTC hosted a flag-changing ceremony to replace the flag that flies across from the civic center and city hall. With a reverence for the nation and its flag, veterans from all over the area attended.
Doyline School hosted a program for area veterans, and the Community Chorus performed there as well.