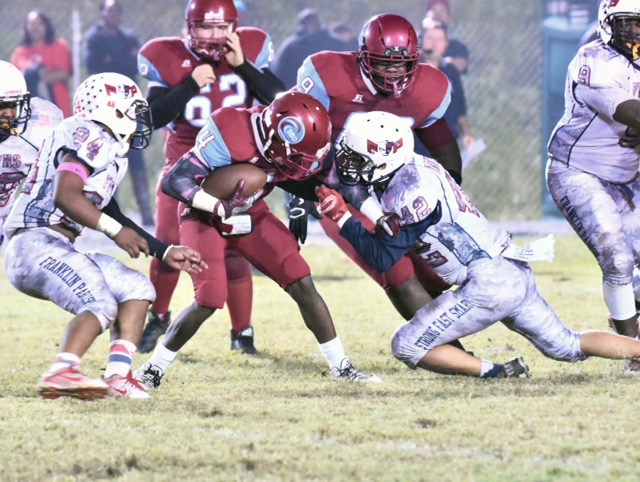 Like Al Davis, the late owner of the Oakland Raiders, used to say, "Just win, baby."
That's exactly what the Minden Crimson Tide were able to do Friday night at W.W. Williams Stadium, but not without withstanding a haymaker from the visiting Franklin Parish Patriots.
The Tide needed a stop on a game-tying two-point conversion attempt from their defensive captain to get the job done in a 36-34 victory that keeps Minden's season alive for at least one more week.
"I told the guys at halftime that we needed to make some adjustments to what we were doing defensively," Minden head coach Spencer Heard said. "We came out and made those adjustments and they helped in the second half."
"Offensively, I felt good about the way we played in the first half. We just had to many mistakes with things like fumbles, bad snaps and penalty situations. The thing that matters is the guys kept battling and gutted it out, and that's what it takes in the playoffs."
Minden had a tough time stopping the Franklin Parish trio of quarterback LT Majors, wideout Gary Fletcher and running back Stephon Hardin all night.
The Patriots, who came into the game 3-7 with 5 losses by less than a touchdown, showed their skill in taking the No. 5-seeded Tide to the wire.
Minden trailed 20-6 late in the first half thanks to two Hardin TD runs and a Fletcher TD reception, but Antonio Rivette cut the lead to 20-14 with a 1-yard TD plunge right before halftime.
In the second half, Minden's defense got more stops and Patrick Heard asserted himself on the ground. Heard ran for 169 yards and 2 scores on the night, with his second TD putting Minden ahead 30-28, followed by a stop by the Crimson Swarm which led to another 1-yard TD for Rivette.
Livonia mounted the final scoring drive, but Minden's Zi'Kerrion Baker smothered the ball-carrier at the 1-yard line to preserve the win and the season.
"We were able to bow our necks when we needed to defensively," Heard said. "Give Franklin Parish a ton of credit. We knew they had a good team offensively, and they showed it."
Matt Eskew recorded an interception for the Tide defense starting in place of the injured Ty'Christopher Harris, while Rivette's 2 rushing scores teamed with Heard's pair to be decisive.
Next up for the Crimson Tide is a second-round playoff game on the road against Class 4A's No. 21 seed, the Livonia Wildcats.
Livonia traveled north last week and defeated the Bastrop Rams, 50-41.