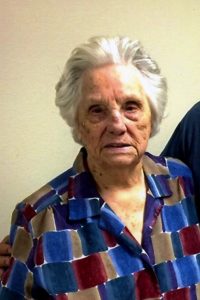 Graveside services for Lonna H. Moak will be held Monday, Aug. 14, 2017 at 10 a.m. at Hurricane Cemetery in Athens with the Rev. Richard Methvin officiating.
Lonna was born Sept. 7, 1921 in Lauderdale, Mississippi and entered into rest Aug. 10, 2017 in Ruston.
She was preceded in death by her parents, Etta Lee and Willie Moak, sisters, Mae Hill and Earnestine Jones, and brothers, Lamar, Pruet, L.V., Hudson, and E.W. Moak.
She is survived by her son, Norman McMillon and wife Sandy of Minden, daughters, Barbara Batchelor and husband Thomas of Ringgold, and Ardys Winters of McCool, Mississippi, sisters, Maxine Galdamez of Arcadia, and Sarah Pate of Athens, brother, Delane Moak of Hurricane Community, 11 grandchildren, and a number of great-grandchildren.