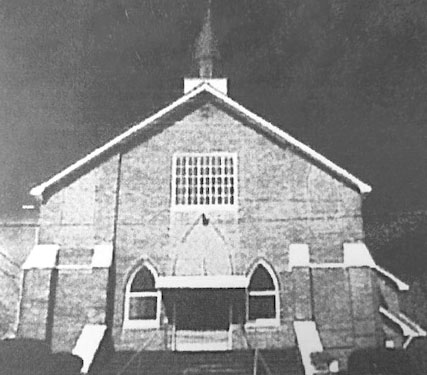 The Mt. Zion Chirstain Methodist Episcopal church, led by Pastor Rev. Gwendolyn Pabon, will be celebrating their 150th Anniversary this coming weekend.
"For Mt. Zion CME Church, our 150th Anniversary is a tremendous milestone. This year we celebrate a rich history and the promise of a brilliant future. God has blessed us and is continuing to keep his arms around us. We give recognition to the Pastors and members, whose faithful dedication and tenacity has been instrumental in the progress of this great church from 1870-2020. As we remember the cherished deeds of the past, let us not lose sight of the brilliant vision for tomorrow," said Pabon. 
Mt. Zion CME Church was organized in 1870 under the pastorate of Rev. Green Jones. The pastor and the 16 charter members worshipped under a Brush Arbor and later with a Caucasian church. The 16 charter members were Bro. Osborne Powell, Bro. Augusta Henderson, Bro. Gilford Simpson, Bro. Dave Harvey, Bro, Abney Anderson, Bro. George Washington, Sis. Leanna Lamar, Sis. Susan Cole, Sis. Jennie McKenzie, and Sis. Angeline Anglee.
Since they were firm believers in the idea that they could not remain at a standstill in religion, they desired a church of their own. In 1876, Rev. A.J. Brown led the membership in purchasing land and erecting the first building on the corner of what is now Fort and Walnut Streets. A second church was built on this site under the pastorate of Rev. J.S. Howard. Mt. Zion began to grow rendering the church inadequate. A third and more modern church was built on this site under the leadership of Rev. W.B. Burks.
In 1941, the members decided to move to a new sight. Rev. E.V. Wade and members purchased property from the Rawlston Estate on 414 East Union Street. The original building started out as a basement where all church activities were conducted. Known in the CME conference as a church builder, in 1945 Rev. L.W. Mitchell was assigned to Mt. Zion to complete the work that had begun. Within 4 years the upper story of Mt. Zion was completed and new pews installed.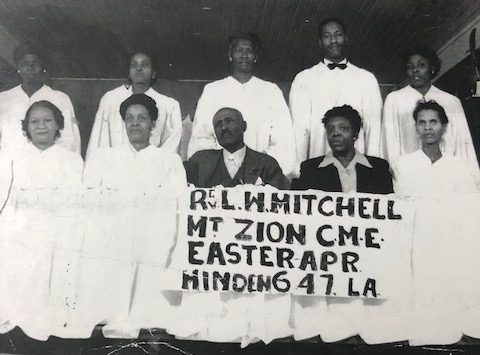 In 1962, under the leadership of Rev. G.W. Humphrey, the 1 Rainbow Tea was organized with Mrs. Mable Leary serving as chairperson.
In 1967, Mt. Zion purchased a new parsonage, Rey. T.C. Callier was the pastor.
Methodist Hymnals, chairs, and tables were donated by the S.B. Turner family. Rev. E.T. Brown was the pastor who was also the 1st African-American to serve on the Webster Parish Police
jury.
Rev. E.D. McWoodson was instrumental in getting the pews cushioned and the sanctuary re carpeted. Rev. Edward Fuller was appointed pastor of Mt. Zion in 1995. The outside steps were carpeted courtesy of Mr. James Webb and an elevator was installed.
Under the leadership of Rev. E.D. Hooks, the 14 Heritage Banquet was held at the Minden Civic Center. Rev. C.C. McClain of Little Union B.C. Shreveport, LA was the speaker.
On July 20, 2005, Mt. Zion was destroyed by fire. The members and Rev. Charlie Coleman II were devastated. Memories of the many events and activities that took place at Mt. Zion were conversations in the community as well as the nation. Area churches, citizens, businesses of Minden, Webster Parish Sheriff's Dept. and former members donated to the rebuilding of Mt. Zion that had been a beacon in the community for many years.
On Feb. 17, 2007, Mt. Zion entered into the new sanctuary with the pastor, Rev. J. Whitmore. The Cornerstone ceremony was held on Oct. 19, 2008. In 2010, Phase I of our parking lot project was initiated by Sis. Levion Gandy. This project was completed and dedicated in 2011 under the leadership of Rev. Earl J. Griffin, Sr.
Rev. Raymond Hampton, led the church in several projects which included landscaping, installation of a sprinkler system, Men's Ministry and the very popular Mt. Zion Traveler's singing group.
Mt. Zion made history on July 14, 2018. At the Annual CME Conference, for the first time in the history of the church, the 1st female pastor, Rev. Gwendolyn Pabon was appointed .
"Through long years of want and plenty, God has blessed this church, The Mt. Zion Christian Methodist Episcopal Church. May we have God's long-continued blessings while we walk in His Holy Way. Let us search our hearts daily, let us love one another, and keep praying that this church may continue to grow stronger spiritually," said Pabon.