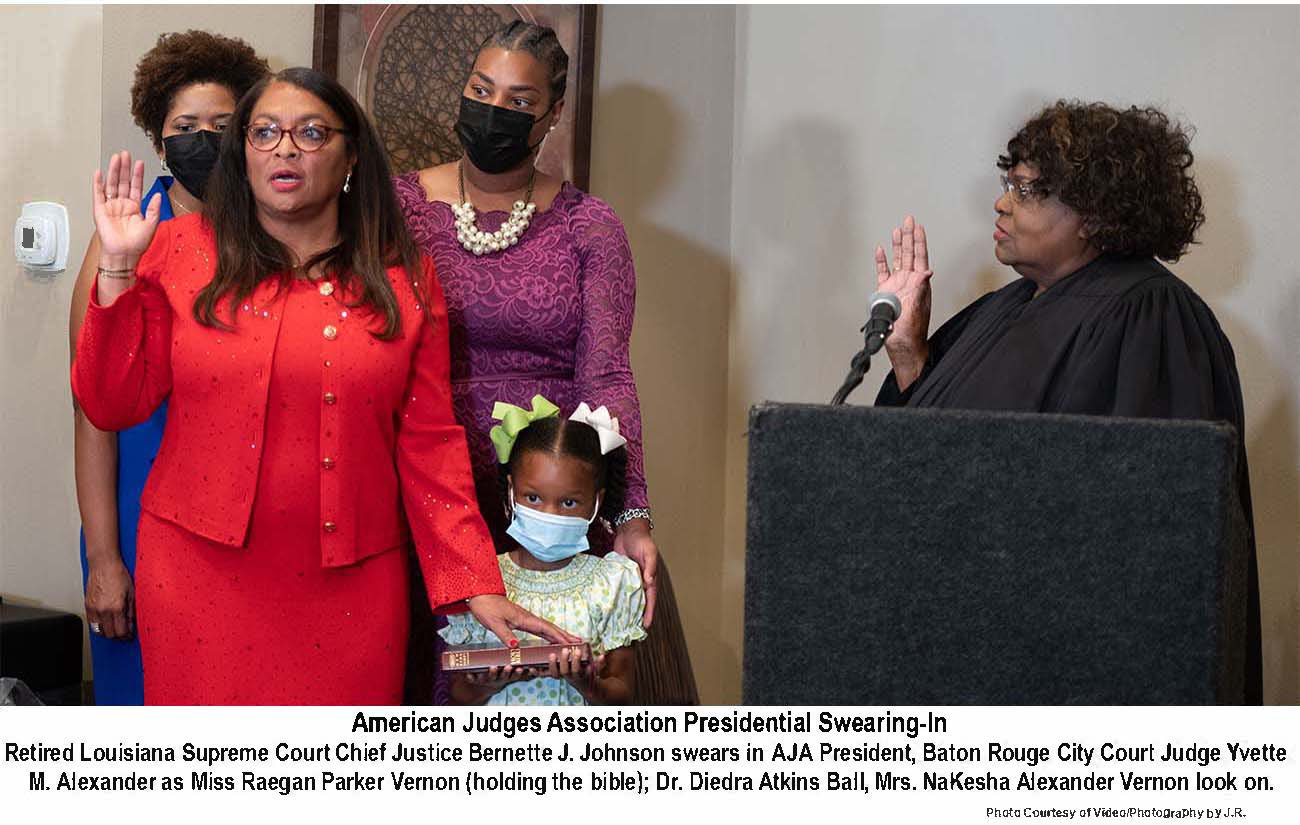 Baton Rouge City Court Judge Yvette Mansfield Alexander was sworn in as president of the American Judges Association (AJA) on Monday, October 4, 2021.  Originally founded as the National Association of Municipal Judges (NAMJ) in 1959, AJA  is the largest independent organization of judges from all jurisdictions and levels of courts throughout the United States and Canada. Judge Alexander was sworn in by retired  Louisiana Supreme Court Chief Justice Bernette Joshua Johnson.  
"I am grateful to God for the honor to serve as president of this outstanding association,"  said Judge Alexander. "It is my passion to affect the administration of justice with excellence and exemplify an unwavering commitment to justice and fundamental fairness;  I will serve as president with the same goals in mind. I look forward to the opportunity to  work with judges from throughout the nation to fine-tune ever-advancing skills in the  perfection of the judiciary."  
Louisiana Supreme Court Chief Justice John L. Weimer stated, "This is a significant honor that rewards Judge Alexander's dedication to our system of justice and her leadership,  which was recognized by votes from judges from around the nation. We are proud of her accomplishment, which reflects positively on the judiciary of our state. Judge Alexander is the sixth judge from Louisiana who has served this national judges' association, a  reflection of how much Louisiana judges are respected for their leadership capabilities. I commend and congratulate Judge Alexander for this wonderful honor that she has  earned." 
Judge Alexander's efforts resulted in judges from around the country planning to visit  Louisiana to attend AJA's conference which included continuing legal education courses offered by the Louisiana Judicial College (LJC), the educational arm of the Supreme  Court. Like AJA at the national level, the LJC coordinates educational opportunities for  Louisiana judges, by Louisiana judges. Unfortunately, because of challenges encountered due to the pandemic coupled with a hurricane and tropical storm, this year's conference was held virtually, with assurances that Louisiana will be considered for hosting a future in-person conference.  
Judge Yvette M. Alexander earned her bachelor's degree from Grambling State  University and her juris doctor from the Louisiana State University Paul M. Hebert Law  Center in 1979. She worked as counsel for the Louisiana State Legislature, Louisiana  State Senate, East Baton Rouge Parish Public Defender's Office, and was an assistant attorney general for the Louisiana Attorney General's Office. From 1988-1995, she served as chief legal counsel for the Secretary of State, and served as an Ex-Officio Member of both the Louisiana State Bond Commission and the Louisiana School Employees  Retirement System. Judge Alexander serves as a member of the Louis A. Martinet  Society, Louisiana Judicial Council of the National Bar Association, National Association of Women Judges, and the Baton Rouge Association of Women Attorneys. She is the mother of two daughters. 
Other Louisiana judges who served as president of AJA include former Shreveport City Court Judge G. Randell Whitmeyer and former Orleans Municipal and Traffic Court Judge Oliver S. Delery, both deceased, Fourth Circuit Court of Appeal Chief Judge James F. McKay, III, retired First Circuit Court of Appeal Judge Toni M. Higginbotham, and Third Circuit Court of Appeal Judge John E. Conery.
The American Judges Association is an organization of judges. AJA is an independent, non-profit organization housed at the National Center for State Courts, and addresses concerns of interest to all judges. According to its website, AJA works to promote and improve the effective administration of justice and maintains the status and independence of the judiciary by acting to assure that courts: always have due process, are fair, are just, and accessible to all. AJA has strong ties with major judicial organizations, a  commitment to enhancing diversity, and provides the highest quality of continuing professional development for judges. It provides multiple models for peer mentoring for judicial colleagues and a variety of platforms and strategies for the exchange of new ideas among all judges while encouraging the role of judges as teachers.