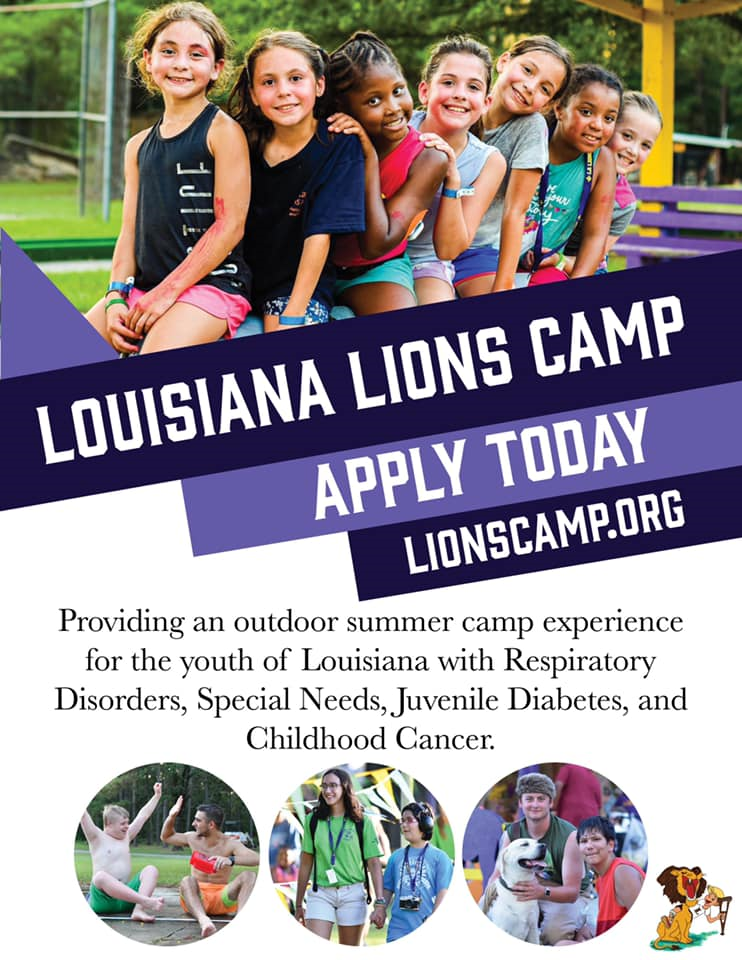 The summer of 2022 marks the beginning of the 65th year of operation of the Louisiana Lions Camp, with 61 of those years in Leesville, La. On July 9, 1961, the first camping session opened at the camp, which is located six miles north of Leesville on 185 acres of piney woodlands. To date, over 26,000 children have attended camp.
Lions across the state are actively working to see that youth with diabetes, pulmonary disorders, physical and mental challenges, and childhood cancer are able to experience a life-impacting week at their summer place.
The camp will operate a one-week session for youth with pulmonary disorders ages 5-15. Please visit www.camppelican.org to register. Two one-week sessions will be held for mentally challenged children ages 8-19; two one-week sessions for the orthopedically challenged and hearing/visually impaired children ages 7-19; and one week-long session for youth with diabetes ages 6-14. Please visit www.lionscamp.org to register. A one-week session will be held for youth with hematology/oncology disorders ages 6-14. Please visit www.campchallenge.org to register.
All camps will be held during the months of June and July. Children will enjoy a full range of summer camp activities such as swimming, arts and crafts, archery, air riflery, all sports, fishing and other outdoor activities.
The Louisiana Lions Camp is funded by the hard work and voluntary contributions of Louisiana Lions Clubs, as well as non-Lion organizations and caring individuals. Campers attending these summer sessions must be sponsored by a Lions Club, Lioness or Leo Club. This ensures that the camp is truly a statewide project that serves every section of Louisiana.
For more information or for assistance completing the online application, call Lion Ray Cecil, certified camp director, at (337) 239-6567.