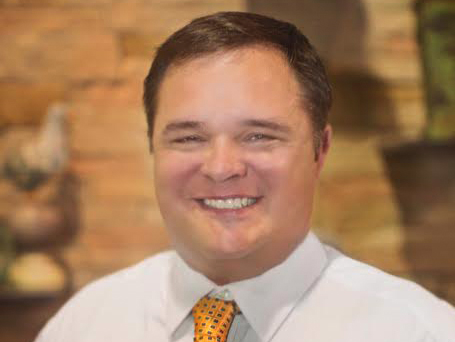 Johnson, Gatti share opposing views
Ever since lawsuits alleging promotion of religion in schools prompted the Webster and Bossier Parish school boards to update their religious expression policies, Louisiana legislators have taken action in different ways.
Senator Ryan Gatti (R-Bossier City) authored a bill that would allow school officials to pray with students if unanimous "permission slip" approval were given by parents, a bill that has worked its way through the legislature for the past few weeks. Last week, however, the bill hit a roadblock.
The Louisiana House of Representatives, at the behest of U.S. Representative Mike Johnson, proposed massive amendments to Gatti's bill out of concern that it could not hold up in court and would "do more harm than good."
The amendment, named after House member Rick Edmonds, rather than allowing for teachers to lead their students in prayer if permission is granted, instead simply gives school officials the freedom to bow their heads during student prayer.
After much contention, the amended version of Senate Bill 512 was finally passed Friday evening in the final minutes of regular session. It now awaits the governor's signature.
Gone from the final bill is any mention of permission slips, prayer waivers, or teachers being allowed to lead students in prayer. Instead, the final version addresses some confusion arising from a section of the Bossier/Webster policy.
A paragraph of the school boards' new policy says school officials cannot "bow their heads, kneel, join hands or otherwise posture in a manner that is likely to be perceived as an endorsement" of student-led prayer.
Johnson, who helped write the amendment to SB 512, spoke to the Press-Herald last week to explain the intent behind the change and why he believes the original bill to be "blatantly unconstitutional."
"The Edmonds amendment stripped the original language and added in this provision that threads that very fine needle, allowing teachers and coaches to bow their head not as an establishment of religion but because they want to show deference and respect to the students' religious expression," he said. "That's what makes it constitutional, and that had never been part of Louisiana law before. It's a win/win for everybody."
Johnson said Gatti's original bill would have been found unconstitutional in court upon its passage because it violates decades of Establishment Clause court precedent. The Establishment Clause is the part of the First Amendment that says "Congress shall make no law respecting an establishment of religion." He cited several federal cases, including one in which a basketball coach praying with his players was found to be unconstitutional.
"They [the court] also clarified that you may be able to bow your head in deference and respect though," he said. "They implied there's a way to do that without being so overt and violating the First Amendment."
Johnson and several leaders of Christian religious liberty defense organizations suggested the alterations to SB 512 because they believed securing the teachers' right to bow their heads was the best that could be accomplished under federal law. Passing anything more would make matters worse by establishing a negative precedent when the bill would have "inevitably" lost in court.
Gatti's original bill passed the Senate floor unanimously, and the Senate initially rejected the Edmonds amendment received from the House. When a conference committee was called with members from both sides of the legislature, Gatti was unable to convince the House members to concur.
Despite voting for the amended bill once he knew the original would not pass, Gatti said his bill was not unconstitutional and was not given "a fair chance."
"My bill did not waive the Establishment Clause," he said. "My bill acknowledged the rights of the parents and the power of small groups having unity on an issue. This specific factual scenario has never been tested by the courts. The comments made against this bill expose that most have no intention for fighting to establish a safe place for our teachers to pray."
Gatti said the final bill falls short of meeting his goals as a legislator.
"I ran to fight for creative ways to protect our teachers' and coaches' freedom of expression," he said. "Two of my parishes, Bossier and Webster, are under attack. SB 512 in its original form was a strong unanimous statement by the Senate on the battle for school prayer. The version passed by the House simply allows an employee to bow their head. That's not the message I wanted to send."
On May 11, the Webster expression policy was signed into a consent decree by a federal judge as part of the school system's settlement with the ACLU. This decree includes the section about bowing heads, but Johnson said the school board could ask the judge to remove this language in light of the new state law.
Just as Johnson and the Louisiana House claimed Gatti's bill could harm the fight for religious freedom, Gatti turned similar accusations back to the amended version.
"Congressman Johnson's amendment will bring unneeded litigation into areas that haven't been sued," he said. "Only the lawyers benefit from this confusion. It's really a sad day."
Gatti called the final bill a "gutted" version and claimed it is not the legislature's job to guess how courts will react.
"Whether or not a bill is constitutional is up to the courts," he said. "Legislators pass policies their constituents want. Judges apply facts to law. This bill originating from our students was not given a fair chance."
The students Gatti mentioned are Protect Prayer, a Bossier/Webster student organization dedicated to equipping students to use their religious expression freedoms. Protect Prayer, led by Gatti's daughter Katherine, has pushed the "prayer waiver" concept since its inception.
Makenzie Swilley, a Protect Prayer leader and student at Lakeside High in Sibley, said she was unhappy with the changes to the bill, but it does not change her course with the organization.
"I'm so heartbroken, but I know that God will use this in incredible ways," she said. "While walking in his will, we should expect opposition. We just have to remember that we have always done everything we could do. It is just now our responsibility to train more students to know their legal rights. This is just the beginning of what's to come. It's not over yet."
Gatti echoed the idea that the fight is far from over.
"Good bills take years to pass, and bad bills slip through quickly," he said. "We will keep fighting for our parents in Bossier and Webster."