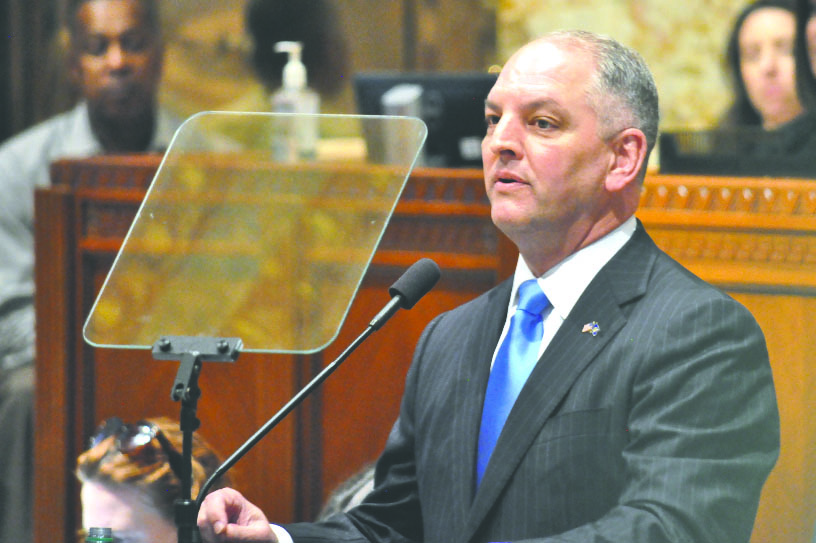 (The Center Square) – Louisiana Gov. John Bel Edwards on Tuesday announced the state will take a step back to a revised version of "Phase 2" of the White House-approved anti-coronavirus restrictions, in hopes of controlling the state's third wave of COVID-19.
"It is imperative that we take action and take action now," Edwards said.
In a new executive order effective Wednesday, the maximum capacity for restaurants, gyms and most retailers will be scaled back from 75 percent to 50 percent. Churches will stay at 75 percent.
Indoor gatherings will be limited to no more than 75 people, while outdoor gatherings will be capped at 150 people. Crowds at sporting events will be limited to 25 percent of normal capacity.
The state's mask mandate will remain in place and schools can remain open. Barrooms can continue to be open for on-site consumption in parishes where the average percentage of COVID-19 tests that come back positive is below 5 percent for two weeks, and outdoor service to no more than 50 people at a time remains permissible in other parishes. Alcohol service will continue to be cut off at 11 p.m.
Edwards also is encouraging employers to encourage remote working as much as possible and is directing state agencies to do the same.
Edwards has resisted tightening Louisiana's anti-coronavirus restrictions even as case counts, positivity rates and the number of hospitalized COVID-19 patients has risen, arguing the "Phase 3" rules are adequate if followed.
But while the third surge of COVID-19 arrived late in Louisiana, the state now is in "lockstep with the rest of the country," Dr. Joe Kanter with the Louisiana Department of Health said Tuesday.
Kanter and Edwards urged residents to keep holiday gatherings small and limited to their immediate households. Edwards encouraged Louisianans to call and video chat with their loved ones instead. He said there is a "light at the end of the tunnel," noting that several vaccines could be widely available within the next several months.
In the most recent White House coronavirus task force weekly report, Louisiana reported 474 new cases per 100,000 residents, compared to 172 cases the previous week. The national average is 356 new cases per 100,000 residents, making this the first week in recent memory that Louisiana is seeing more new cases per capita than the average state.
"Ensure masks at all times in public, increase physical distancing through significant reduction in capacity in public and private indoor spaces, and ensure every American understands the clear risks of ANY family or friend interactions outside of their immediate household indoors without masks," the White House report says about Louisiana.
Many Republican lawmakers have called for ending the restrictions, citing economic and social costs. Many have challenged Edwards' authority to unilaterally impose the restrictions and expressed frustration at their lack of input into those decisions.
Most Republicans in the state House of Representatives have signed a petition that would suspend for a week the Democratic governor's ability to extend the public health emergency, though a district court has ruled the petition unconstitutional. Other court cases challenging the governor's emergency authority so far have been resolved in Edwards' favor, though appeals are pending.
The Pelican Institute for Public Policy, a fiscally conservative think tank that has been calling for Louisiana to lift the anti-coronavirus restrictions, issued a statement blasting the new changes.
"Lost jobs and livelihoods weren't on any Louisianans' Christmas lists this year," Pelican CEO Daniel Erspamer said, noting the economic hardships, along with physical and mental health issues, attributed to the restrictions. "Today's decision by the governor will make matters worse for Louisiana families who have been suffering for months on end."
The governor's order expires Dec. 23, though Edwards cautioned residents not to expect major changes at that point.
At least 6,072 state residents with COVID-19 have died since the pandemic began, officials say. Louisiana officials reported 3,266 new cases of COVID-19 on Tuesday and 39 new deaths.
There were 1,052 COVID-19 patients in Louisiana hospitals, the most since August. Fewer than 600 COVID-19 patients were hospitalized at the beginning of November. Cases and hospitalizations are increasing in every region of the state.
"What we're seeing now is as concerning as it's ever been," Kanter said. "This is a dangerous time for Louisiana."
David Jacobs, Staff Reporter for the Center Square, is a Baton Rouge-based award-winning journalist who has written about government, politics, business and culture in Louisiana for almost 15 years. He joined The Center Square in 2018.