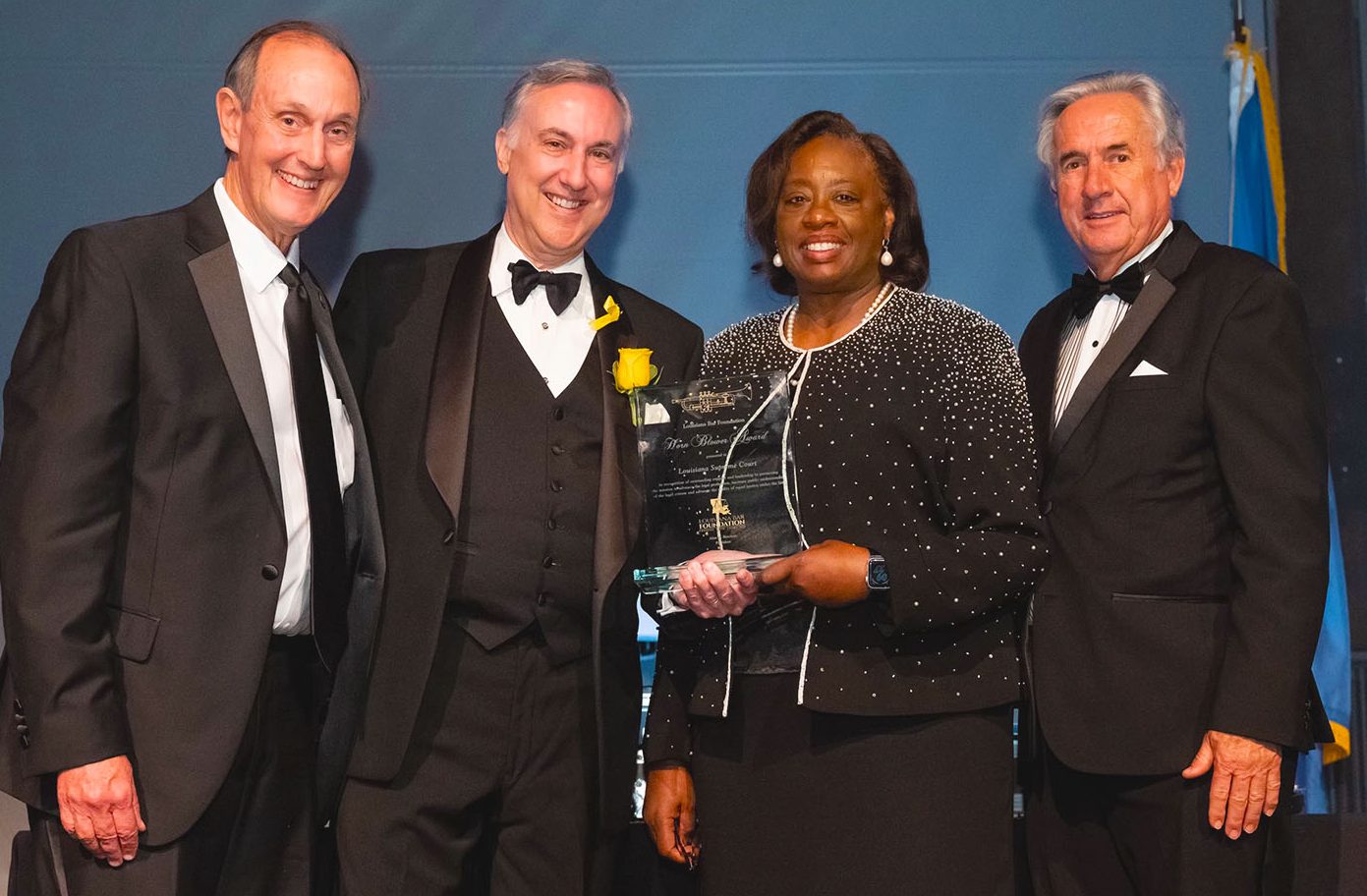 New Orleans, LA – On Friday, April 21, 2023, the Louisiana Supreme Court received the Louisiana Bar Foundation (LBF) 2023 Horn Blower Award during the LBF 37th Annual Fellows Gala at the National World War II Museum. The award was given in recognition of the Supreme Court's outstanding support and leadership in promoting the LBF's
mission to advance the legal profession, increase public understanding of the legal system, and advance the reality of equal justice under the law. Alan G. Brackett, 2022- 23 LBF president, presented the award to Chief Justice John L. Weimer, Justice James T. Genovese, and Justice Piper D. Griffin, who accepted the award on behalf of the Justices of the Louisiana Supreme Court, including Justices Jefferson D. Hughes III, Scott J. Crichton, William J. Crain and Jay B. McCallum.
"The Supreme Court is honored and grateful to receive the award from the LBF, which is a truly outstanding group consisting of judges and attorneys who volunteer their time, talent, and financial support to insure underprivileged individuals have access to civil justice in the courts of our state," said Chief Justice Weimer. "Although the Court was honored to receive the award, it is the countless volunteer judges and lawyers who work so tirelessly who truly deserve the honor."
Additional honorees recognized at the LBF Gala included Distinguished Jurist Honorable Richard T. Haik, Ret., U.S. District Court, Western District of Louisiana; Distinguished Attorney Leo C. Hamilton, Esq. of Breazeale, Sachse & Wilson, L.L.P.; Distinguished Professor Andrea Beauchamp Carroll, LSU Paul M. Hebert Law Center; and Calogero Justice Award recipient Judge Ivan L. R. Lemelle, U.S. District Court, Eastern District of Louisiana.
The Louisiana Bar Foundation exists to preserve, honor, and improve our system of justice by funding, developing or otherwise promoting efforts which enhance the legal profession, increase public understanding of the legal system and advance the reality of equal justice under the law. The foundation is the single statewide funder that is fully committed to
ensuring that Louisiana's civil justice system is accessible to all. With its robust network of well-established partnerships with more than 70 grantees across the state's 64 parishes that are leading community-driven efforts, the foundation helps hundreds of thousands of Louisiana residents gain access to the legal system regardless of mental or physical condition, economic status, or type of legal problem.
Louisiana Supreme Court Mission: To preserve the integrity of the judiciary, to build and maintain public trust, to provide effective and efficient administration of justice in the Supreme Court, to ensure proper administration and performance of all courts under Supreme Court authority, and to ensure the highest professional conduct, integrity, and competence of the bench and bar. For more information visit The Louisiana Bar Foundation website at raisingthebar.org , visit lasc.org or contact Louisiana Supreme Court Public Information Specialist/Coordinator Trina S. Vincent at tvincent@lasc.org or (504) 310-2590.