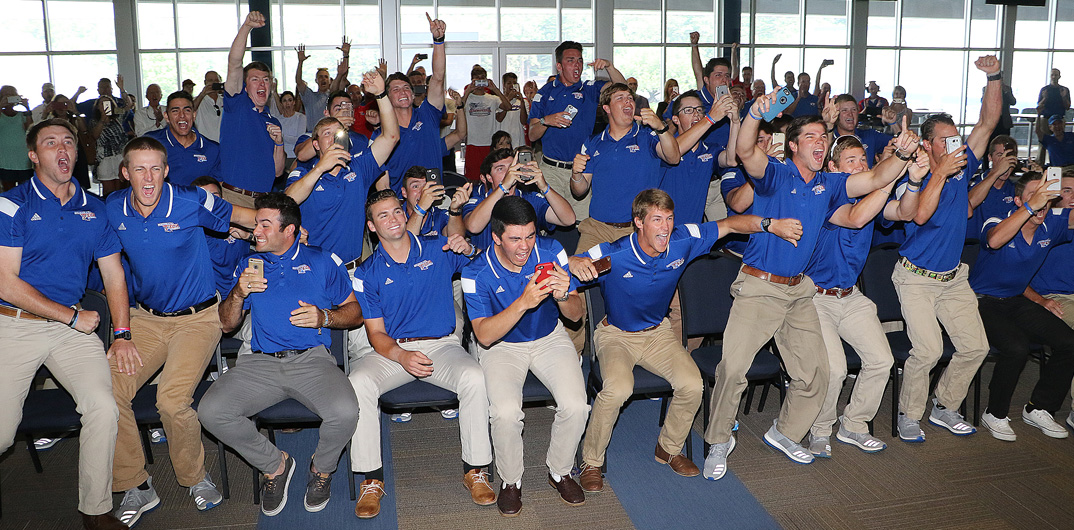 RUSTON – For the first time in 29 years, Louisiana Tech will compete in the NCAA Baseball Regionals as the Bulldogs were selected as a No. 3-seed at the Starkville Regional hosted by Mississippi State June 3-6.
With the Bulldog players and support staff surrounded by the LA Tech faithful at the team's watch party in the Davison Athletics Complex, the room erupted once LA Tech's name appeared on the TV screen opposite Cal State Fullerton. LA Tech is one of four teams from Conference USA to receive a regional berth along with Florida Atlantic, Rice and Southern Miss.
LA Tech will begin the regional by facing off against No. 2-seed Cal State Fullerton at 1:30 CT Friday, June 3 at Dudy Noble Field in Starkville, Mississippi. The game between the Bulldogs and Titans will be broadcast live on ESPN3.
The Starkville Regional also includes (1) Mississippi State and (4) SE Missouri State. Each regional field features four teams, playing in a double-elimination format. All 16 regionals are scheduled to be conducted from Friday, June 3 to Monday, June 6 (if necessary).
"This is just an awesome day for our program, these kids, our coaching staff and our fans," head coach Greg Goff said. "It has been almost 30 years since this program has been to a regional. There was so much uncertainty when we took over this program. We brought in 21 new players. We were picked 11th out of 12 teams in our league. No one believed this would ever happen except for our guys. This is a special group of kids. They bought into the power of one. We started in the fall getting our guys to buy into the fact that we can be good if we all believe in the same common goal.
"To finally see our name up there with the top 64 teams is just so amazing. We're so thankful and very blessed. We talked about getting to that 30-win plateau this year. We talked about just trying to get into that (conference) tournament, to be honest. I felt like those were some goals we could obtain. With 40 wins and being a 3-seed, it is just absolutely amazing."
This marks LA Tech's first NCAA Tournament appearance since 1987 when the Bulldogs competed in New Orleans against UNO, Southern and Cal State Fullerton. The 2016 Bulldogs become the eighth team in program history to reach the NCAA Tournament.
"Thinking about the history of this program and what Coach (Pat) Patterson built here and the alumni that has come through here; all those things have been going through our minds over the last few days and we were just hoping and praying to make it as one of the 64 teams," Goff said.
Louisiana Tech closed out the regular season and Conference USA Championship with a 40-18 overall record, nine wins over Top 25-ranked teams and 10 wins over Top 50-RPI opponents. The Bulldogs made it to the semifinals of the C-USA Baseball Championship last Saturday in Hattiesburg.
Cal State Fullerton captured the 2016 Big West Conference title and posted a 35-21 overall record to earn an automatic berth into the NCAA Tournament. This marks the 25th straight season the Titans have made it to the postseason.
There are 31 Division I conferences which received an automatic berth in the field of 64, along with 33 at-large selections.