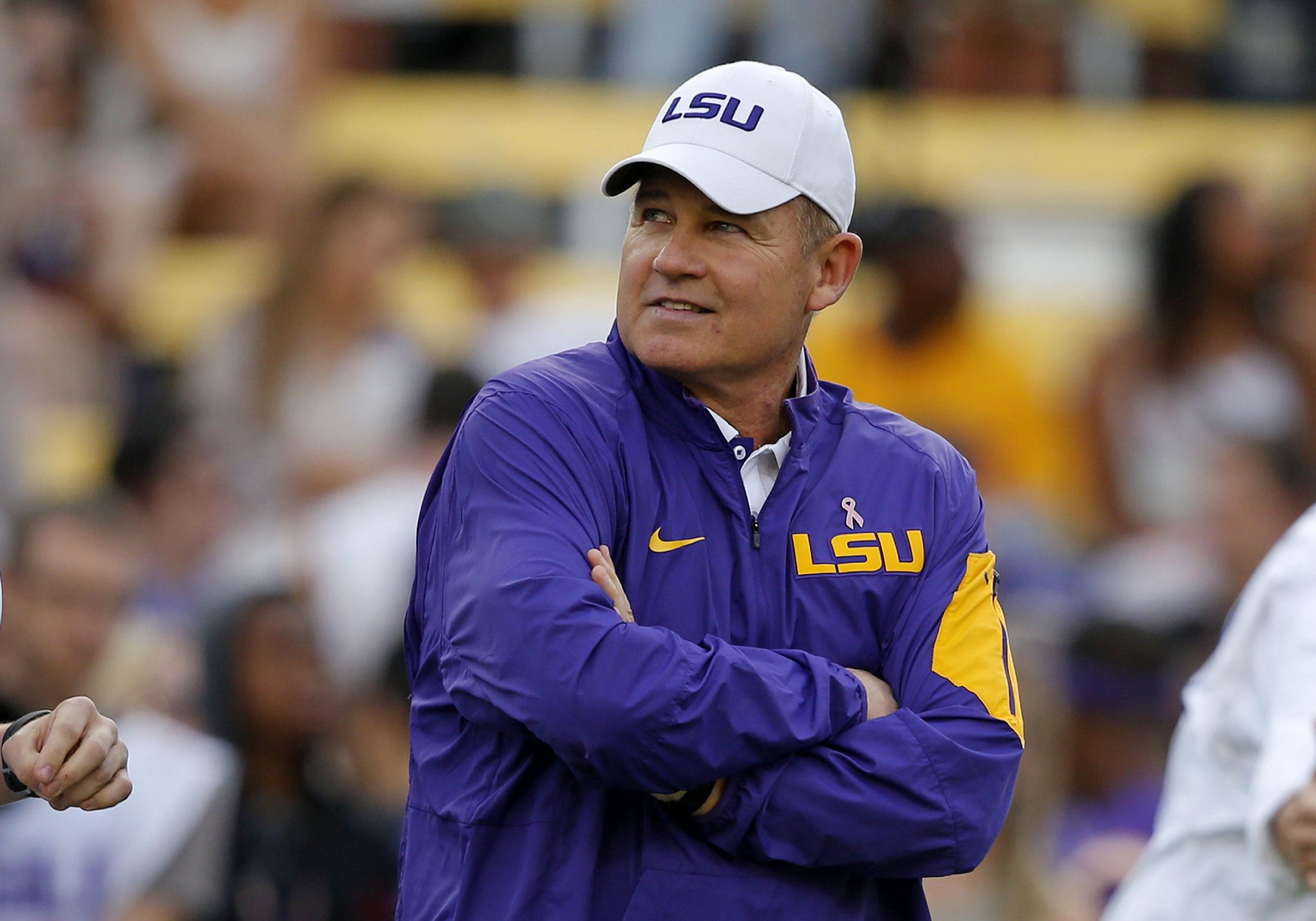 BATON ROUGE — Les Miles is back in damage-control mode while he tries to fix LSU's offense.
The embattled 12th-year coach can only hope he gets the Tigers' problems straightened out soon. His team plummeted in the national rankings from fifth to 21st, and his support among fans and boosters is fading fast.
"There's a lot that can be said about a lot of things," Miles said Tuesday in reference to the criticism that has been dogging him, quarterback Brandon Harris and his offensive line since Saturday's mistake-marred, 16-14 upset loss to then-unranked Wisconsin . "Certainly, I'm aware of what's going on."
Miles insisted that Harris' performance against Wisconsin — which was punctuated by a game-losing interception thrown directly to a defender and several yards from the nearest receiver — belied the betterment that the junior QB displayed in practices last spring and throughout August. Miles made it clear he's not ready to give up on Harris, but also left little doubt that Harris' margin for error is shrinking.
"Decision-making and really relaxing and letting the game come to him — at times, he struggles there," Miles said. "By the makeup of the talent that's there, we're in pretty good shape. It's just that maturation process."
Miles asserted that Harris has been "just tremendous" in scrimmages, "so I know what the capability is."
"I recognize that he's got to still (improve); we all do," Miles added. "But he doesn't have a lifetime to do it and there are other quarterbacks."
Next in line would be Danny Etling, a 6-foot-1, 215-pound junior transfer from Purdue who fans could be calling for when LSU plays its home opener against Jacksonville State this Saturday night in Tiger Stadium.
Miles said he is eager to see Etling play, too, but added, "Hopefully it'll not have to be done for the necessity of victory. Hopefully it'll be done because Brandon has really improved and done well, and let's give Danny some snaps."
Etling has been praised for his arm strength and ability to scramble when needed, but he does not necessarily represent a panacea for the Tigers' offense, based on his experience with the Boilermakers.
He started seven games for Purdue as a freshman and five as a sophomore, but often struggled. He left Purdue having completed 55.5 percent of his passes for 2,490 yards and 16 TDs against 12 interceptions.
Yet Harris on Saturday struggled to even meet his production standard from a year ago.
In 12 starts last season, Harris completed 53.8 percent of his passes for 180.4 yards per game and 13 touchdowns against six interceptions.
Against Wisconsin — which shot up to 10th in the AP Top 25 — Harris completed 12 of 21 passes (57.1 percent) for 131 yards and one touchdown while being sacked twice and throwing two interceptions, the second of which extinguished LSU's comeback hopes after the Tigers had moved into game-winning field goal range.
Harris was not made available to speak with reporters after the Wisconsin game or on Tuesday.
Regardless of who plays quarterback, one change will be noticeable: offensive coordinator Cam Cameron will move from the sideline to the press box to call plays.
Center Ethan Pocic said the offensive line was to blame for some of Harris' troubles against Wisconsin.
"Brandon, in the locker room, he thought it was all on him, but it's not," Pocic said. "There are so many things that play into it. Like I told him, the o-line has got to give him more time."
LSU players apparently have been briefed on how to handle the fall-out from their first-game flop, which only looked worse in the context of rival Alabama, which has a freshman at quarterback, consolidating its No. 1 ranking with a 52-6 demolition of Southern California.
When questioned about the psyche of the team, several LSU players made available to reporters on Tuesday afternoon repeated clichés about "taking it one game at a time" and "improving day by day." They also noted that all their main goals regarding Southeastern Conference and national championship remains "in front of us."
Technically, that's true. LSU won't play its SEC opener until Sept. 18 against Mississippi State and teams have rebounded from season-opening losses to win the national championship before — as Ohio State did just two seasons ago.
"It's not the end of the world," Pocic said, "as long as we learn from it and improve."
Notes: Miles said star running back Leonard Fournette was rested during Monday's practice but reiterated, as he said after Saturday's game, that Fournette is fine after initially being hobbled by a fourth-quarter hit to his lower leg. … Miles said guard Josh Boutte, who has been suspended one game for leveling Wisconsin's D'Cota Dixon after the defensive back's game-sealing interception, called Dixon to express remorse and ask if he was OK. "He didn't want to hurt him," Miles said, adding that Boutte was blocking on "the back side" of the play and did not initially realize Dixon had been ruled down because he did not see the defensive back fall to the ground after the interception.