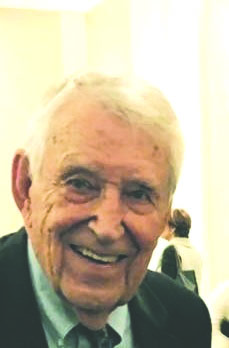 Today we celebrate the life and legacy of Marcus D. Wren, Jr., our beloved Marcus, Daddy, Granddaddy, Uncle Marcus, friend to all and child of God. We take comfort in knowing he rests peacefully in the arms of Jesus. As he entered into heaven on Friday, January 10, 2020, we are confident he greeted God face-to-face with the words from his beloved prayers, "Good afternoon, God!" and had a joyful reunion with his wife Gay and all of the family and friends that have gone before him and shaped the man he was.
Marcus was born January 29, 1924 on the family homestead 8 miles north of Minden, where he lived throughout his life. "Wren Woods" is more than just property; it represents all of the things that Marcus represented: a strong sense of character and responsibility rooted in faith, family, and country. He attended Louisiana Tech, and fought for his country in World War II. After the war he attended Louisiana State University before returning home to take over the family dairy farm which he eventually merged with Sanitary Dairy. He married his wife and the love of his life, Mary Gay Stewart, on June 30, 1951. They soon welcomed their 5 children, along with numerous nieces and nephews who spent summers and holidays with them. In 1980 he acquired Music Mountain Water Co.
Marcus served in the United States Army in the Philippines and Japan. He was a member of the First United Methodist Church, Lion's Club, Minden Jaycee's, American Legion, Chamber of Commerce, President of South Webster Industrial Park, and the Louisiana Methodist Foundation, and was on the Board of Directors of Webster Bank. He was recognized as the Man of the Year for both the Lion's Club and the Minden Jaycee's, Dairyman of the Year for LSU Dairy Science, and the Louisiana Tree Farmer of the Year. On February 24, 2019, at his 95th birthday celebration, a State Senator joined us to announce that day was officially dedicated as Marcus Wren, Jr. Day, and presented him with a proclamation and a Louisiana flag that flew over the State Capitol.
He was preceded in death by his parents, Marcus Dee Wren, Sr. and Ola Spencer Wren, wife Mary Gay Stewart Wren, and three siblings, Elizabeth, Spencer, and Marcy.
He is survived by his children, Marcus III, wife Liz; Stewart, wife Joanie; Ellen, husband Bob; Lovic; and Rusty, wife Kathy; eleven grandchildren and six great-granddaughters, and numerous nieces and nephews.
Pallbearers will be grandsons, Pierce, Justin, Jordan, Lovick, and Brock Wren and Blake Roussel. Honorary pallbearer will be Marcus IV.
Funeral services will be held Saturday, January 18, 2020 at 2:00 p.m. at First United Methodist Church in Minden with Rev. Fred Wideman, Rev. Brian Mercer, and Rev. Tom Howe officiating. Interment will follow at Pine Grove Cemetery in Minden under the direction of Rose-Neath Funeral Home. Visitation will be from 4:00 until 7:00 p.m. Friday, January 17 at Rose-Neath and from 12:00 noon until service time Saturday at the church. After the internment there will be a celebration of Marcus's life at Pine Grove United Methodist Church.
In lieu of flowers, memorials may be made to the Methodist Children's Home in Ruston or Houma, Louisiana, and Pine Grove Cemetery Association.
Rose-Neath Funeral Home
(318) 377-3412