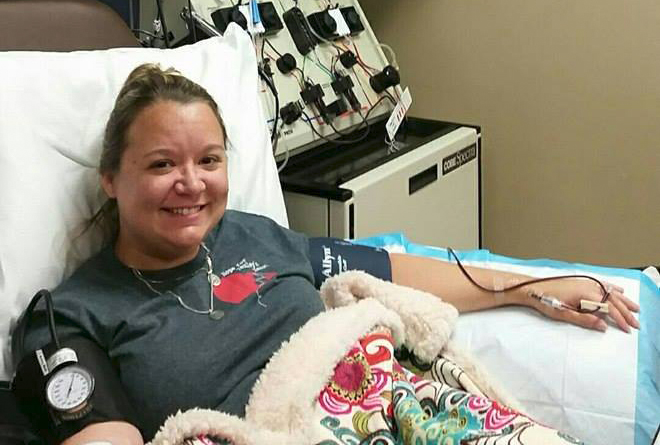 A Minden event was the catalyst to a possible life saving donation.
At the 2015 Minden St. Jude race, JoAnn Duet participated in Be the Match and began the process of trying to save the life of a 60-year-old man in Italy.
Be the Match is operated by the National Marrow Donor Program and manages the largest marrow registry in the world in an effort to save lives of life threatening blood cancers through transplant.
LifeShare's Marrow Donor Program is a partnership with the national organization Be The Match. Donors registered in Louisiana go into their national (international) registry.
"St. Jude is something that's been something I'm involved with over the years and when I saw the big swab and the Be the Match table at the race, I was curious," Duet said. "I asked what they were doing and I remembered I had already heard about Be the Match on the Kidd Kraddik Morning Show."
Duet didn't hesitate to offer her swab and hoped she could be the answer to someone's prayers.
Just more than one year later she received news that she might be a potential match.
"When I first received the news that I may be a possible match I prayed that I would be," Duet said. "Then when I was contacted stating that I was the match I cried from joy and excitement. I haven't experienced any greater joy then knowing that I may be able to save someone's life."
Duet said she is often asked why she chose to donate to save the life of someone she doesn't know and may not ever meet.
"My response is, well why wouldn't I?" she said.
Duet traveled to the leukemia center of Houston Methodist Hospital where she received the first of twice daily injections over the next five days. She was released after the first injection of Filgrastim, and went home, returning back to the medical center on the fifth day for Peripheral Blood Stem Cell Collection
"Any discomfort I experienced was worth being able to help save someone else," she said. "I mostly experienced flu like symptoms. My lower back and hips ached."
She was told by her nurse, which contacted her every day, that the worse a person feels during the injections, the less time the collection process would take.
"My nurse would say she was jumping with joy when I would tell her I was feeling crummy," Duet said. "It was kind of a funny thing, but it was all for the best."
Brian Allison, marrow donor coordinator for Life Share Blood Center, said the discomfort of donors goes along way to healing patients and supporting families.
"Just this year we have had four patients under the age of four years old to pass," he said. "While that is heartbreaking, stories like JoAnn's and celebrating milestones for our patients who have found a match is what keeps us going."
Duet said the experience has been "an emotional roller coaster."
"I have cried many tears at the most random times, while in the shower, at work, driving around town. I've even woken up crying from the raw emotion from the idea that I'm saving a life or the fear that it doesn't work and he doesn't survive. I would do it all over again if it means that its giving someone a chance at living."
Duet said even though she may never know the outcome or meet her match, she prays every day for her recipient.
"I call him 'Amico'," she said. "That's Italian for friend."
To participate in Be the Match visit the website bethematch.org or contact the local LifeShare office at 673-1450.