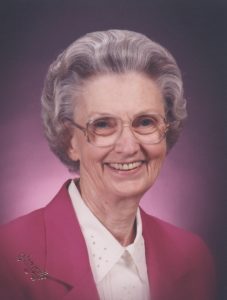 Mary Kirkley (known to her loving family as Aunt T) slipped peacefully into the heavenly arms of her sisters and her parents on Sept. 15, 2017 at the age of 93. Mary was a long time resident of Minden, having faithfully served her family, her community, and her Lord, through teaching home economics at Minden High School and active participation in the First Baptist Church of Minden.
Mary Fuller Almand was born Sept. 11, 1924 in Grand Bayou, Red River Parish, Louisiana to Adolphus "Carroll" Almand and Ava Conly Almand, as the second of three daughters. The Almand's owned and operated a farm near Doyline, Louisiana selling produce to local grocers around the Doyline area. Mary grew up on the farm, attending and graduating from Doyline High School in 1941. Feeling God's call to be a teacher from an early age, Mary attended Louisiana College in Pineville, Louisiana, largely with the financial assistance of the Business Men's Sunday School Class at First Baptist Church of Shreveport, and graduated in 1945 with a Bachelor of Sciences degree. She subsequently earned her Master of Sciences degree in Home Economics from Louisiana State University in 1952.
In 1945 Mary married Thurmon "Boots" Martin Kirkley. The couple initially lived in Doyline and moved to Minden in 1952. Boots passed away in 1970.
Mary began her teaching career in 1945 at Doyline High School, where she taught home economics and the occasional science course and served as an advisor for the FHA and 4H clubs. In 1952 she transferred to Minden High School, where she taught home economic and related classes for 29 years until her retirement in 1981. Mary's dedication to her students and her profession is reflected in her careful classroom preparation, the affection of her students, and her leadership in extra-curricular activities. She taught mostly food and nutrition, consumer education, family relationships and housing, attracting boys to her class as well as girls. She served as Student Council Advisor and faculty sponsor for the Future Homemakers of America for many years, and was honored as Teacher of the Year at Minden High School in 1960.
Mary served as a faithful and active member of First Baptist Church of Minden for all of her adult life. She was a long time member of the Women's Missionary Union, serving as director for many years, as well as president of the Baptist Women on Missions at First Baptist. She also served as chairman of the Missions Committee for many years and taught the TEL women's Sunday morning Bible class for over 60 years until just a few years prior to her death.
Mary's most starring role was "best aunt ever" to her six nieces and nephews. She instinctively understood and blessed the individuality of each one, loving them and supporting them in development of their own unique gifts. She continued this devotion to her great nieces and nephews and even great, great nieces and nephews, with regular birthday cards and hand sewn crib blankets.
She is predeceased by her husband Thurmon (Boots) Martin Kirkley, her parents Carroll and Ava Conly Almand, her sisters Carolyn B Almand Elkins and Ava Jo Almand Hazel McBride, niece Judy Elkins Woods, and nephews John Carroll Elkins and Clifford Cecil Hazel. She is survived by her nieces Carolyn Sue Hazel McConathy (and husband Larry) of Houston, Texas, Regina Elizabeth Elkins Maxey of Shreveport, and Peggy Jo Hazel Dees (and husband Michael) of Lake Charles; her niece-in-law Elizabeth (Beth) Elkins of Dogue, Virginia; her grand-nieces and nephews John Bart Elkins (and wife Sara) of Fredericksburg, Virginia, Slade Almand Elkins (and wife Kate) of Alexandria, Virginia, and Carolu Elkins of Alexandra, Virginia, Jason Wilcox Shaw (and wife Carla) of Gilbert, Arizona, Heather Shaw Schwartzkopf (and husband James) of Bossier, Elizabeth McKay Woods (and husband James) of Shreveport, and Allison Almand Dees, John Michael Dees (and wife Ashley), Thomas Eugene McConathy (and wife Elizabeth), and James Patrick McConathy(and wife Yujuan), all of Houston, Texas; and 17 great, great nephews and nieces.
Services will be held on Sunday, September 24, 2017 at 2:00 p.m. in the First Baptist Church Chapel in Minden, with Reverends Leland Crawford and Bill Crider presiding. Interment will follow in the Doyline Cemetery. A visitation will be held at Rose-Neath Funeral Home from 4 until 6 p.m. on Saturday, September 23. Friends wishing to commemorate Mary's life with charitable donations are invited to consider her beloved missions project, The Missionary House Fund, in care of First Baptist Church in Minden.