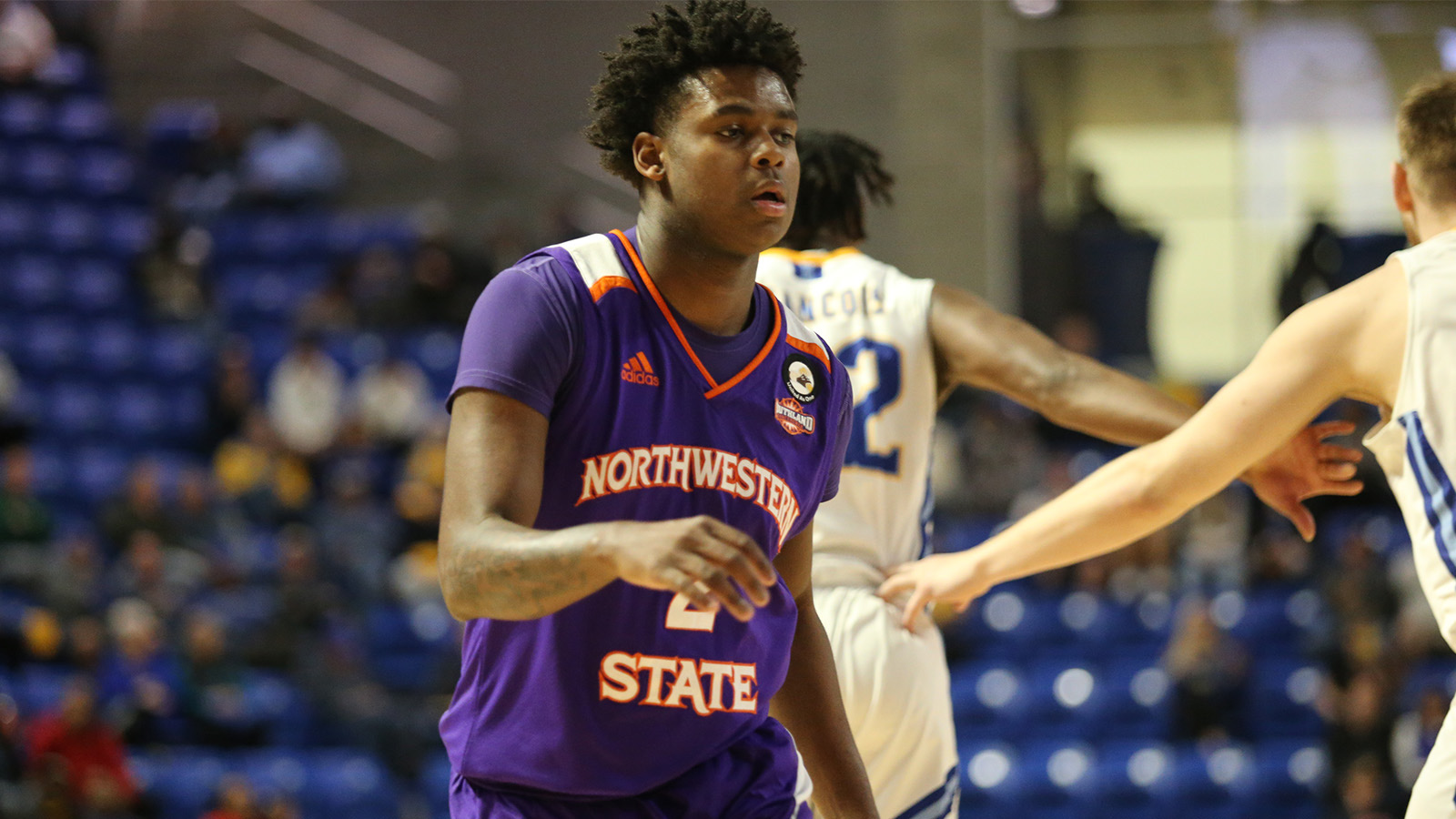 By Jason Pugh, Northwestern State Assistant Athletic Director for Media Relations
LAKE CHARLES – The Northwestern State men's basketball team saw just about everything it had done in the first 14 games of the season get inverted Thursday night inside the Legacy Center.
Unfortunately for the Demons, that included a barrage of 3-pointers from homestanding McNeese, which set a season high from long range en route to a 92-77 Southland Conference victory against NSU.
The Cowboys sank 15 3-pointers, highlighted by a career night from Harwin Francois, who sank a career-best six 3s to set a career high with 20 points.
"There's a lot to be learned from this game," first-year head Corey Gipson said. "We went into the game willing to give up the 3 to prevent us from fouling. We gave up the 3 today, and they did a phenomenal job of jumping up and knocking down the 3. They did a tremendous job of making shots from beyond the arc."
McNeese (5-10, 2-0) connected on 10 first-half 3-pointers, which marked the most for a Demon opponent this season. Thanks to the hot shooting, which began with a Francois 3 on the opening possession, McNeese built as much as a 19-point lead in the opening half.
The Demons (8-7, 0-2) sliced the lead to six points with a 7-0 run to open the second half before the Cowboys answered with three consecutive 3s to re-establish a 15-point edge.
That scenario played out again later in the half as Northwestern State again cut the lead to single digits again at seven points on a pair of Isaac Haney free throws with 10:55 to play.
Fueled by two more 3-pointers, the Cowboys put together a 12-0 run across the next 5:20 to build a 19-point lead, which allowed McNeese to survive the Demons' best shooting game since knocking down 51.6 percent of their shots in a 102-96 win at Stephen F. Austin on Dec. 1.
While the Demons offense enjoyed its most efficient performance in a month, little else fell into categories Northwestern State tended to own in the first two-plus months of the season.
The Demons shot 50 percent from the field (26-for-52) and got to the free throw line 22 times – their most since a Dec. 10 game against ULM.
A game after being outshot by 18 attempts at the free-throw line, the Demons were plus nine in attempts.
What helped undo the Demons – in addition to McNeese's dead-eye shooting from 3-point range – was a season-high 15 turnovers. NSU entered the night leading the Southland Conference in turnover margin at plus-5, but the Cowboys played the Demons even in the turnover battle.
"You can learn from any situation," Gipson said. "Our guys took the game plan and were mature in their approach. We're representing the Southland. When you beat a Top 25 team in the country, you're going to get everybody's best shot. Everyone is gunning and ready to play against the Demons. We have to understand and make the adjustment that we have the bull's-eye on our back."
Francois' 20 points stood as a game high in a contest in which both teams put five players in double figures.
Isaac Haney paced the Demons with 18 points while Ja'Monta Black and Emareyon McDonald each had 15 while DeMarcus Sharp (13) and Jalen Hampton (12) rounded out the Demons' double-figure scorers.
In addition to Francois, Zach Scott (17), Christian Shumate (15), Roberts Berze (13) and Johnathan Massie (13) cracked double figures for the Cowboys. Shumate added a game-high 13 rebounds for his fifth double-double of the season.
The Demons return to action Saturday when they face Nicholls. Tipoff is set for 3:30 p.m. inside Prather Coliseum.
— Featured photo by Leighton Chamblee, McNeese State Athletics