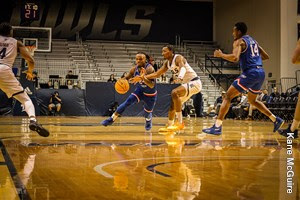 Louisiana Tech Athletic Communications
Louisiana Tech accomplished something no other team had this season and that was win inside Tudor Fieldhouse.
The Bulldogs needed an extra five minutes to do it, but never trailed in overtime as they pulled out a thrilling 88-82 overtime victory over Rice on Thursday night.
There was a grand total of 11 ties in the game, the 11th one coming at the end of regulation as the Owls' Travis Evee drained a three from 45 feet away at the buzzer to make it 69-69. The game-tying, desperation shot erased what could have been a game-winning three-pointer by Quandre Bullock who swished one in from the wing with 2.9 seconds left.
LA Tech (9-6, 2-2 C-USA) was not fazed. The Bulldogs regrouped, never trailing in the extra frame.
There were a plethora of great offensive plays in overtime, starting with Cobe Williams getting the squad off on the right foot with five straight points on a jumper in the paint and a nothing-but-net triple for a 74-69 advantage.
After missing so much of regulation due to foul trouble, Isaiah Crawfordstarted to make play after play. He banked in a floater, then dished out back-to-back assists for a Keaston Willis three-pointer and a thundering two-hand dunk by Kenny Hunter to make it 81-75 with 1:29 to go.
However, Evee continued his heroics in OT, drilling his fifth three-pointer to slice the deficit down to one with 40 seconds remaining. Crawford countered with an old-fashioned three-point play to push it back to an 83-80 advantage.
Even though Rice (11-4, 2-2 C-USA) used free throws all night for its offensive production (went 22-of-30 from the foul line), the Owls missed two crucial ones in the final 21 seconds.
While the 'Dogs only got the charity stripe 15 times, Dravon Mangumstepped up and made four big ones in the closing seconds to secure the road win.
The first half was a frenetic 20 minutes as both teams were nearly unstoppable on offense. A driving layup by Williams gave the Bulldogs the 41-40 edge at halftime.
LA Tech trailed by as much as nine, down 45-54 with 14:54 to play in regulation after back-to-back threes by Quincy Olivari. The Bulldogs held the Owls to just 15 points the remaining 15 minutes, grabbing their only lead of the stanza after Bullock hit the three-pointer to make it, 69-66.
Williams, Willis, and Hunter each netted 18 points. In OT when it mattered the most, the 'Dogs went 6-of-8 from the field, 2-of-2 from deep, and 5-of-7 from the foul line. For the game, they shot 51.5 percent from the field.
Rice was anchored by Evee who scored a game-high 28 points.
QUOTABLES
Head coach Talvin Hester
"I thought we were exception on the offensive end in overtime. I did not think we were terrible on the defensive end [in overtime]. Rice is a juggernaut offensively. I thought our fouls kept them in the game. I was frustrated at the end of regulation. We wanted to foul on the catch. At the end of the day, we battled, fought back, and pulled out a great road win."
"Isaiah [Crawford] was big. Despite being in foul trouble, he stayed locked in and focused. In the second half, he was the Isaiah Crawfordwe know. He made some unbelievable shots and passes."
"That was the Kenny [Hunter] we know. I think he has even more in him. I think he can get better. He is just scratching the surface of the type of player he can be."
— Featured photo courtesy of Louisiana Tech