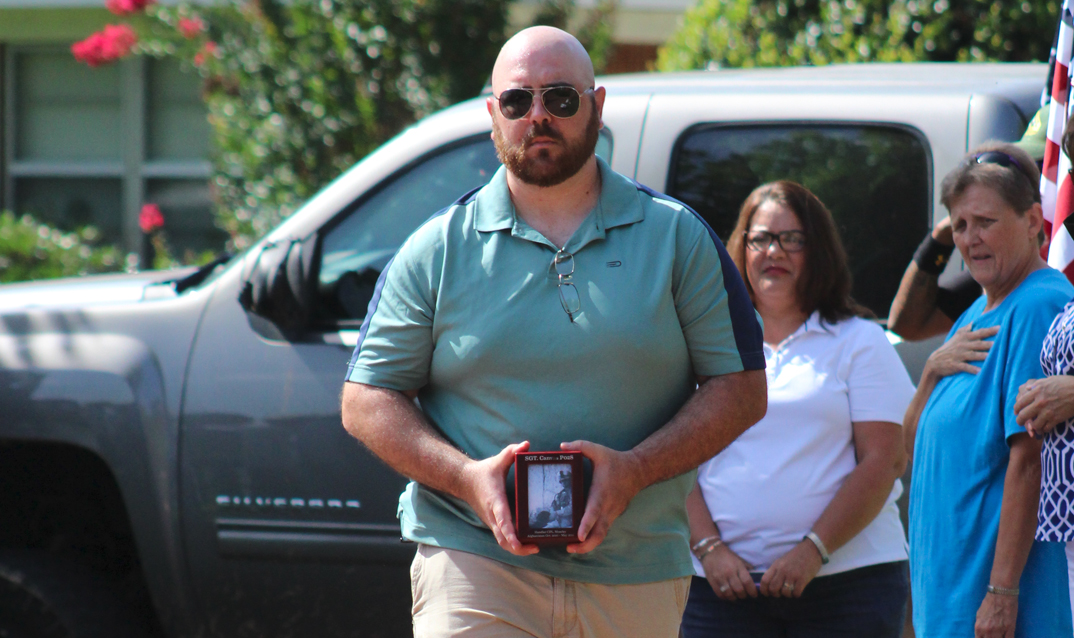 A memorial service worthy of any fallen soldier took place at Eagle Park at Turner's Pond in memory of K-9 Retired Marine Sgt. Canvas Friday.
Her handler, Retired Marine Corps Cpl. James Russell Moseley, remembered her as a friend, family member and partner.
Her history is one of bravery and honor. The number of lives she saved as an improvised explosive device sniffing K-9 is unknown, Moseley said.
"She saved me and my brothers many times," he said during her eulogy. "She kept going, kept fighting and kept
serving."
Sgt. Canvas and Moseley were injured March 13, 2013 when she alerted Moseley to a bomb nearby, but it was too late.
He'd already stepped on an IED. While he eventually lost part of his leg, Canvas' injuries were not noticed until she went back into training for service. It was then she was retired and came to live with them, Moseley said.
"We only got to spend two and a half years with her," he said. "The bond we shared is indescribable. She protected me and served me until she could no longer walk. She served this country great and served it well. She will always be remembered in my heart."
Retired U.S. Air Force Col. Mike Dilda, a veteran of Desert Storm, rode with the procession of the Patriot Guard Riders, representing the Green Knights, a military motorcycle club. He says he was proud to ride with them and be a part of such a ceremony.
"Like any ceremony that honors a veteran, it means the loss, if you will, of a patriot," he said, "a soul that served our nation and protected their brother in arms. There's no higher honor and tribute than to participate in a ceremony that honors individuals that have made that sacrifice."
Johnny Benson, a former ride captain for the Patriot Guard Riders, expressed his thoughts and feelings regarding Canvas. He says she was more than just a dog and family member.
"Two weeks ago (when Canvas was laid to rest) was the most emotional mission that I have ever made," he said. "Were we honoring a dog or were we honoring a veteran? What I would like to know is how many lives of my brothers and sisters
in arms did that sergeant save? That wasn't a dog. That was a veteran."
To Moseley, Benson presented a pin on behalf of the PGR thanking him and Canvas for serving our country and our freedom so proudly.
The Rev. Bill Ichter, a World War II veteran, officiated the service, with Minden Mayor Tommy Davis opening the ceremony.
Vietnam veteran Richard Campbell read letters of condolences from state Sen. Robert Adley, himself a veteran, and U.S. Sen. David Vitter.
Adley says in his letter to Moseley many would feel the same pain in the loss of a friend and companion.
"Canvas' ability and high level of training are a testament to her loyalty and dedication as a K-9 Marine," Adley said. "You both served with honor and distinction. Thank you for your service to your country which you performed at great personal risk, and thank you for welcoming Canvas home when she retired."
Vitter says Moseley's devotion to caring for Canvas after her retirement is a testament to the high calling of being a Marine.
"Protecting our country takes many forms and comes from the heart of all that served," he says in his letter. "Both you and Canvas helped to make our country safe. I honor her legacy and the courage of both of you."
The U.S. Marine Corps played the time-honored song of Tapps, and the ceremony was closed by a prayer led by the Rev. Jim Kennedy.
Retired U.S. Marine Corps Cpl. James Russell Moseley gets special call from Pentagon
Retired U.S. Marine Corps Cpl. James Russell Moseley received a special phone call from the Marines' top official last week in remembrance of the late Sgt. Canvas.
Moseley says the call made him feel like the "little people" are not forgotten. "It made me feel like the little guy is not overlooked," Moseley said. "It made me feel like there is somebody that does appreciate the little guy."
He says the Sergeant Major of the Marine Corps called him to check on him and make sure everything was all right.
"He thanked me for Sgt. Canvas' devotion to the Marine Corps," he said. "It was just a great experience to get that call from him. I actually got to talk to the Commandant of the Marine Corps before while I was in Iraq, but getting a call from the Sergeant Major of the Marine Corps was just a great experience, especially in the state I was in at the time."