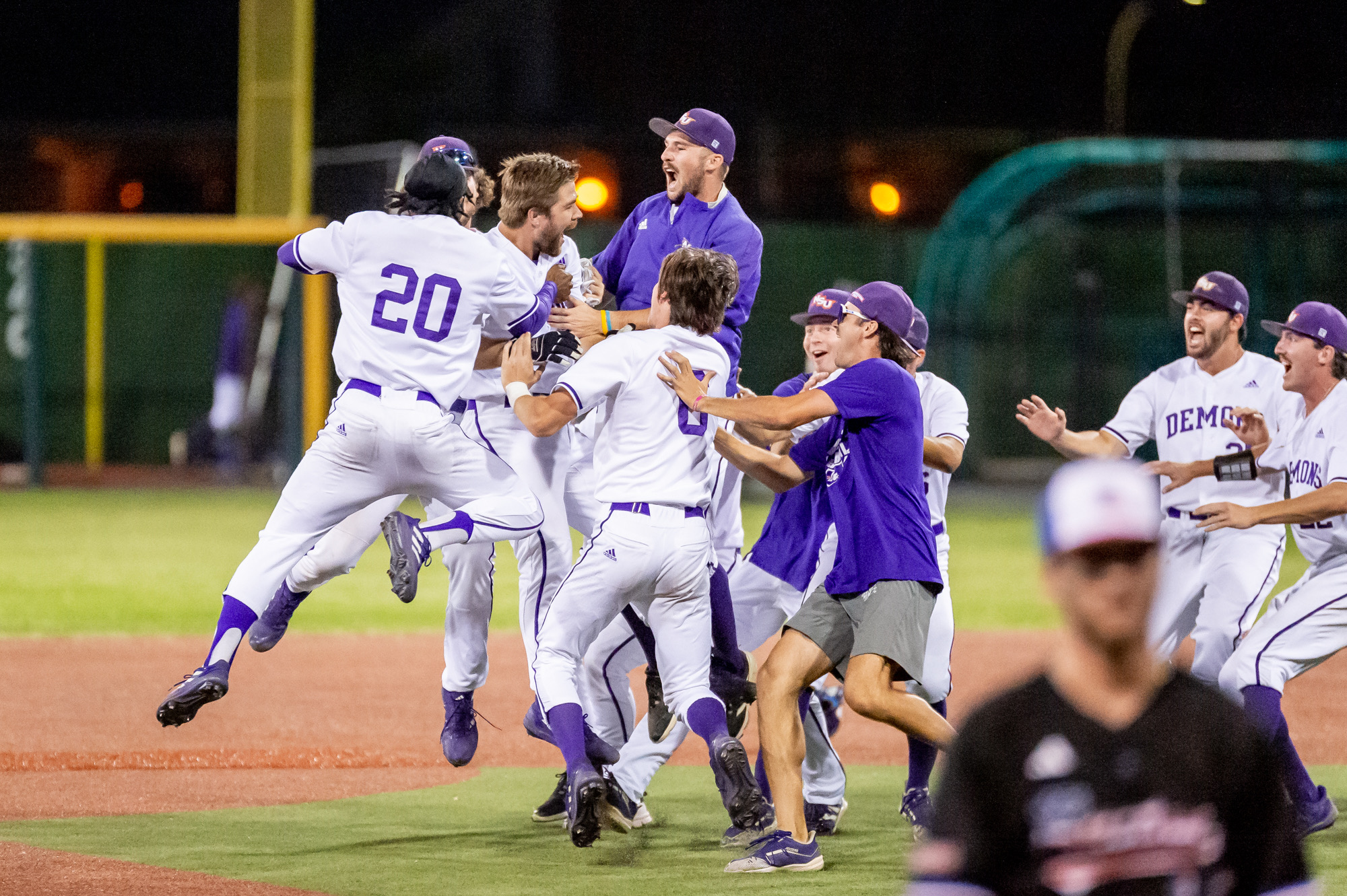 By Jason Pugh, Northwestern State Assistant Athletic Director for Media Relations
NATCHITOCHES – Bo Willis made the longest wait of the 2023 Northwestern State baseball team worthwhile.
Willis drilled a walk-off single in the 13th inning Tuesday night to lift the Demons to an 8-7 victory against longtime rival Louisiana Tech at Brown-Stroud Field.
"One of the harder things to do in baseball is to stay locked in," said Willis, who sat for nearly four hours before delivering the Demons' second walk-off hit this season. "You're not doing anything but cheering on your guys. You're looking for little subtle things the other team is doing, pick up pitches. A couple of innings earlier Bob (NSU head coach Bobby Barbier) told me to get loose. I didn't hear a word after that. I was imagining the AB in my head, what would happen, and it worked out well."
Willis' wall-ball single to left-center capped a 13th inning in which the Demons (16-12) tied the game on back-to-back, extra-base hits before his one-out game winner.
Broch Holmes connected drove an 0-2 pitch from Ethan Bates (2-1) to left-center field for a double before Gabe Colaianni ambushed Bates' first pitch for a game-tying triple to right-center field. The equalizer was Colaianni's third triple of the season and the seventh of his NSU career, moving him into a 10th-place tie in school history with former teammate Tyler Smith.
It also was the sixth extra-base hit for the Demon lineup – four of which came from Holmes and Colaianni, each of whom homered earlier in the game.
Colaianni's two-run, opposite-field home run in the sixth inning gave the Demons a 6-3 lead that seemed as safe as could be when Barbier turned to his closer Kyle Froehlich in the eighth inning.
The Bulldogs (14-15) took advantage of a pair of Froehlich walks to string together a three-run inning to tie the game with Bates' two-out, two-run single squaring the score at 6.
"Kyle's picked us up a whole bunch this season," Barbier said. "He's shut the door on games that should have been extended. Great to see our team pick him up and stay in the fight. They had some really, really good arms going at the end. It was a fun one to be a part of."
Froehlich bounced back from the blip on his radar to strike out the side in the ninth and set in motion a true battle of the bullpens.
Louisiana Tech's Landon Tomkins and Bates combined to strike out 10 Demon hitters in 5 1-3 innings before Holmes unlocked the key against Bates.
Meanwhile, the Demons found an answer in freshman right-hander Tyler Bryan.
Bryan spun three shutout innings, stranding a pair of runners in scoring position in the 10thbefore retiring six of the final seven batters he faced in the 11th and 12th innings. It was a career-long outing for Bryan, who played his high school ball in Beckville, Texas, and the third scoreless outing in the past four for him.
"I want to be in that situation," Bryan said. "I want to be the guy they call on in that situation – be tough, throw strikes. To come in and deliver like that is big for our team."
Corbin Talley (1-0) picked up the win after allowing a run in the 13th inning as Willis' single gave him his first victory as a Demon.
Much like Bryan, Willis' swing was as cathartic for him as it was for the Demons, who improved to 6-0 in mid-week games while playing their final mid-week home game of 2023.
"For him to keep working at it and not complain in a day where complaining's cool, sticking with it and coming through when he got the opportunity is special," Barbier said.
The Demons return to action Thursday when they open a three-game, Southland Conference series against Lamar. First pitch is set for 6:30 p.m. at Brown-Stroud Field.
— Featured photo by Chris Reich, NSU Photographic Services