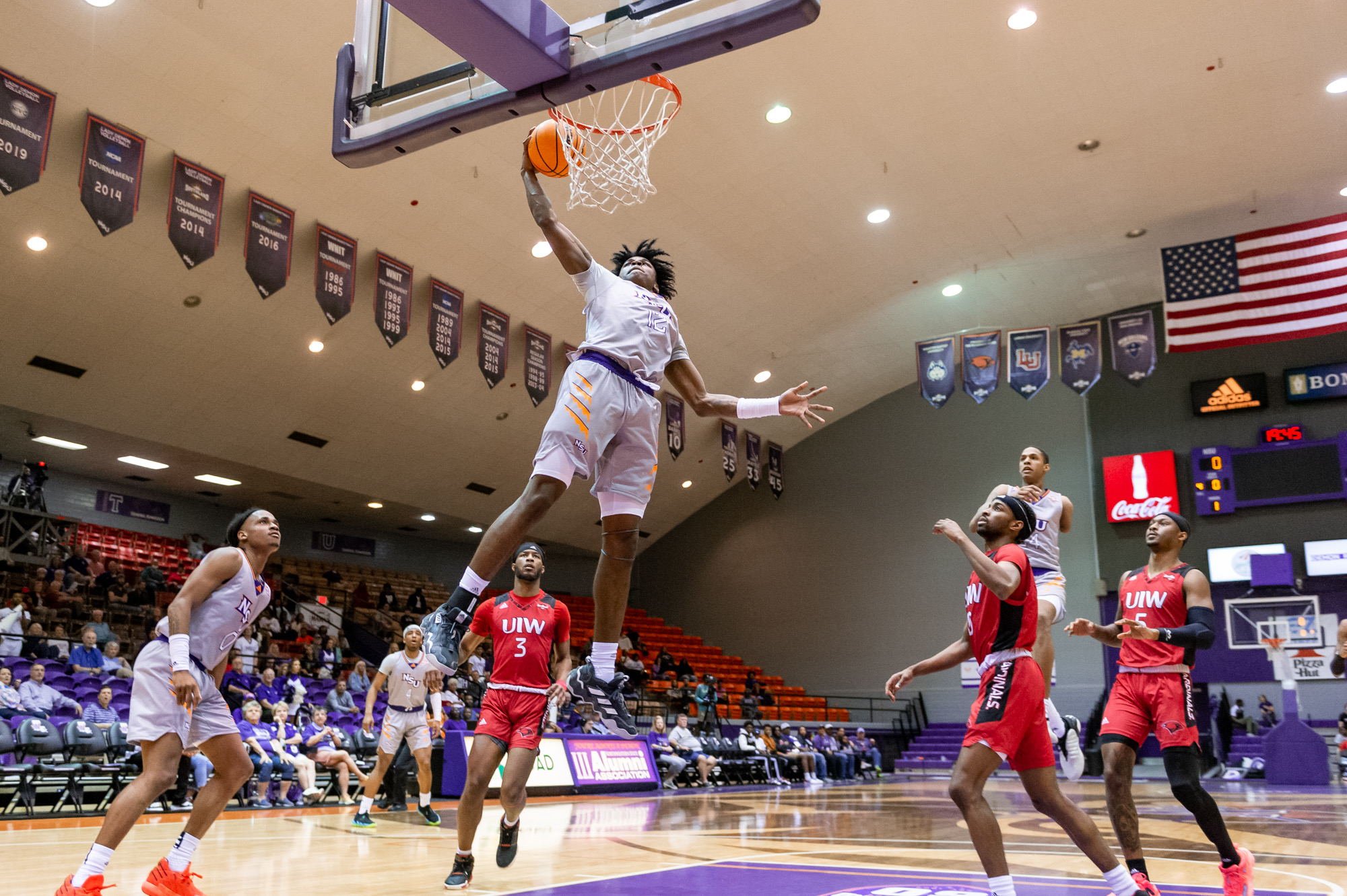 By Jason Pugh, Northwestern State Assistant Athletic Director for Media Relations
NATCHITOCHES – The Northwestern State men's basketball team entered Wednesday's regular-season finale with a chance to share its first conference title since 2005-06.
The Demons did their part, playing stellar first-half defense and steadily pulling away from visiting UIW to score an 81-64 Southland Conference win against the Cardinals in Prather Coliseum.
The other shoe did not fall for NSU (21-10, 13-5) as Texas A&M-Corpus Christi outlasted Texas A&M-Commerce in overtime to clinch the outright league crown, but the Demons prove more than able to make crucial adjustments in a short time.
"It shows you how much this team continues to grow in a matter of days," first-year head coach Corey Gipson said. "It was a quick turnaround in regard to playing them. This team has really impressed the staff every time we turn around and play somebody and turn back around and made some progress. Impressed by this group. Impressed by the brotherhood. Impressed by the unconditional love this group has for one another and how it's grown throughout the year."
Six days after being held to 26 first-half points in a five-point win at UIW (12-19, 6-12), the Demons used a 13-0 run across a 3:55 stretch of the first half to build their first double-digit lead of the game on Dayne Prim's run-capping layup at the 4:50 mark of the first half.
Emareyon McDonald started the surge with five straight points and had eight of his 13 points in the push. During that time, the NSU defense forced UIW into eight straight misses and two turnovers.
"Once we get stops, that's when the separation begins," said Ja'Monta Black, who had all 12 of his points in the first half, hitting 4 of 6 3-point attempts.
Black came out hot against the Cardinals, hitting his first two 3-pointers – the last of which set a program record for made 3s by a team. Northwestern State's seven made 3s pushed its season total to 265 with at least one more game remaining, The previous record had stood since the 1991-92 season.
His four made 3-pointers came just four days after completing a two-game road trip in which he hit two 3s and attempted just six long-range shots in games at UIW and Texas A&M-Corpus Christi.
"I always have confidence in my shot, even if I got a couple of games where I'm missing," Black said. "My teammates have ultimate confidence in me, too, so they keep feeding me the ball. I'm going to keep doing what's best for the team."
While Black's skillset was clear from the beginning, Jalen Hampton's emerged early in the season.
The freshman delivered a near double-double – 20 points and nine rebounds – while producing six of the Demons' 11 offensive boards. NSU turned those into 14 second-chance points, more than doubling UIW's six second-chance points.
"I feel like my game has grown," said Hampton, who set up one of Black's 3-pointers with a crisp crosscourt pass. "I'm more confident in myself. When I see one go in, I know it's going to be one of those nights."
Hampton hit 7 of 10 shots from the floor as the Demons shot 52.5 percent (32-for-61), topping the 50 percent shooting mark for the ninth time in 18 Southland games.
Both sides of the Demons' attack were working as NSU held its opponent to fewer than 70 points for the 10th time in conference play.
One of Hampton's buckets came off a no-look feed from Jovan Zelenbaba, a senior guard playing in his 100th career game and his Prather Coliseum finale. Zelenbaba was honored before the game in Senior Night ceremonies and finished with two points and the nifty assist to Hampton.
"Jovan Zelenbaba is a fine young man," Gipson said. "He's been in the military and represented his country, laying it on the line that way. He's a terrific student, takes a lot of pride in his academics. His work ethic, he checks that mark. He was relentless in his community service. He checks that mark. We're proud to have had a young man come into the program and buy into how we go about it. He's got a bright future ahead of him. He's very mature, and he doesn't take anything in life for granted."
DeMarcus Sharp, who left the game for the final few minutes of the first half, gave the Demons a fourth double-figure scorer, pumping in 11 of his 15 points in the second half. Jonathan Cisse, a former Northwestern State signee, led UIW with 18 points but needed 17 shots to do so.
The Demons return to action Tuesday when they play in the Southland Conference Tournament semifinals against the winner of No. 3 seed Southeastern and the winner of the first-round matchup between No. 6 seed Houston Christian and No. 7 seed New Orleans.
— Featured photo by Chris Reich, NSU Photographic Services