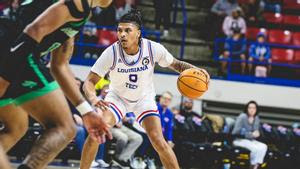 Louisiana Tech Athletic Communications
RUSTON — Louisiana Tech dropped its third straight game, falling 72-62 to North Texas on Thursday night inside the Thomas Assembly Center on Karl Malone Court.
LA Tech (13-13, 6-9 C-USA) did enough offensively, getting a combined 41 points from Keaston Willis, Isaiah Crawford, and Quandre Bullock while knocking down 10 three-pointers as a team against one of the best defenses in the country.
However, the Bulldogs were not able to provide much resistant to North Texas (22-5, 13-3 C-USA) who extended its winning streak to seven by pounding the ball inside where they produced 48 paint points and ultimately shot a highly efficient 61.2 percent from the field.
The Mean Green broke away slightly in the first half after Tylor Perry knocked down back-to-back three-pointers to take a 29-22 edge. But, the Bulldogs stymied their run to make it just a 4-point deficit at halftime at 33-29.
Willis came out on fire to start the second stanza, draining three of his four triples from all over the court in the first seven minutes. The last one knotted things up at 44-44.
UNT answered with an 8-0 run on four consecutive buckets in the paint, but Crawford countered with four straight points to get the Bulldogs back to within four.
LA Tech was still hanging around, down four with 6:48 to go, but they could not get hardly any defensive stop for the remainder of the game as UNT cashed in on its final eight shot attempts.
Willis had a team-high 18 points while Crawford did a little bit of everything with 12 points, five rebounds, six assists, and four steals. Bullock added 11 off the bench.
Abou Ousmane did much of the damage for the Mean Green as the big man notched a double-double with a game-high 20 points and 10 boards.
QUOTABLES
Head coach Talvin Hester
"The game plan was executed, but we were not tough enough at the rim. We did not create resistance and allowed their players to get to the rim on us. We also had some missed opportunities on offense, missing seven free throws and only converting 13 offensive rebounds into six second chance points. Our issues though came on the defensive end tonight."