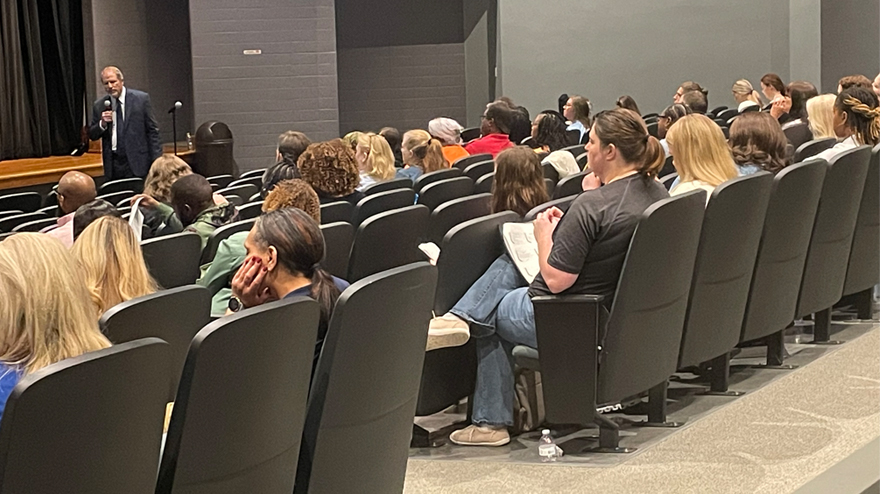 SHREVEPORT – Bullying or negative social media alone doesn't cause a person to die by suicide, said school psychologist Frank Zenere.
When assessing whether individuals, specifically teenagers, are at-risk for self-harm, a variety of factors are typically present for youth in the most danger.
"There are undeniable connections between bullying and suicide, but somebody who is just being bullied and doesn't have any other factors isn't going to attempt to take their life," Zenere said. "Kids are usually going to have instability at home, possibly a history of abuse, a mental illness that distorts their thinking and probably a history of self-harm.
"These are the kinds of questions we as school counselors and other mental health professionals need to be asking when evaluating students."
Zenere addressed more than 150 educators, psychologists, and other mental health professionals Friday at LSUS as part of the annual Bullying and Suicide Prevention Conference.
Children who are being bullied are twice as likely to have suicidal thoughts and are more than twice as likely to attempt suicide.
Suicide rates among youth are on the rise nationally, especially during the period of social isolation at the height of the COVID-19 pandemic.
Specific groups in which rates are rising the fastest include LGBTQIA+ and African-American youth.
With the advent and accessibility of social media, the role cyberbullying plays in troubled social interaction has taken centerstage, said Cody Cloud, a Louisiana Tech instructor who works at Rehabilitation Services of NELA.
Cyberbullying takes the underlying tenets of traditional bullying – repeated acts that cause physical, emotional, or mental harm between individuals in which a power differential exists – and moves it online.
"Where traditional bullying usually occurs in front of the victim and typically stays in the location where it happened (the most common location is school), cyberbullying tends to follow the victim off of school grounds and can have more of an impact in the home and in other social settings like church," Cloud said. "You have bystanders in traditional bullying, but an act of cyberbullying has the potential to reach more people and have an even wider negative impact.
"Because cyberbullying involves electronic devices in some way, that bully doesn't have to face immediate consequences (like a teacher witnessing the act) or see the impact on the victim."
These factors increase the harm and risk to its potential victims.
"Bullying can impact mood (anxiety, aggression), physical traits (anything from digestive health to suicidality) and academic performance (grades and attendance)," Cloud said. "Research tells us that children who experience what we call adverse childhood experiences can have negative impacts as adults.
"For children who experience enough of these adverse childhood experiences, they could live up to 20 years shorter than children who don't experience adverse childhood experiences."
Professionals are recognizing the impacts of bullying and other childhood traumas, and there are measures being implemented to intervene with bullies and their victims.
Zenere said one way in which school districts can combat issues of bullying and suicide include an age-appropriate curriculum centered around mental and social well-being.
"If it were up to me, every school in the country would have lessons on these topics," Zenere said. "We want to help students develop positive connections, teach life and coping skills, build resilience and tolerance, and foster social intelligence and empathy.
"I've seen schools that implement a buddy system that takes a student who is struggling socially and pairs them with a student who excels in that area. It's been effective because the socially equipped student can model behaviors and help break social barriers that reduce isolation."
The day-long conference is designed for participants to receive continuing education in these areas, increasing their knowledge base.
Participants received continuing education credits for attending.