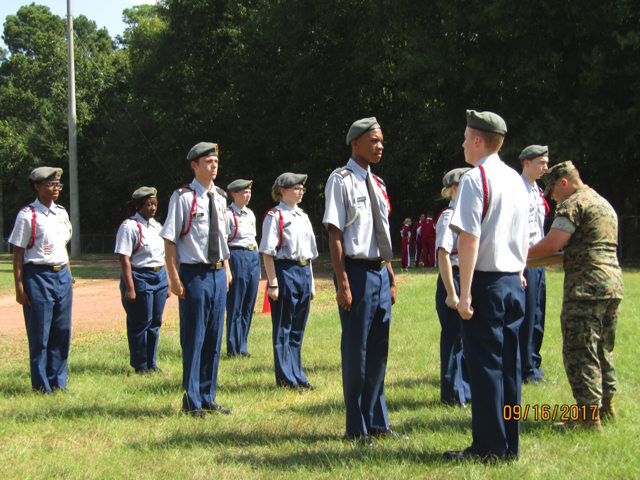 The Minden High School JROTC team competed at North Caddo High School for the first JROTC District Meet of the year, Saturday, Sept. 16.
Cadet Candon Carter, Battalion Commander, led the varsity boy's team in their competition, and Cadet Amayah Joseph, Commander of Alpha Company, led the girl's varsity team.
Although this was the first drill meet of the year, they worked hard and earned multiple awards at the competition.
The Male Varsity Color guard placed first in their category and the Female Varsity Color guard placed second in their category. The Inspection team also placed, ranking third place.
The MHS JROTC's two JV color guard teams competed as well. Cadets Carter and Joseph loved leading their teams and are excited for competitions in the future.
"I'm very excited about our victories. I am also very proud of all of our teams that competed and their dedication to this organization," Cadet Carter said of the experience.
"I look forward to more victories at many more meets and a successful year for the battallion.
"I was really proud of our team for keeping in synch. We will continue to aim for first place despite having a smaller battalion than most. I hope the team continues in our success and that we can further recruit more cadets to the organization. We always plan to give 110 percent."
The Minden High School Junior ROTC Battalion formed in August 2010 and is the only JROTC program in Webster Parish.
The mission of JROTC is to "Motivate young people to become better citizens." Although smaller than some of the programs in Shreveport and Bossier, the Crimson Tide Battalion averages nearly 200 cadets each year and continues to have a positive impact on the students of Minden High School.
The program provides cadets with tools and skills that can be used to succeed in high school, but far more important, these tools and skills will be useful for the remainder of their lives.