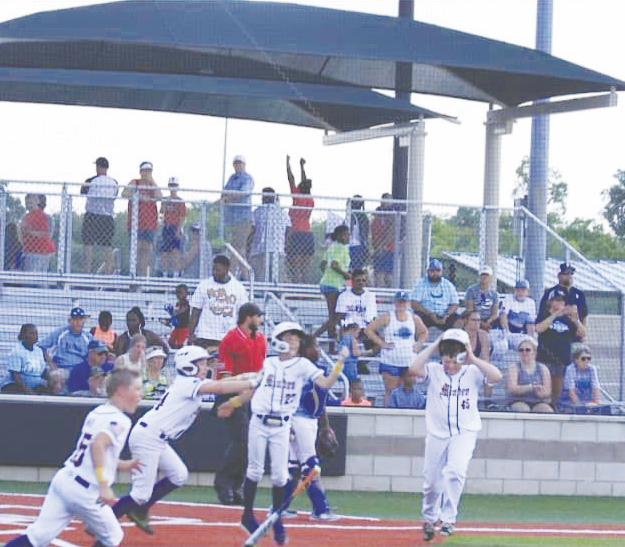 They were only the fourth baseball team from Minden to earn a Dixie World Series berth.
And they fought off final day elimination with a walk-off win before ultimately finishing third in the World Series.
They may have fallen a little short in their championship dream, but the Minden Dixie 11U All-Star baseball still returned home as champions.
And they're already thinking about going all the way next year.
Minden fell 12-3 to Texas Sunday afternoon to finish third at the Dixie 11U World Series at Osterland Recreation Center in Monroe, but the team had already shown its "never quit" attitude with a 6-5 walk-off win over Mississippi after trailing 5-3 heading into the bottom of the final inning.
"They're a group of best friends who are like brothers," said Minden coach Marcus Gibson. "One kid's hit, or one kid getting beaned, can have such a huge effect. I've never seen a team that can feed so much off each other. And sometimes that's good, and sometimes it's not. Sometimes when a kid gets down it seems to affect the whole team.
"But when something goes right, and the first bumps start, the fire ignites. They were undefeated district and undefeated state champions. Their season went down to the last day of the World Series. And that says a lot about who they are more than teammates, more of a band of brothers."
Even when times were tough, the Minden squad was resilient.
"We had our ups and downs throughout the season, sometimes more than expected," Gibson said. "These kids have played more than 60 games since January. But when the All-Star team was pulled together they just clicked. They just started rolling and took it all the way to the World Series. The last players from Minden to do that are high school seniors.
Aggressiveness on the base paths played a big role in Minden's strong season.
"We like to steal bases," Gibson said. "We had a policy where second to third was open. That was a player's decision, but they knew that if they saw an opening, they could take it. And they did that a lot and it played a big role in our success.
"Now stealing first to second was more of a algorhythm kind of thing where I was more involved in giving them the OK to go. But I like to steal and there's no question that helped us in scoring the number of runs we scored this season.
The good news for Gibson is his entire squad from this season will return next season.
"This was a great season even though we didn't win it all like we wanted," Gibson said. "But we got close. We got a taste of a World Series. Now we want a World Series championship."
Team members were Cason Gibson, Kaiden Kinsey, Davis Powell, Jaxon Branch, Craten Ware, Sawyer Harris, Weston Duck, Ryder Malone, Andrew Locke, Brayden Watkins, Holden Williams, Noah Smith.
Coaches were Marcus Gibson, Greg Powell and Steven Williams.