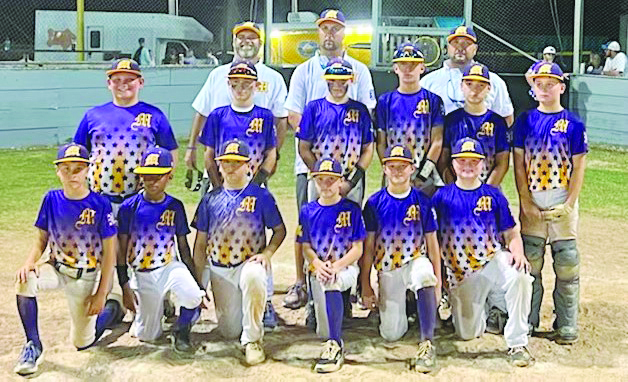 The Minden 11U All-Stars are moving on after defeating Blanchard for the district title last week.
Next up for the team is a berth in the state tournament to be played on July 8-10 in Monroe.
Minden went 10-2 on the season, defeating the Blanchard All-Stars 9-3 and 12-0 on Thursday to capture the district title.
A majority of the team went to a state tourney playing 8U baseball when they finished third.
"We lost that 8U state tourney game to the team that won state," said Marcus Gibson, one of the team's coaches. "This is our first time back in the Dixie tourney since 8U."
A hard-hitting and high scoring team, Minden has outscored its opponents 108-36 so far.
"The core of these guys have been playing together since they were on the 11U All-Star team, so this is their fourth season playing together," Gibson said. "They've worked hard and know each other well. A lot of them go to school together at Glenbrook.
"Because they've been together so long, they know how to feed off of each other and talk each other up and get everybody focused. They're best friends and look forward to baseball season so they can see each other more. They're like family."
Team members are Cason Gibson, Kaiden Kinsey, Davis Powell, Jaxon Branch, Craten Ware, Sawyer Harris, Weston Duck, Ryder Malone, Andrew Locke, Brayden Watkins, Holden Williams and Noah Smith and the team coaches are Steven Williams, Marcus Gibson and Greg Powell.